I LOVE chicken. I think if it wasn't for how good chicken is, I could probably turn veggie. Yeah you heard that right. I could give up the meaty stuff, there I said it. But chicken, it's just too tasty.
There's nothing better some days than a hot, tender and well seasoned chicken with a crispy skin, succulent to the bite and pulling off the bone smoothly..yummm! Just thinking about it has my tummy rumbling.
Clockjack in Soho specialises in just this – Rotisserie chicken. The whole menu features something based around chicken from quarter and half chickens through to club sandwiches and salads.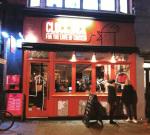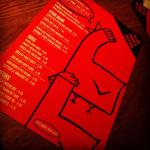 I went along mid-week with one of the girls recently to satisfy my chicken craving, and have a good catchup over a tasty dinner for a reasonable price.
We decided to skip starters so we wouldn't ruin our appetite for our mains and the option could still be open for a dessert – well it can be the best bit ;) I know my mom would agree. We also chose not to drink, being midweek and trying to be good, so both going for a good old fashioned soft drink to quench our thirst.
For mains, I opted for the half chicken with a chilli dip whilst my friend opted for the club sandwich and we also ordered a side of sweet potato fries to share.
Service was friendly and mains were soon delivered to our little table against the wall. *one thing to note: lighting is very atmospheric, you know the trendy way to have your lighting these days, so taking a decent photo of your food is hard!*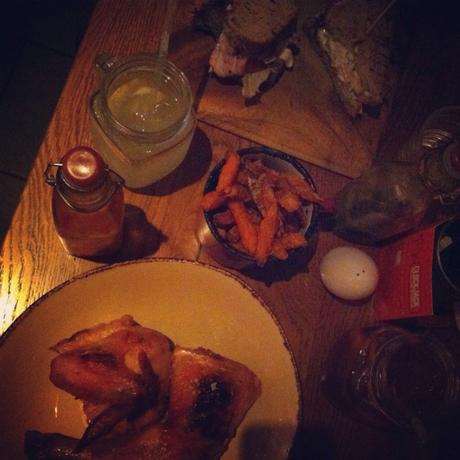 We got stuck in. The club sandwich looked really good. It was really tasty although perhaps a little too much mayo, but that could be just our opinion. Maybe we're not made for the sauciness :P The rotisserie chicken was cooked perfectly, so tender and juicy with a crispy skin. Paired with the chilli sauce it was really tasty, although by itself it wasn't quite flavoursome enough for my liking, lacking a little extra seasoning.
The sweet potato fries were really good, and if you're just having the rotisserie chicken I'd definitely recommend you get a side each as they soon disappear when you can't stop helping yourself to an extra one,two, maybe a small handful…
We devoured the lot and sat contemplating dessert – always a difficult decision when you're trying to be good yet you know it's 2for1 on tastecard, I guess it'd be rude not to try the dessert when they're basically half price. A little devastated they only had one portion of pecan pie left we chose to share one of those and a cheesecake…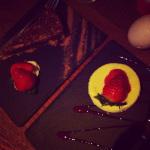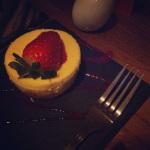 Perhaps it was a good thing they only had the one pecan slice left or we'd never had the combination of the two – A great duo of desserts! The cheesecake was creamy and super tasty with the fruit coulis and strawberries. The pecan pie very sweet, sticky, treacly with the added nut crunch – so good – by far my fave although it was great to have both!
We sat for a short while and continued to catch up before paying up our bill – which was a great price for central london.
Found close to Piccadilly Circus it's a great central location for meeting friends or dates after work, and it's on Tastecard so if you're a member (I highly recommend it!) you get 2for1 on starters, mains and desserts – yeah you could both go all out for the price of one three course meal!
Have you been? What did you think?
Chloe xx