hey beautiful people :D time for my other clinique review, now i haven't done a review of a foundation before (i don't think) but i really enjoyed doing this, so if you like it please tell me and i will do more :D
so anyway, i got some free samples of clinque stuff when i went for my trip in brum, you can see the other review here. this one is about the clinique repairwear laser focas all-smooth makeup foundation with spf 15 (wow that is a mouth full), now i love clinique foundations, i had the even better foundation until i ran out like last month, so i know they are good and was excited about this one.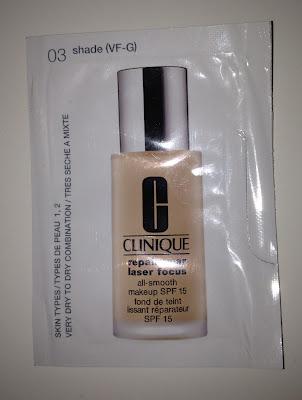 so other then the very long, stupidly long name i really enjoyed it, it was only a sample, but i got a good 4 uses out of this because i don't really need alot of foundation on my skin at all. It is a shade to dark aswell, which helped with not using alot, i had to kind of blend it out. it is very weird when you put it on, it like turns your skin orange, i got abit scared im not going to lie, but then after 5 minutes it sort of settles into your skin and turns a nice neutral colour that suits your skin, i don't know whether it like color adjusts to you skin but it kind of did, if you know what i mean.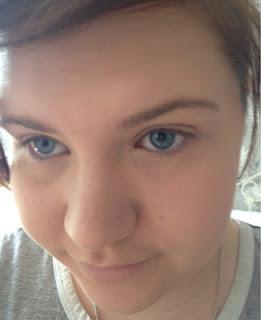 this is my skin, when first applied and with nothing other then foundation and translucent powder. as you can see it doesn't cover up my bags, im so tired this week =[, but it kind of evens out my skin tone, hides blemishes and covers well everything. Its got spf in it which is really good because you need to wear spf every day, even when it rains yes (dont get me started on the rain).  It helps with the anti-ageing of the skin, which i cant say ive seen an improvement on because thankfully i dont need to much anti-aging help at the moment, but it lasts an awfully long time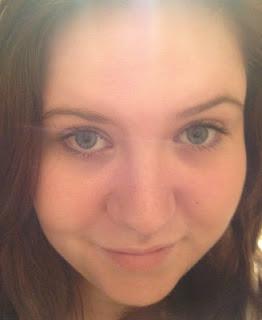 this is me with foundation after 10 hours. I had been to work, full set of make-up on and this is what i look like just before i took my make-up of to go to bed. Its incredibly hot where i work, the heating is permanently on, you sweat, alot, so most f my make-up just falls off, even my mac foundation =[ but this well, stays put, it just does not move, which is ace, it normally goes off my nose first, leaves like patches and looks like my nose is peeling, and then i have red bits on the side of my nose show up. This stayed on my nose, no patches or anything :D
im so impressed with it, it comes off easierly with a good make-up remover aswell.
i really want to buy this foundation, but it is an incredible £27.50 so unless it magically lands on my door step, or i find it on the floor somewhere haha
then i cant afford this =[, which is a shame, but maybe for christmas :D
hehe
xxxx