I am the victim of hormonal acne.  My chin is at war with me this week as I am fighting off 4+ blemishes.  Just in time for my birthday I see...curse you hormones.
As a way of combating this horrible breakout, I'm currently using Clinique's Spot Healing Gel.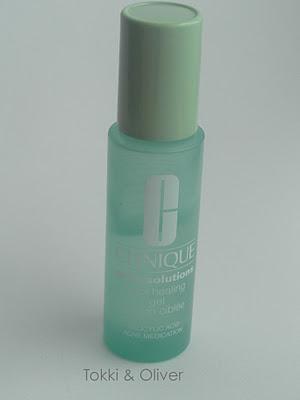 I grabbed for this as my friend gave it to me a few months back.  I believe she couldn't use salicylic acid and this product does contain 1% of it.
The product is as described, a gel like formula that comes out the top spout.  I will keep this review short, as I'm sure the only thing you're interested in knowing is if this actually did heal spots?  I can honestly say this product takes a good 24-48 hours to work.  In the meanwhile, you will have to deal with the tightening of the skin while this is working.  I've never had botox, but this gel dries and tightens your skin so much that the area goes a bit numb and a bit unable to move freely. haha.
It's worth a try, you can buy yours for £12.50 /  $14.50 usd at Debenhans, Clinique online, Sephora or anywhere else where there is a Clinique counter (i.e. Boots).