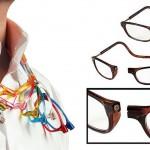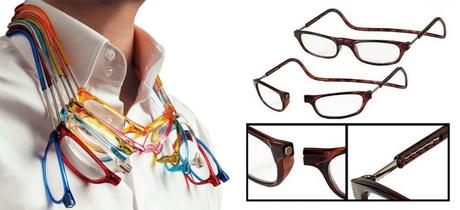 If you're looking for a pair of comfortable reading glasses, difficult to drop or misplace, CliC glasses are best solution for you.
These reading glasses have been designed with a patented system that allows to put them on and taking them off quickly, and their front connection permits to open them.
You can stop wondering where you might have misplaced your glasses when you need them to read something: you will always take them with you, specifically "on" you, hardly ever noticing them. There's no need to take them off because they are always hanging around your neck. They don't have long chains or elastic headband: temples are joined by means of a flexible and highly-resistant material.
The secret of these comfy magnetic reading glasses is that they have a small and subtle magnet inside the frame's bridge. This magnetic front connection allows to open and closing the glasses without taking them off at any time.
---
Magnetic reading glasses, the ones that never get lost
Click To Tweet
---
Temples have a very thorough mechanism that makes it possible to adjust their length with a simple move. So temples can be shortened or enlarged to fit every wearer's preferences. This useful feature causes them to be so comfortable.
These glasses are made of polycarbonate, a highly resistant and flexible material. The quality of the manufacturing materials guarantees their long durability: they can be opened or closed as many times as the wearer desires (their magnet lasts for over 150 years).
Besides, there's a wide variety of shapes and colours so that every person can pick the ones that best fit their style or personality. For those with a classic taste, the rounded frame is the most appropriate. For those who are seeking a more modern style, the square design is available in nothing but 18 colours! For professionals that give a lot of importance to comfort and minimalist lines, Executive model is the ideal choice.
All these features make CliC glasses be fully customizable and allow them to adjust to every wearer's preferences. They are the most comfortable magnetic reading glasses that you can imagine.
There are so many advantages of wearing CliC reading glasses that probably you've seen someone wearing them, even celebrities, like Hellen Mirren. What are you waiting for to get yours?