Hey there beauties,  :-h  the following review is about a skin care cleanser that was sent to me for consideration by Platinum Media & Communications.  I didn't pay for this product, however all thoughts and opinions shared in this post are based on my own experience and are in no way influenced by someone/anyone else.  :)>-
Clean & Clear is a brand that I have been familiar with for the best part of my life and was first introduced to their products in the 1980's when I was a teenager trying to come to terms with the challenges an adolescent faces when their skin suddenly changes. (

NOT a change for the better either, think pesky zits and red skin

).   :(  At the time, I was grateful to have the opportunity to try a pimple treatment that worked wonders on my zits, without the harsh, stripping formulas I'd come to expect.  #:-S  As a teen with usual problem skin, I  it was a salvation to be able to maintain cleaner, clearer skin and get back some confidence and self esteem that are so important at that age.  Over the years, Clean & Clear, which falls under the parent company of Johnson & Johnson, has kept on growing and currently offers complete skin care regimes, boasting gentle, '

kind-to-the-skin

' solutions, suitable for all skin types, particularly anyone who suffers from breakout and/or acne prone skin.  =D>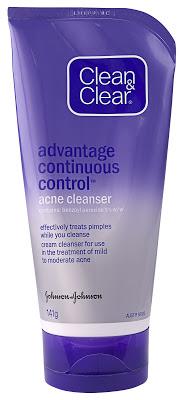 The Clean & Clear Advantage Pimple Control Cleanser is presented in a large 141gm plastic tube with a flip-top lid as the base, for handy storage.  The practical design makes for easy dispensing and ensures there is never any wastage, as the gel is forced to flow downward, eliminating the struggle and effort of trying to squeeze every last drop of cleanser out of the tube.  (*)  The bright, funky packaging is typical of Clean & Clear, in this case, adorning a purple, gray and white color scheme that is modern and recognisable across the entire ADVANTAGE collection.  B-)
The cleanser has a clear, gel-based texture with a slightly runny, fluid-like consistency.  A pea-sized amount is ample to create a rich, creamy lather, more than enough to wash my entire face, neck and décolleté, removing all built-up dirt and all traces of my daily makeup.  :)  It has an artificial, medicinal sort of fragrance, yet it kind of reminds me of plain, old fashioned soap…

d'oh!

.   #-o Thankfully, it doesn't linger on my skin and is gone once it comes into contact with water.  ;)  After a 20 – 30 second massage, the foamy cleanser rinses straight off with warm water, but even though it makes my face fairly taught, I can feel a '

grimey

' film over my skin's surface, turning my, already oily, skin;

greasy

.  :-SS  This happened every wash, nevertheless, I gained control, by applying a toner post cleansing, which removed the excess residue.  I didn't anticipate an anti-acne cleanser leaving my skin all oily (

or any cleanser for that matter

).  :-S  Because the ingredients are

NOT

listed on the packaging and there is no mention of the cleanser being oil-free, I can only wonder what may be causing the remnants to cling onto my skin, instead of rinsing away???.  :-/  The cleanser contains 
Benzoyl Peroxide
  a powerful component used in topical acne treatments due to its proven effectiveness.  While impressive, 
Benzoyl Peroxide
 does come with a downside; it can initially be drying to the skin, so perhaps the oily formula in this cleanser is supposed to counteract and/or protect the skin from excessive dryness??  :-"  
The benefit of 
Benzoyl Peroxide
 is it boosts the skin's natural cell turnover, clears congested pores and minimises bacteria, making it ideal for impurities and problem skin.  Since, I have the occasional sensitivity issue, whenever I try new skin care products; I do a patch test prior to applying on my face. I also introduce skin care infused with highly concentrated actives, such as peeling agents, slowly and start off with only one use a week, then twice, three times etc, etc until a tolerance is achieved.  *-:)  I adopted that method with this cleanser too and fortunately didn't experience any irritation or side effects including, burning, itching, peeling or possible swelling, all known symptoms often associated with Benzoyl Peroxide.  (*) It goes to show that some folks with sensitive skin can actually tolerate stronger formulations, just remember to be sensible and if it is too harsh, or you experience any pain or discomfort from using the product, stop use immediately.  :-t
I very rarely get spots these days, (

only annoying hormonal zits at that-time-of-the-month

)  >:P  and by incorporating this cleanser during that time, I noticed that the cool, soothing solution calmed and reduced local redness and inflammation within hours, before the imperfections eventually all disappeared…and so, so, much faster than normal!  :D  Fewer pimples have made an appearance since employing Clean & Clear; therefore, I assume it's adequately working to keep them at bay.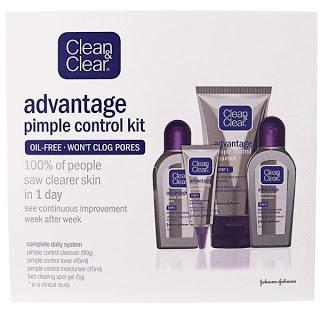 Also available to purchase in a complete daily system kit.
Overall, it's a decent cleanser and although it isn't the best solution for

MY

own personal skin care needs (

coz it's mission impossible finding suitable AND effective treatments that are NOT ridiculously priced, when it comes to my fussy, temperamental any anything bar normal

…  ~X(  

type skin

),  I would still suggest it to teenagers, as well as people with adult acne issues or problematic reoccurring breakouts.  If your skin falls into one of those categories and you are distressed and in need of some fast acting

SOS

, then go on, give it a try!  **==  It's a basic, extremely affordable product, readily available at most supermarkets and pharmacies across the globe.  Most importantly; it provides a thorough, deep-pore clean, leaving skin feeling instantly refreshed and looking smoother and clearer, all within a matter of days.  When used daily, in conjunction with a product regime prescribed to address your concerns, the Clean & Clear Advantage Pimple Control Cleanser can help you to achieve optimal skin health and reveal a remarkably clean, clear complexion.  \:D/
Have you ever tried any products from this brand, either now or years ago?  :-?  Have you used any skin care products that contain 
Benzoyl Peroxide
 or, can you honestly say, you've always avoided it, after hearing several so-called 'horror' stories surrounding the ingredient and/or products that use it?  Please share your thoughts and experiences, or any stories about someone you might know who has tried it.  
The images in this post are generic.