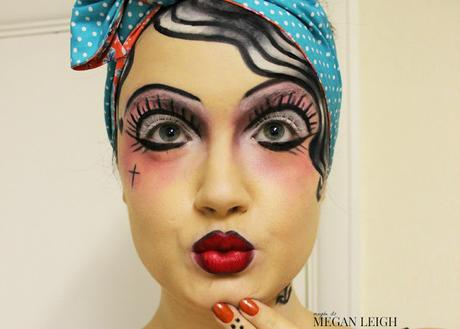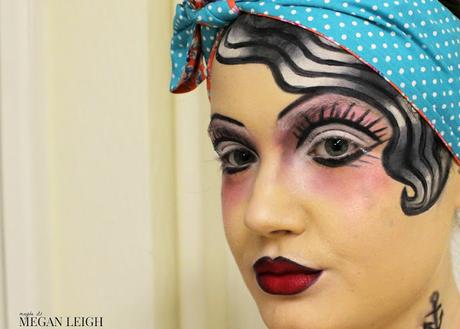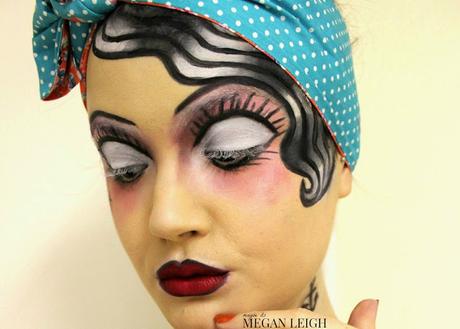 Trying to come up with unique Halloween makeup & outfits is pretty hard. I think I may have cracked it with this
old school classic tattoo pin up girl look. I came across am image on Instagram of someone creating a bearded lady in the style of a classic tattoo (I don't remember the artist, but if & when I do I will write it here). I thought it would be fun to put my own spin on the look, minus the beard (I'm not a beard fan, controversial I know). Here's how I created the look.
Hair
I started off using NYX jumbo eye pencil in 'milk', lightly drawing where I wanted the hair to be. Using this light shade means if you make a mistake you can easily wipe it away.  I painted the whole of the hair area using Snazaroo white, where shadow would be in the hair I placed black Snazaroo paint then using a clean foundation brush I blended the two shades together. With a small brush I drew thick black lines in the hair, to mimic how it would look in a real tattoo.
Eyes
Most pin up girls have pink blush under and around the eyes, I used NYX cream blush in 'Glow'. Using NYX jumbo eye pencil in 'black bean' I lined under the eye & created a new socket shape half way between my brow & my natural crease. For lashes I used an eyeliner brush & black Snazaroo paint. To contour & give depth to the eyes I used a dark purple shadow & blended it along the side of my nose to the inner portion of the eye socket. For brows I again used 'black bean' & simply drew a thin line above my natural brows.
Lips
Lined with 'black bean' filled with mac 'Riri woo' a matte red.
Tattoos
I applied some tattoos on my face & neck using eyeliner brush & Snazaroo paint.
Have you got any plans for Halloween? What are you dressing up as?

Twitter

 - 

Instagram

 - 

Facebook

 - 

Pinterest