Hello beauties!  :-h   now I'm reviewing a product based on a trial for Tammerly who was super generous in sending me this foundation to test drive on behalf of her Spoilt beauty blog.  Here are my thoughts.  :-*
I have super oily skin, so finding a suitable foundation is always a challenge. Even those that claim to be oil-free and matte, don't necessarily work that way for me and within hours of the initial application,

guess what???

  Yep, my skin turns into an oily, greasy mess, making me look like I've just jumped out of the deep fryer.  :">  Either that or the formulation is too rich and makes me break out, or it's too heavy and looks almost plastered on, leaving me with another foundation that simply doesn't compliment my naturally oily skin.  ~X(  I was keen as a bean to try the Clarins Ever Matte SPF 15 Oil-FREE Skin Balancing Foundation and see if I could eliminate my foundation blues once and for all.  >:/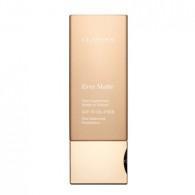 The Clarins Ever Matte SPF 15 Oil-FREE Skin Balancing Foundation comes in very plain packaging and was not what I was expected from such an upmarket brand; provoking my initial reaction that it looks '

cheap

' or '

stingy

'.   :-O   In my opinion, the presentation is on par with an average, everyday budget or no-frills cosmetics brand, which is a far cry from my conception of how a leading, luxury beauty brand should be marketed.   /:)  The slim, 30ml rectangular-shaped, squeezable plastic tube boasts a plastic lid with a mirrored gold coating, which is the only indication of the brands high quality.  I don't like how the bottle is opaque; therefore I'm unable to see inside to determine the content level.  This is especially annoying, because the bottle feels so light, for all I know it could be near empty and I have no way of ever knowing.  :-L  On the plus side, this modest, little foundation is ideal for traveling or popping in your purse/handbag to use on the go, plus it's non-fragile, causing no concern about breakage.  :">
I've never been a fan of scented beauty products on my face and wasn't expecting to unveil a fragranced foundation,  @};-  however, the unusual fruity melon aroma infused in this formula is subtle and quick to fade and during this experience I've actually grown fond of the delicate scent.  The consistency is light and airy with a creamy, velvet-like texture that feels silky smooth, which glides onto the skin and blends with ease.  It's fast drying, and sets into a weightless, natural-looking, matte finish, minus that dull, flat appearance often associated with matte foundations; instead it generates a vibrant, lustrous impression.   ;;)  The light-medium coverage doesn't hide all my flaws, but it's buildable, so gently layering over problem areas that require extra attention, omits the need for a separate concealer.  The shade 110 Honey perfectly matches my colouring and effectively transforms my complexion by covering redness and minor imperfections with a veil that uniforms my skin tone, without the obvious indication of wearing foundation at all.  It's formulated to allow my skin to breathe and provides the less is more approach; hence my skin looks like skin and not a mask.  ;)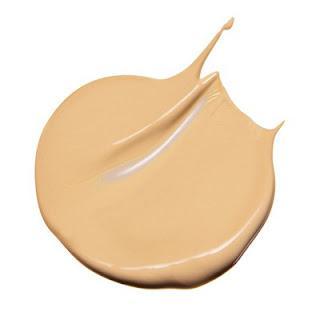 Shade Honey 110
The staying power is exceptional and I am impressed that after 8 hours the foundation hasn't budged, still appears fresh and …you better believer it…

MATTE!

  =D>  Yes, I honestly didn't expect it to hold up this well, even though after a few hours a slight shine becomes visible on my forehead, my skin is not

AT ALL

oily or greasy.  Alternatively, it creates a natural, dewy finish that radiates a beautiful, all-over, healthy-looking glow.  There is no caking, streaking or patchiness and no sign of fading or flaking, my just skin remains comfortable and hydrated.  <:-P  I prefer using a brush or a beauty pod for application, to ensure flawless results, nevertheless, fingers work adequately when I'm lacking in time.  I usually buff translucent powder over my face after applying foundation, which is basically out of habit and makes little difference to the end results, so I wouldn't consider setting powder as necessary.   B-)
With the bonus of SPF 15 for added protection, the non-comodegenic formulation improves my complexion, yet doesn't irritate my fussy sensitive skin or cause any issues with congestion or breakouts.  This foundation ticks all the right boxes, meeting my personal requirements for a faultless day-to-day foundation.  With a lightweight, barely-there feel, it delivers advanced performance and longevity, controlling excess oil, whilst skin remains fresh, polished and matte all day, eliminating the need for regular touch-ups and frequent blotting.  :x  Thanks to the Clarins Ever Matte SPF 15 Oil-FREE Skin Balancing Foundation, my oily skin woes are a thing of the past and I would recommend it to anyone wanting to achieve gorgeous, even skin with natural luminosity and a matte-like finish that will last the distance and produce the ultimate complexion perfection.  \:D/
I'm rating this foundation with 4 stars out of 5.  (*) (*) (*) (*)  It loses a ½ star for the unappealing packaging and another ½ for being quite costly, especially conceding the bottle feels so depleted. I will be interested to see how long it actually lasts.   
TIP:   *-:) This foundation works 100% better without a primer! I was left disappointed when I first tried this foundation, incorporating a pre-foundation primer.  An hour later, I noticed that my face was not particularly matte and in lieu of displaying that dewy radiance, the slippery beginnings of oil had started to surface on my T-Zone.  I have ever since, maintained immaculate results every time, by just prepping my skin with a normal daily moisturiser and skipping the primer all together.
Do you have oily skin, where finding a foundation is sometimes a nightmare?  Do you find makeup that even claims to be suited for oily skin still doesn't help and you face gets shiny or greasy soon after applying?  Share your experiences and any rec's or a solution to effective coverage for oily skinned beauties!
The images in this post are generic.