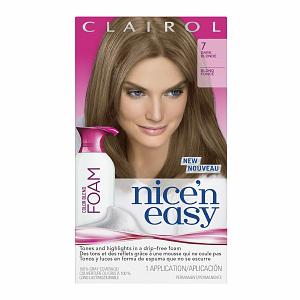 I
would like to thank the team at
The Word of Mouth Compan
y for the generous opportunity to trial and experience the
CLAIROL Nice n Easy Colour Blend Foam
, which I received in the shade of
#7 Dark Blonde
I am a regular DIY hair colour girl, who has been using permanent hair colour kits at home for close to 20 years.
I prefer buying these kits and dying my own locks, rather than going to the salon for a professional colour, being more affordable to suit my budget, after economic factors forced the change, when regular salon colours just became too much maintenance.
:-<
Over the years, I have learned that I can achieve great results colouring my tresses in the comfort of my own home
:)

Dark Blonde
A bit of history: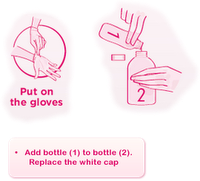 For as many years as I can remember, I chose to be a brunette and black was my colour of choice, however, for the last 12 months I have been trying to grow it out (

t

he only effective way to properly remove black hair colour

) and revert to a shade closer to my own natural hue.  I was born a blonde, but as I got into my teenage years, my locks started getting darker and all of a sudden, I was blessed as a dirty blonde, also referred to as 'bronde' (

a mix of brown and blonde

).  Not thrilled at losing my golden mane, I introduced regular hair dyes into my lifestyle.  Anyway, now aiming for a dark blonde hue, in preference to the natural 'bronde' look, was a dramatic change from the jet-black hair I sported for so many years, also required time, dedication and plenty of patience to achieve.  I was graduating the colour of the roots as they would grow out, beginning with a dark brown, then progressing to a medium and light brown and finally to the dark blonde.  During this evolvement, I was also regularly having the black ends snipped off every 8 weeks or so.  As of the commencement of this trial, I have had the majority of the black removed and its only noticeable right on the tips of my locks, which will finally get the chop for good, when I have my next haircut.  It has been a couple of months since I last dyed my hair, so I have extremely noticeable roots a couple of inches long, paired with ugly brassy/yellow looking lengths,

not a good look!!

  :-S  I am also 37 years old and am a mum of two children aged four and three.  Since having kids, over the last couple of years I have begun to notice a few stray grey hairs appearing, (

I am sure my kids are slowly sending me grey, ha-ha

)

EEK!

  ~X(  :)) Therefore, I like to ensure that I select a hair dye product that thoroughly covers those pesky/embarrassing greys. Luckily, the 

CLAIROL Nice n Easy Colour Blend Foam

claims to provide 100% grey coverage.  I am excited!!  \:D/                                





My experience: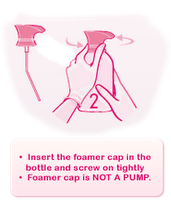 The
CLAIROL Nice n Easy Colour Blend Foam
kit is a 5-piece set, featuring everything I need to colour my own hair.  It includes two bottles of solution (
Tint and Developer
), Foamer Cap, Gloves and a sachet of Conditioning Gloss.  The preparation was super easy, simply mix the two bottles together, shake and replace the existing cap with the unique Foamer Cap (
something I have never seen in the various other brands I have previously used
).  
Making sure I had the gloves on to avoid staining my hands, I initially went to work, distributing the solution through the roots of my dry hair, before working it down to the lengths.  The formula itself was not particularly foamy, which was my only let down, because I had the idea in my mind that it would be of a mousse like texture.  Instead it was slightly runny, more like froth than foam, which lead me to believe that possibly I had not shaken the bottle for long enough when I was preparing the solution? 
:-??
I later learned that it was actually caused from shaking the bottle TOO much and that you only need to give it three shakes to get the best consistency to create the foam. It is a new technology that is explained in full here.  They even tell you what to do if you make the mistake I made and shook it too much,
d'oh!
#-o  It goes to show, it pay's to READ the instructions properly first,
oops!
  [-X  Even though it was more fluid like, it was still simple to massage into my mane, just as I would, if I were washing with shampoo.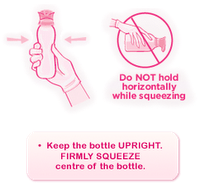 There was ample solution to entirely saturate my hair (
which, I should mention, falls below my shoulders in length, but it is baby fine, so I would think it's probably the ideal amount of product for someone with thicker hair
).  I ended up discarding about a quarter of the bottle, as I already had adequately covered all of my locks with hair dye.
  The scent of the
CLAIROL Nice n Easy Colour Blend Foam
was not as overbearing as many other formulations I have tried, although, in my opinion, I would describe the scent as a beer-infused aroma,
ha-ha
, :-/  :)) as it was distinctly a yeast-like scent, which I thought was unusual and unlike the ammonia/peroxide type fragrance that normally accompanies permanent hair colours.  While I can't claim that I was overly fond of the fragrance, it was certainly more appealing than other hair dye formulas, which tend to constantly give me headaches, make my eyes water and leave my nose running.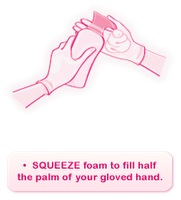 Not only was the scent mild in comparison to the various competitors' brands on the market, the actual solution is gentler as well.  I suffer from a sensitive scalp and on occasions, some of these products cause my scalp to start stinging and burning, so much so that I end up having to wash it off, before it even has time to run its due course.  I can vouch that I didn't experience any irritation using this product, so my scalp didn't become red and angry, leaving my comfortable during the 25 minutes I waited for the solution to work its magic and the development process to elapse. :)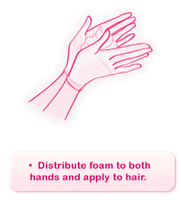 Upon rinsing the product out of my hair, which came out with ease very quickly, using warm water, I initially found my hair was feeling extremely dry.  This is normally the case when I use hair dyes, but what set the 
CLAIROL Nice n Easy Colour Blend Foam
apart from its competitors, was that for the first time ever, I only had a few stray hairs falling out, instead of heaps of strands that always wind up in the drain of my shower recess.  So, once again this product comes up trumps for being far more gentle to my hair than any other product.  Next, I applied the Conditioning Gloss that instantly infused the room with a gorgeous fruity, coconut, fragrance that just screamed '
paradise on a tropical island
' and this was ever so welcoming after smelling like a brewery for the past 25 minutes,
LOL!
;)  OMG, I want to know if this Conditioning Gloss is sold separately, I absolutely
LOVE
it. :x  The conditioner was a breeze to apply, with the rich, creamy formula and the butter-like texture, felt like pure bliss when I massaged it into my scalp and finger-combed it through to the ends.  The instructions suggest leaving the conditioner on for 2 minutes, but I left it on for about 5 as I was really enjoying the uplifting scent, which stimulated my senses whiles it was getting to work nourishing and rejuvenating my locks. (*)
Warm water thoroughly rinsed all the conditioner from my hair and with what was just like the wave of a wand, my hair was transformed from dry and knotty to super, silky soft and tangle-free, before I even thought about physically combing my damp locks.  The conditioner didn't coat my strands or leave any greasy residue behind to contribute to more oil production, which is the last thing I need, as I already have naturally oily hair. Instead, it was ultra lightweight and didn't weigh down my tresses, as many heavy conditioners do that always leave my fine hair looking limp, lank and lifeless.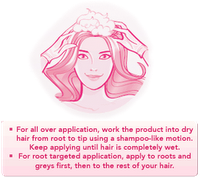 I wrapped my hair straight in a towel and allowed it to dry naturally, as I am not a big fan of heat styling, which I believe can be damaging if done too frequently.  During this time, I was pleased to discover that any stains that were previously visible on my skin around the hairline and ears in particularly, were totally gone!!  I forgot all about those stains when rinsing the dye from my hair in the shower.  I would normally need to pay special attention to the stains, rubbing and scrubbing away overtime until my skin gets red raw, before they even look like budging.  Sometimes, even that is unsuccessful and I need to pull out all stops, trying anything and everything from alcohol to nail polish remover, to get the annoying stains to come
OFF!!
:-L  It's amazing that the stains that blessed my skin, when using the
CLAIROL Nice n Easy Colour Blend Foam
, simply rinsed straight off, with no extra effort involved!  That alone, is a huge bonus, because there is nothing worse than sporting newly coloured hair, and then advertising the fact, you did it yourself, thanks to the stains on your skin,
EEK!
  ~X(  When my hair finally dried, I loved the outcome.  My tresses were noticeably lighter and even, with a consistent looking colour all over.  The horrid brassy/yellow looking lengths had toned down, featuring plenty of natural depth, thanks to slightly lighter, ashy highlights in the top layers, beautiful warm golden tones and lowlights to create a textured ribbon effect.  That teamed with my still dark ends, presented like the latest 'bayliage' craze, a style that you would expect to pay top dollar for in a salon, and I personally doubt that a professional colourist could have done a better job,
LOL
;)  :)) It's shimmery and glossy throughout with natural shadings, looking and feeling not only super shiny, but incredibly healthy too.  Not to mention, that after my microscopic inspection, I was thrilled that any grey hairs were indeed, 100% covered. <:-P
My final thoughts:
Overall, I am very happy with how my hair now looks, thanks to my experience with the
CLAIROL Nice n Easy Colour Blend Foam
, which imparts impressive, effective results that are very natural and complimentary to my skin tone.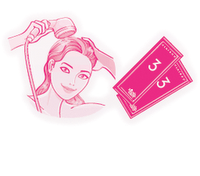 I wouldn't hesitate to recommend it to anyone who wants a effortless DIY at home permanent hair dye that is comparable, if not better than a salon quality colour, guaranteed to hide those unwanted greys and deliver an intense, vibrant, highly pigmented finish in a gentle formula, suitable for those who normally experience sensitivity when colouring their hair.  I know that when I am due to re-colour my tresses, I will not be mucking around deciding on which product will provide the best results.  I will zone straight in on
CLAIROL Nice n Easy Colour Blend Foam
, a reliable, efficient product that I can trust will meet my needs perfectly every time.  
=D>
All images in this post are generic, however all images in the slideshow are my own.