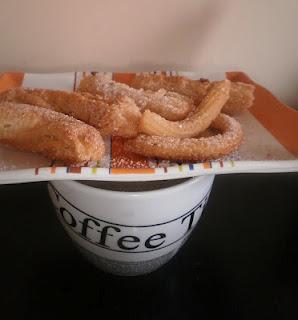 What happens when 3 friends meet after a decade? They are excited as 5 year olds.They talk as if there is no tomorrow and they gorge on
Cinnamon Sugar Churros with caramel sauce
! bowl after bowl!!
Churros are also known as Spanish doughnuts! They are simple to make and rolled in cinnamon sugar mix.It can be eaten with any sauce-caramel or chocolate. Traditionally its eaten with hot chocolate.Churros are crisp from outside n light and moist from inside. Believe me these are pretty addictive!!!
The recipe is taken from here
Cinnamon Sugar Churros
1 cup water
1/4th cup olive oil or canola oil
½ tsp salt
1 1/4th cup flour
2 eggs
1 tbsp / 30g butter
Peanut or canola oil for deep drying
1 cup sugar
2 tbsp ground cinnamon
In a heavy bottomed pan (not aluminium) combine the oil, water and salt and bring it to a rolling boil.
Remove from the heat and add all the flour and mix it enthusiastically together. You will see that the dough clumps up around the spoon.
Place it back on the heat and stir briskly for 30-60 seconds to dry out the excess moisture.
Now in another bowl, beat the eggs together and mix it in with the dough slowly until the eggs are completely incorporated.
At this point the dough will be a slightly sticky, evenly yellow mass.
Stir in the butter and you will see that the dough isn't sticky anymore.
Transfer the dough to a piping bag fitted with a large star shaped tip and pipe directly into the hot oil.
Fry until golden brown then strain thoroughly and transfer to the plate in which the cinnamon and sugar has been mixed and coat evenly.
Serve hot!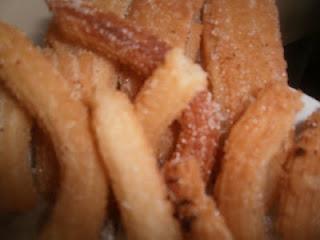 Note:I tried both large and small star tip,liked churros made from smaller tip because it took less time to fry and were far more crisp.