I really do love LUSH and for Christmas of 20010 I wrote down what I would of liked to received from LUSH and on Christmas morning the smell was overwhelming the cooking turkey! So for Christmas 2011 I also wrote down what I wanted, although Christmas was about 3 weeks ago now, I still would like to share with you what I got. I have also used a few products now so count this as a mini review.
First of all, me and my boyfriend went Christmas shopping at the end of November and I picked up a little bottle (100g) of Snow Fairy Shower Gel and a Candy Mountain Bubble Bar
(post here).
And I was telling my boyfriend how much I loved Snow Fairy, and he got me a 250g bottle of it without me knowing (I knew my other presents) and I had also asked to mom to buy it for me with the rest of the LUSH goodies I wanted to try! So I now have two 250g bottles of Snow Fairy, I was so glad for this because I missed out on the LUSH sale now with my other shower goodies I got it should, fingers crossed, last me till next Christmas!
Anyway, this is what I got. Some products featured

(marked with a *)

were Christmas Addition only, so unless your store still has some leftover they are unavailable :(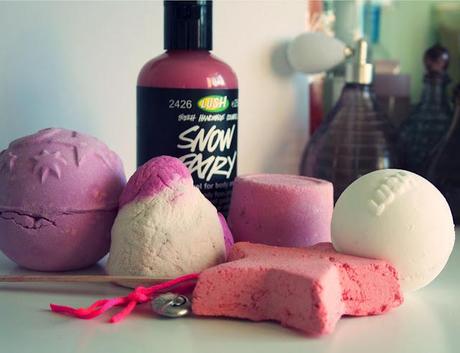 ♥ Twilight Bath Bomb- £2.99
♥ Mmmelting Marshmallow Moment Luxury Bath Melt- £3.60
♥ So White Bath Ballistic- £1.90
♥ Snow Fairy Shower Gel 250g- £5.95*♥ Candy Mountain Bubble Bar- £2.35*♥ Magic Wand Bubble Bar- £4.95*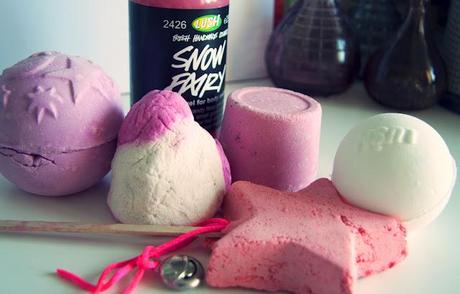 So far I have used the Mmmelting Marshmallow Moment Luxury Bath Melt. And I have never tried anything like this from LUSH before and it was so lovely! I love anything with a sweet smell, and anything that turns my bath water pink! But not only did it smell lovely or turn my bath water pink, the water was really soft and smooth and after a long candle lit bath my skin felt amazing and soft! And because it melted slowly in the bath it seemed to last a long while in the water, which was divine too!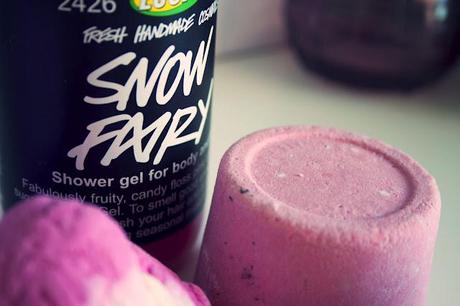 I have also used the Magic Wand Bubble Bar about 3, 4 times too and it's still going strong! You may be like, wow £5 for a bubble bar? Yes, but its re usable in some such! All you have to do it whirl it around in your running bath water until as much or as little as you like, it's brilliant! I love big bubble baths but I feel I need a full bubble bar for this and a good hour long bath, at least, some candles burning and Ed Sheeran playing. But I have exams and lots of work to do, hence why I still have my bubble bars and ballistics left and why my Snow Fairy levels are lowering. But this is great for if I didn't fancy had a little extra time for a bath and I can still have that LUSH moment, LUSH addicts will understand. But yes, I've been really enjoying using this, and the little bell and neon pink string is a great touch! Well done LUSH!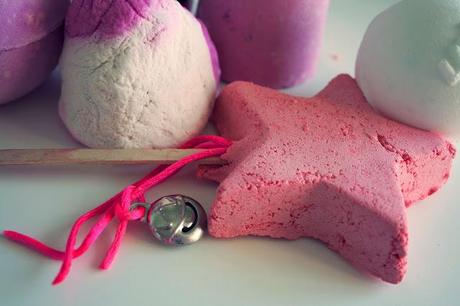 Did you get your hands on any LUSH products this Christmas?
And! I am so happy I am only 2 followers away from 30! I really want to get in a blogging routine and stay with it! Thank you my lovelies! ♥