In my little world (inside my head) I was wondering if I was a child and had the option of picking any present in this day and age under $100 what would it be… I looked through catalogues and online; as this is what I like to do to keep myself occupied, and anxiety at bay (or I have nothing better to do with my life then pretend I am a child again haha). 
This is when memories of my childhood ca
me flooding in as I thought on things like Sailor moon, pokemon, cabbage patch dolls and my all time favorite Teenage Mutant Ninja Turtles (TMNT). 

And to be honest in my childhood some may have said I was quite the tomboy, to which I would have had to of agreed. I would much prefer to play trucks and watch TMNT with my brother then play Barbie, although when I did it usually ended in Barbie getting her head or limbs ripped out of their sockets (poor Barbie). 
So when I stumbled across the whole massive range of TMNT things that were coming back on the market I was like a child in the candy store and instantly wondered if I could get away with purchasing them for my girls so I could secretly play along with them. 
There was one product that really stood out to me and brought all the tomboy days back and that was the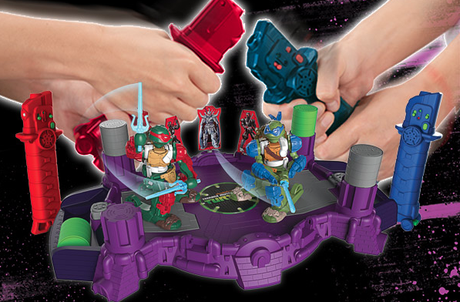 Battroborg Teenage Mutant Ninja Turtles Electronic Battle Game
(suitable forages 6 and up)
RRP: $99.95
Turtle Power is in your hands! Your precise katana controller movements command Leonardo, Michelangelo, Donatello, and Raphael as they master their battle skills in the secret training dojo arena to take down Shredder and the Foot Clan. Multiple gameplay modes add extra excitement as your motions control your Turtle around the treacherous dojo trapdoors. Train, battle and score with the Battroborg Teenage Mutant Ninja Turtles!
WHATS INCLUDED
In this pack you will receive:
2 Turtle Robots
2 Wireless Katana Controllers
1 Trapdoor Training Dojo Arena
2 Foot Clan Soldier Knock-Down Targets
16 Sewer Caps
4 Sewer Cap Platforms
2 Sewer Cap Counters
1 Shredder Trap Trigger
SETTING UP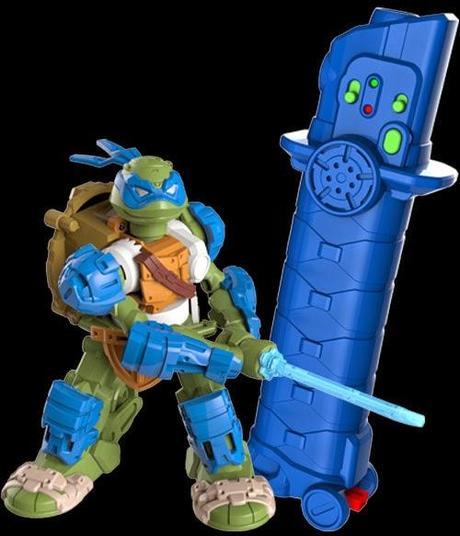 First things first you will needs to set your little turtle up, and to do that all you have to do is: 
Turn controller on and flick the switch to either a or b. Then turn the turtle on and flick it over to the same letter. The controller will make a little noise to let you know that the two have been paired and you are ready to go head-to-head with another turtle. 
CHARGE IT UP
First you must turn your turtle off using the off switch. Then Slide the power switch button on the controller to charge – the red light will illuminate. Slide the charging port on the back of your Turtle into the jack on the controller – the green light will illuminate. 
Once the green light switches off, you are fully charged and ready to battle.
BATTLE TIME
Basically you use your controller as a sword at close range to your turtle. When you swing the katana your turtle will strike accordingly. My girls love a little bicker here and there so it is fun to let them vent in the ring (without even having to touch one another). 
There are trap doors and other little bits and pieces which really make for an interesting game, we wont lie the adults in the house have also battled it out. But don't make the mistake if you are buying this as a Christmas Gift and forget to supply batteries, as you WILL need them.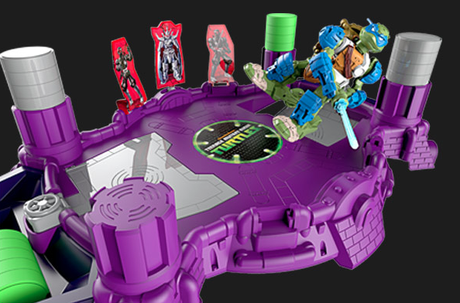 Sewer Cap Slash:
Score the most points by knocking down your Turtle's sewer caps and the Foot Clan targets. Go for an instant win by hitting Shredder and activating one of the trapdoors for a knock over
Select a sewer cap color
To start game, place both Turtles back-to-back in the center of the arena
Each sewer cap of your color that is knocked out of the arena is worth 1 point. Knocking over a Foot Clan target is worth 2 points
The game ends when either all sewer caps and Foot Clan targets are knocked down, or if your opponent is caught in a trapdoor
HOURS OF FAMILY FUN
Even though it says this game is only suitable for ages 6 and up our whole family got involved- including out little 3 year old (who I think had the most fun of us all)! We've sat this down on the table in the lounge and had our competitive lights shine, and tried to beat one another. Mr M and I have even battled it out to see who was going to do the dishes that night, of course it ended up being Mummy after a best of three blow out. 
WOULD 3B's BUY THIS AS A CHRISTMAS GIFT
My word I would, I am tempted to buy one just for myself as it brought back so many childhood memories for Mr M and myself, a real walk down memory lane. 

Stockist: Big W, Myer, Target, Toys R'Us, Toyworld and national toy retailer's http://us.battroborg.com/