'I will honor Christmas in my heart, and try to keep it all the year'
Charles Dickens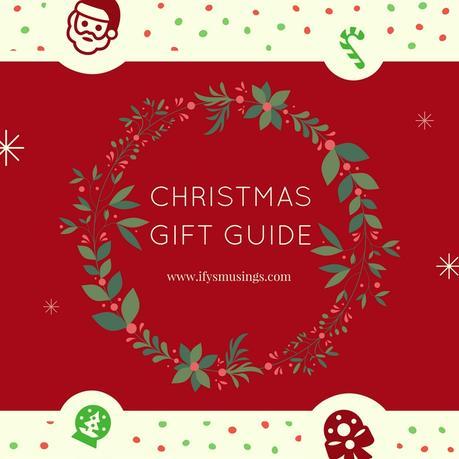 Hey folks,It feels so much like Christmas that it's impossible to deny that the season is finally upon us, so I thought to start this week on a major high – planning my holiday and trying to get the necessary Christmas shopping done...nothing fancy though thanks to what a friend of mine called 'the Buhari effect', it sounds like a scientific theory, doesn't it? Anyway, it's safe to say I didn't really achieve much thanks to my trying to close out on a lot of things at work and now I find that it's barely 24 hours to Christmas day and I'm a tad unprepared...but I kind of saw that coming lol!
I actually started writing this guide during that relaxing 3-day weekend over a week ago but I hadn't gotten around to finishing it so I woke up this morning refusing to leave my computer until I was done with the abridged version. I decided to write this Christmas gift guide for all you amazing souls out there looking to get gifts for family and friends this season and I'm hoping it's not too late to take advantage of all the Christmas deals flying around.
I love presents, whether brown paper packages tied up with strings or a regular package with no strings attached (pun intended)...I would love it as long as it was called a present although I do love unwrapping fancy packaging. It's because of this said love for presents and the significance of giving this season that I decided to share some gift ideas for ladies and men alike. This post, to some extent, also serves as my Christmas wish list so feel free to take a pick if you're feeling up to making a girl's Christmas wish come true because honestly Santa knows I've been good all year.
The ideas are listed below and of course they are not limited to just those listed here, I'm also going to make it a strictly "BuyNigerian" List because current exchange rate, recession and worldwide shipping are currently not all on the same page. Also most brands have major sales around this period.
Things to take note of:
When it comes to shopping for "her" or "him", I always suggest accessories because they are and would always remain the safest choice – you hardly ever hear complaints about how an accessory didn't fit unlike you would if it were a piece of clothing.

Also remember that before going ahead to buy accessories, you need to know the preference of the lady or man in question. Personally, I'm one for bold, colourful, statement pieces while some people might be on the more conservative side with muted tones and unimposing pieces. As such, you really need to know where such a person's tastes lies because asides all the gratitude the person might send your way, I personally would love it if my gifts were put to use.

For clothing, there are so many clothing brands to choose from but remember to get the sizing bit down or stick to free sizes. Don't go buying a bodycon fit if you're not sure of a lady's size or a man's. Keep it classy and keep it cute.
That said, here are some of my recommended/favourite picks for "his" and "hers" including both very affordable and not-too pricey brands. All links have been provided so just click and start shopping:
Raya Jewellery: I'm in love with any and every from this brand, they make "to-die-for" pieces. Honestly number 1 on my personal wishlist. Find them here.

Bland 2 Glam

also has my heart, beautiful jewelry for every mood. Find here.
Perfumes are always the answer, stop by Essenza Fragrances at The Palms Victoria Island and Ikeja City Mall. Also there's Perfumery at Mega Plaza, Victoria Island and there are tons of other perfume shops in all of the different malls in Lagos.

Maju Bags:

Everything about Maju screams "elegance", talk about a brand that makes timeless, quality pieces and is quite capable of bringing out the shopaholic in even the best of us. That said, Maju bags are a must-have this season and trust when I say you'll have no regrets. Shop my picks here.

Haute Signatures and Dapmod:

For those eyewear lovers, you can never go wrong with sleek and affordable sunnies from all-time favourites Haute Signatures and Dapmod for men and women alike. Also Haute signatures stocks other accessories like purses, hats, earrings and necklaces at pretty affordable prizes so get in there.
For hair supplies for all them naturalistas and relaxed folks alike, try stores like

Natural Nigerian

, Olori (they have a new name though - Beautiphic), Sizzelle as well as The Beauty Boon and please walk into Salons like

YellowSisi

and O'Naturals for your Christmas hair-do.
For some makeup goodies, try The Beauty Boon,

AccessoriesNG

, Beauty Revolution NG and YangaBeauty.
Oh did I mention

Maju

Clothing? No introductions necessary there so don't sleep on it.

Desiree Iyama Clothing:

 

A brand owned by a blogger babe doing incredible things, sales are going on right now too. Shop here.

TwentySix Skirts:

No Christmas is complete without a signature TwentySix skirt. Shop here.

JeffUrban Clothing

for men and women, for the Agbada lovers and the classic girls too...you know how I love my JeffUrban pieces. Shop here.
For quality hand crafted bags for the ladies and man-purses for the men, we have

MmaDilue Accessories

...I'm a big fan of this brand as well so please shop here.
For beautiful lingerie pieces, you can never go wrong with Brief Essentials.
For vintage lovers, try my personal favorite

Soul Orange Vintage

. They have some sales going on so get in on that. Other brands I love include

The Vintage Connection Ng

, VintageWeare,

Vintage Men NG

and Retro Addicts...great stuff all around.

Honestly I miss

Eve & Tribe

, they've been off for a bit otherwise they will have made the best Christmas gift for die-hard lovers/fans like me, but still check them out here.

For footwear, I'm thinking comfortable and laidback so I'm all for

Nsaata

, they make comfy leather footwear that feel like butter, no jokes. Also a brand that caters to "his" and "hers".
Other footwear brands for the season include Ivy Barber, Gafasandals, 313Eko and

Lucy Daves

of course, they make for both ladies and men and quite well too.
For leather phone sleeves and beautifully crafted footwear, you have

May Anthony

...sizes run from as low as 38 to 45 so everyone is covered. Sales ongoing too.
Trust me when I say this is the abridged version of my initial gift guide, I couldn't run through everything for want of time but I'll share a few bits here and there on my instagram during the holidays.
So here's wishing you a blissful season filled with countless memories, a ton of happiness, great gifts, beautiful souls, stimulating conversation and the best of the best...and don't forget – I love you always.
Merry Christmas to you and yours,
With love,
Ify*
Let's Connect!
Instagram || Facebook || Twitter || Bloglovin || Pinterest
In case you missed some of my previous posts, please find direct links below:
Style On A Budget || Tuke Morgan Of 'TukesQuest.com'
Ensemble || Some Halloween-Pumpkin Glam
Ensemble || Kente-Inspired
Style On A Budget || Desola Mako Of 'DeeMako.com'
Foodie Chronicles || La Spiga at Le Maison Fahrenheit
Ensemble || Black Out
Ensemble || Peplums In October
Ensemble || Feathers And Denim
Ensemble || Kimono Sunshine
If Only I Were A Boy
Ensemble || Of Throwbacks And Bell Sleeves
Foodie Chronicles || Sakura Restaurant
Foodie Chronicles || 411 Restaurant & Bar
Weekly Wanderings || Lekki Arts And Craft Market