Good bye turkey and thanksgiving, hello to Christmas cookies, caroling, and homemade goodies! To mark the first weekend of the wonderful Christmas season, one of my good friends had a few of us over to have a Christmas cookie bake. We used to do an annual cookie bake every year but after having kids we all had busy schedules and weren't able to make it. But now that our children are grown we have plenty of time.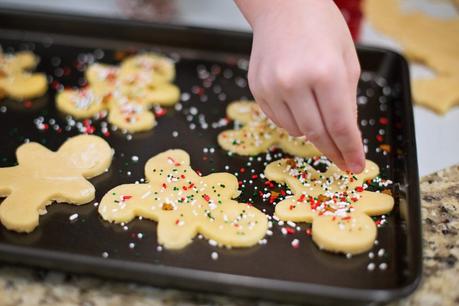 I love that my friend has us over to her wonderful home. Her husband is a chef, so they have a state of the art kitchen with two ovens perfect for baking cookies! We drink cider, listening to Christmas music, laugh, and bake all day! The part I think is ingenious is that we all make 3 different kinds of cookies in big batches then we swap them so we end up leaving with a huge assortment. It is great!
I ended up with so many cookies I can't wait to send them to Bobby at school before his finals and to Clara and her boyfriend. Here are the three cookies that I shared with my friends!
P.S. These cookies are not the healthiest, but I figured a little treat once in a while won't hurt.
Peppermint Bark is a staple for anything Christmas related.
Ingredients-
• 1 cup crushed candy canes
• 2 lbs. white chocolate
• Just a few drops of peppermint flavoring
Instructions-
• To crush candy canes, use a candy chopper or place candy canes in a plastic bag and use a rolling pin to crush the candy canes into small chunks.
• Melt the chocolate in a double boiler. When melted add the crushed candy cane and a few drops of peppermint flavoring and stir. (leave a little candy cane to sprinkle on the top)
• Place parchment paper on a cookie sheet and pour the mixture on to the paper. Sprinkle the left over candy cane chunks on the top and refrigerate for about 45 minutes or until firm. Remove from paper and break into delectable chunks!
Ginger Cookies are delicious year round, but even better during the holidays.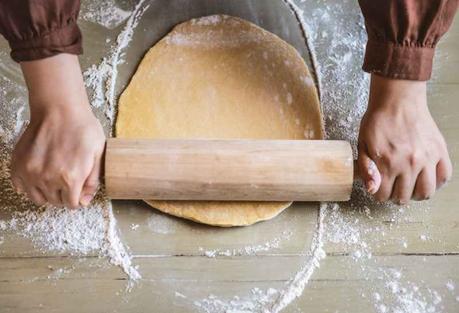 Ingredients-
• 2 ½ cups flour
• 1 tsp. baking soda
• 2 tsp. ground cinnamon
• 1 ½ tsp. ground cloves
• ½ tsp. ground nutmeg
• ½ tsp. ground ginger
• ¼ tsp. salt
• 1 cup dark brown sugar
• ¼ cup vegetable oil
• 1/3 cup unsulfured molasses
• 1 egg, room temp
• 1 ¼ cup chopped crystallized ginger
• Sugar to roll the cookies in
Instructions-
• Preheat the oven to 350 degrees F. and line two baking sheets with parchment paper.
• In a large bowl mix together flour, baking soda, cinnamon, cloves, nutmeg, ginger, and salt.
• In an electric mixer bowl beat the brown sugar, oil, and molasses on medium speed for about 5 minutes then turn to low. Add the egg and beat for about two minutes. Keep the mixer on low and slowly add the dry ingredient mixture and the crystallized ginger to the mixer and once combined, mix on medium for another 2 minutes.
• Scoop the dough and roll in your hands to make a 1 ¾ in ball and flatten with your fingers. Sprinkle/press the cooking in the granulated sugar on both sides and put on to the prepared baking sheet.
• Bake for 13 minutes until the cookies crack on the top and are soft on the inside. Let the cookies cool on the sheet for a few minutes then transfer to wire racks to fully cool. Enjoy!
And who doesn't love Snickerdoodles
Ingredients-
• 2 ¾ cup flour
• 2 tsp. cream of tartar
• 1 tsp. baking soda
• ¼ tsp. salt
• 1 cup unsalted butter at room temperature
• 1 ½ cups sugar
• 2 eggs
• 1 tsp. vanilla extract
• 3 tbsp. sugar
• 1 tbsp. cinnamon
Instructions-
• Preheat the oven to 350 degrees F. and line two baking sheets with parchment paper and chill in the refrigerator
• In a medium bowl mix together the flour, cream of tartar, baking soda, and salt.
• In another bowl cream the butter and sugar together until pale and fluffy then add the eggs and vanilla and beat together well. Slowly stir in the flour mixture using an electric mixer until the flour is combined. Chill the dough for about 30 minutes.
• While chilling mix the sugar and cinnamon together in a small bowl.
• After chilling the dough scoop 1 inch balls and roll in the cinnamon sugar. Place the balls on the baking sheets and bake for 10 minutes.
• Let the cookies cook on the sheet for 2-3 minutes before transferring them to wire racks to cool. Enjoy!
Christmas is the best time of year in my opinion. The cookies, the happiness, and the loving spirit is in the air. I can't wait to share my Christmas cookie assortment with everyone!
Happy holiday season everyone!
Until next time,
Nancy