"Our Mission is to bring quality premium vehicles to the Atlanta market for an affordable price for all to enjoy".
Chris Saucer and the Premium Auto Brokers! Questions and Answers!
Q: What is your background? Education, Work Experience?
A: I got into the car business at a young age so selling cars is the only real job I have ever had. Growing up my mom worked for Autotrader she would tell me stories about the dealerships she worked with and I think that had some kind of impression on me.
Q: How long have you been in Premium Auto Brokere? In this business?
A: I started Premium Auto Brokers about 5 years ago. When I sold my first car I knew this was something I was good at and something I wanted to keep doing. Overtime it evolved into a mission.
470-445-7260 2016 KIA Sorento SXL $26988 Miles:28104 Certified Pre-Owned

Публикувахте от Premium Auto Brokers в Петък, 9 август 2019 г.
Q: What are the advantages of this form of business ownership?
A: Dealing with the public is interesting because no two days are the same plus I get to meet all types of interesting people and of course I get to buy cars much cheaper than market value.
Q: What service(s) or product(s) do you offer/manufacture in Atlanta?
A: Premium Auto Brokers is a car buying service. Over the past 5 years we have been serving the Greater Metro Atlanta Area with all their car buying needs. No matter your situation we find a way to you into your dream car.
Q: How did you get started in this "Premium Auto Brokers" Frim?
A: I saw an opportunity to provide an excellent car buying service. Most Salesman couldn't care less about you or your needs. I was able to figure out that people want to be heard and ultimately feel like a winner.
Q: What is unique about your "Premium Auto Brokers" Business?
A: Honesty. We are going to tell you how it is. So that you can benefit from our time together. You can also purchase a vehicle from us over the phone if you're working with limited time.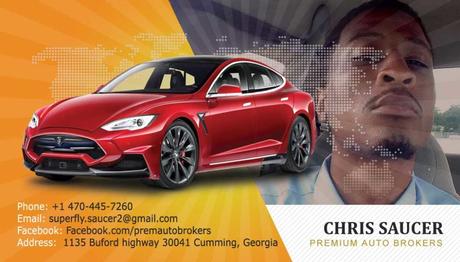 Q: What are your responsibilities as the business owner?
A: Managing the team making sure everybody knows what our mission is. Keeping everyone informed on market conditions. Buying Selling Trading vehicles. Pretty much everything.
Q: What was the most challenging client you've had to advise so far? What were their needs, and how did you help them?
A: My most challenging client was when I first started. This lady who had challenged credit didn't believe me when I told her I couldn't help her. That experience stuck with me because I realized she didn't trust me and I learned that in this business it's better to be trustworthy than a 'good salesman'.
Q: This job requires a wide range of knowledge about the services of several major insurance providers. How do you organize yourself around keeping up-to-date information ready for your clients?
A: Articles! I'm always reading and keeping myself up to date with the laws and insurance pricing just because it directly effects my industry.
Q: If you had one piece of advice to someone just starting out, what would it be?
A: always remember that this is the people business if you want to be successful you have become the best version of yourself and much of that process is learning how to better understand people and their desires.