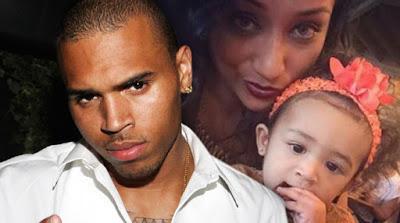 Photo Cred: RealityWives.com
Nobody has had a career like Chris Brown, seems people wish to relive his faults most times rather than his triumphs. We love him, we hate him, but nobody can deny the fact that Chris is seemingly a great dad. When he is not posting pics of being on the road and doing the 'megastar' thing, he is posting the cutest videos and pictures via Instagram of his daughter Royalty, aptly named. Chris' baby mother, Nia Guzman, tried to capitalize off his home being vandalized, and I am one person that is glad it didn't work.
 Trying to use a child as a cash cow or pawn in ANY way, for ANY reason is just beyond wrong. I guess the judge was feeling whatever Chris was giving because ole' girls child support has been allegedly reduced to $2,500 per month and was awarded joint custody (when being greedy goes wrong!) HA! She got exactly what she was getting. Girl bye! It's crazy that these women play these games with men that are actually willing to be fathers to their children, but, that's the reality of today. These men know Child Support Enforcement is NOT playing with them! So I guess the turn of events will be men seeking full/joint custody of their kids in lieu of paying their baby mommas anything if they can help it. Y'all gonna need a new hustle! For Real!
According to
TMZ
;
"Brown and
Nia Guzman
squared off in a Houston court Friday morning. She not only wanted to deny Chris any custodial rights, she also only wanted to give him supervised visitation.
The judge disagreed and we've learned Chris and Nia will share 50/50 physical custody, with Royalty going back and fourth every 4 days. Both Chris and Nia now
live in L.A
.And Chris, who was in court represented by Mark Geragos, scored another victory. The judge ordered him to pay Nia $2,500 a month in child support, which is exactly what he's been paying her.
She wanted $15k
."
Read more:
http://www.tmz.com/2015/09/11/chris-brown-joint-custody-royalty-child-support-victory/#ixzz3lTJlUF5X