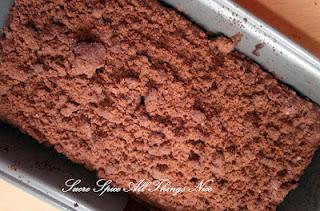 I think chocolate is one such thing which is multi - purpose,its a comfort food for almost everyone,use it as a bribe,use it to please someone,to cheer up that someone special and whole lot of other reasons!!!
This  cake was of course to cheer up someone,to brighten up his day but also an opportunity to bake for Magazine Monday which I have been wanting to do so for along time.This chocolate pound cake is rich ,moist and delish and with a nice crumble topping. A cake with crumble topping??It seemed an interesting idea since I associate crumble with a fruit crisp.The topping is made with hazelnuts  imparts a nice nutty  flavor and taste, and a hint of cinnamon.
The pound cake has a moist crumb which comes with buttermilk and a subtle flavor of coffee and there are bits of chocolate too..Though the recipe requires Guittard Chocolate,instead I have used Callebaut dark chocolate only because of its availability.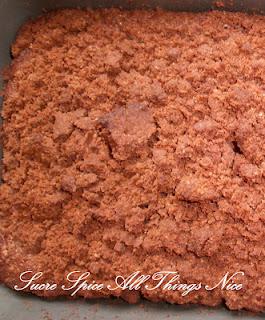 The recipe has been taken from pastry&baking magazine from  here.
Cake Crumble
107gms butter
150gm demarera sugar
98 gms cake flour
120gms roasted hazelnuts
22gms cocoa
.85gm baking soda (approx 1/2 tsp)
1 gm salt (approx 1/2 tsp)
1 gm cinnamon (approx 1/2 tsp )
Cake Batter
190g Butter
300g Sugar
4 eggs
150 flour
35 gms cocoa
3 gms salt
1 tsp baking powder
117gms buttermilk
5gms Vanilla
2gms Coffee
50gms Chocolate
Cake Crumble


Combine all the ingredients in a mixer and process until all the ingredients combine to form a paste. Refrigerate until required.
Cake 

Cream butter and sugar till light and fluffy.
Sift dry ingredients.
Add eggs to the creamed mix,
Add dry ingredients alternating with buttermilk in 2-3lots.Scrape the bowl well.
Grate chocolate and fold it into the batter.
Line small loaf pans with baking paper.
Put the batter in the pans and top it up with the crumble.
Bake it at 180C for 35-40 mins or till done .