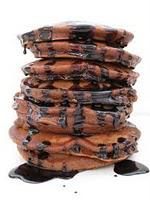 TIME: 20 MIN.
DIFFICULTY ': *
INGREDIENTS:
130 gr. flour 00
60 gr. granulated sugar
200 ml. milk
40 gr. unsweetened cocoa
3 eggs
3 tablespoons melted butter
half a bag of baking powder
vanilla essence
a pinch of salt
PREPARATION:
Mix the flour sifted with baking powder, a pinch of salt, sugar, cocoa and a few drops of vanilla essence.
Beat the eggs and mix with the melted butter and milk at room temperature.
Mix the 2 compounds and mix until a creamy batter.
Let stand for about 20 minutes.
Heat a frying pan and grease it lightly with butter then pour the batter by spoonfuls.
After about a minute, will be formed on the surface of the bubbles and the edges begin to brown, then turned over the pancake and cook for a minute the other side.
Remove from heat and serve hot.