Here is a cookie I hope you will enjoy as much as we do.   I am always hesitant cooking with chickpea flour as it tastes terrible raw.  So do not eat this as a cookie dough but it is delicious as a baked cookie.  They are definitely a lighter tasting cookie and will satisfy a chocolate chip craving, which I have frequently.  I am definitely going to keep making these.  It is a great treat, gives some protein energy and is safe for school lunches. Enjoy!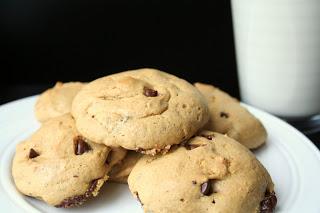 Ingredients
(makes 12 cookies)
1/2 cup melted coconut oil
2 eggs
1 cup palm or coconut sugar (I grind mine in a bean grinder to make it a bit finer)
1 teaspoon gluten free vanilla
1/2 tablespoon psyllium husk (you could substitute xanthan gum or guar gum)
2 cups plus 2 tablespoons chickpea flour (besan flour)
1/2 teaspoon sea salt
1 teaspoon baking soda
1/2 cup chocolate chips (ensure they are grain/gluten,dairy free)
Directions
Preheat oven to 350 F.  *You may need a grease certain types of cookie sheets?  I use a seasoned stoneware which does not need greasing.
With a mixer blend coconut oil, eggs, sugar, vanilla and psyllium husk.
In a medium bowl combine chickpea flour, sea salt and baking soda.  Add flour mixture to blended eggs etc.
Mix until fully combined.  Stir in chocolate chips.
Drop by tablespoon size spoonfuls onto prepared cookie sheet. (It is a sticky batter)
Bake for 9-11 minutes or until golden brown and fully cooked.