HELLOOO. I know, this last month has been another quiet one on Lashes of Lifestyle - it's still pretty busy over on Instagram though, so make sure you're following me there. It's just, it's been pretty crazy these past couple months, but I'm slowly getting everything back into balance. Promise. Anyways, even if it has been crazy, and I haven't had as much time to write for you guys as much as I'd like, I still have some awesome faves from last month to share with you. New food to try. So here goes, my favourite food/drink finds for September.
City Social
I love a bar with views. Ok, I know, who doesn't right?! (maybe just the ones with fears of heights. S glad I'm not one of those!). With a Saturday to explore, and time for a cheeky drink before dinner, I wanted to take Chris to a new spot. Somewhere fancy with some awesome views of the city. You see, Chris always tells me, he didn't do all that much in London before we got together. So I'm always dying to show him all the reasons I fell in love with the city.
I took Katy's recommendation to head to City Social, as it's one of their faves. It did not disappoint.
The interior was gorgeous and sophisticated. The service was fantastic. The views were something else.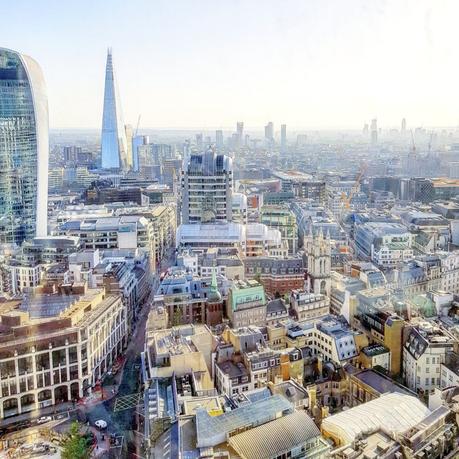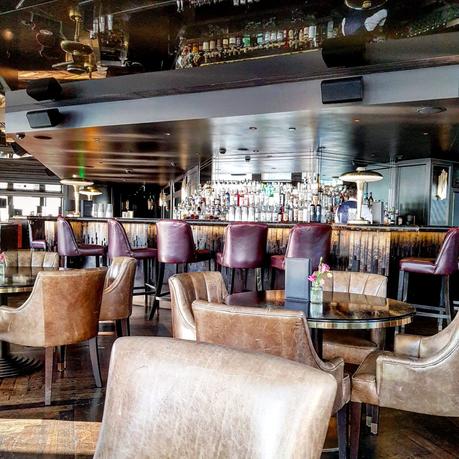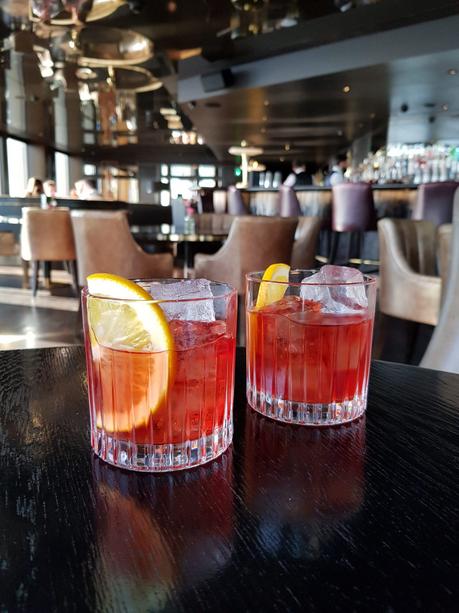 City Social has an Apertivo hour 2-7pm, which runs on Saturdays too, meaning our Negronis (one of a handful of cocktails on this menu) were just £6 each! Bargain for such a fabulous spot.
We only stayed for one as we had a dinner reservation. However we'll definitely be going again.
12th Knot - Laffa Street Food on the Tuesday Takeover
Mid-month, the girls and I headed up to 12th Knot rooftop bar for a couple of early-week cocktails and food over a catch-up. Tuesdays is home to the Tuesday Takeovers, where resident chefs takeover the menu - which when we visited was laffa street food.
For those of you who haven't been to 12th Knot (and didn't read my piece on the girls night we had there last year), it's one truly stunning bar with incredible views over London. Plush velvets, twinkly lights, teals, purples and plants give it a sophisticated, stylish vibe.
The cocktails were fab. Faves were, Once a Gent (Bacardi Carta Blanca, Trois Rivieres, cherry brandy, sauvignon blanc, passionfruit, spiced orange oleo) which was a tad bitter and the Belle Fizz (Grey Goose Original, Grey Goose Vanilla, St. Germain, 'bouquet' syrup and soda) which was super sweet.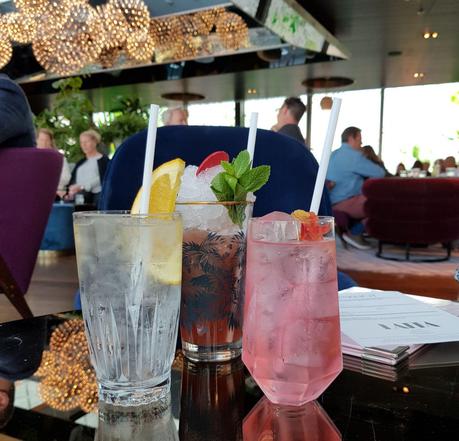 Laffa Street Food was serving middle eastern wraps, hummus and halloumi fries, aswell as a sharing board option.
We tried the veggie and the lamb wraps, both were pretty good (I could have had a little more lamb in mine but sill very tasty).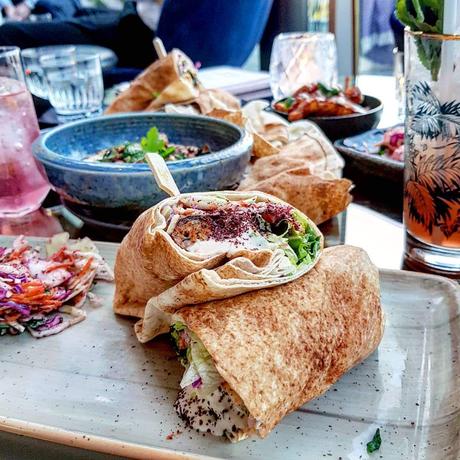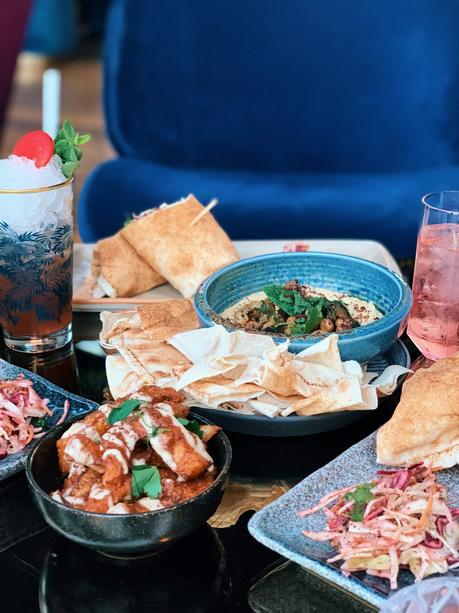 We couldn't resist sharing a hummus and halloumi fries too. The hummus was topped with chickpeas and aubergine and was dreamy 🤤 The halloumi fries were crispier than ones I'd had before, but tasty all the same.
I loved the idea behind the Tuesday Takeover, and would definitely be keen to head back for the next resident chef!
Pumpkin Spice
I'm pretty sure this came back earlier this year. As such, I've already had two. Yep, TWO. One hot latte and one frappe. Can't tell you which is y fave. It purely depends on the mood that day. But I'm certainly craving one whilst I'm writing this.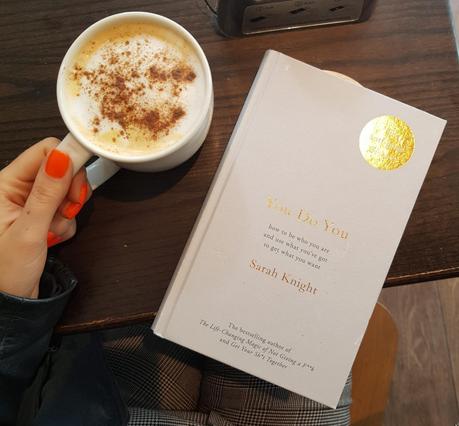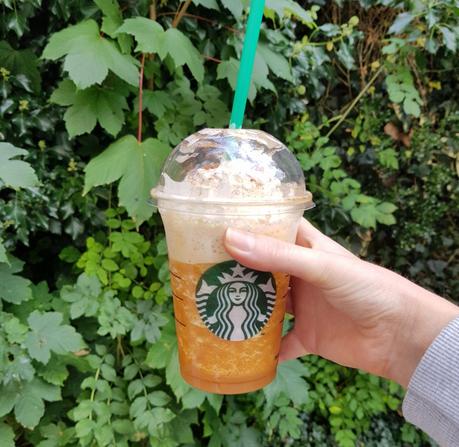 Yes, they are super sweet. But I do have a sweet tooth. It's definitely a fave this time of year, and I have noticed a few other places serving pumpkin spice too - might have to try it from other places too to see where does the best 😉 All the excuses to have more!
Partridge
Right at the beginning of the month, we tried Partridge for the first time. We cooked a mean roast, and served it up all fancy - because sometimes you just gotta have that dining out feel in the comfort of your own home. Make a night of it. Make it feel fancy. Treat yourself. Have a date night. So that's exactly what we did. Alongside a glass of vino of course.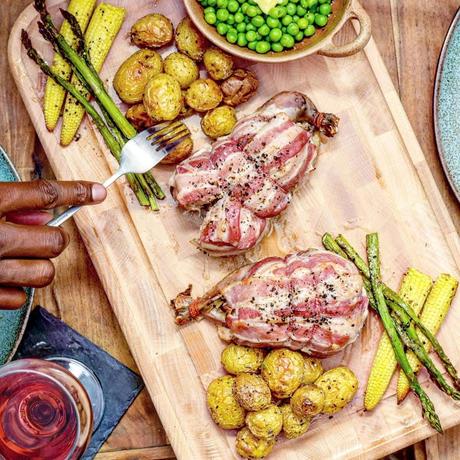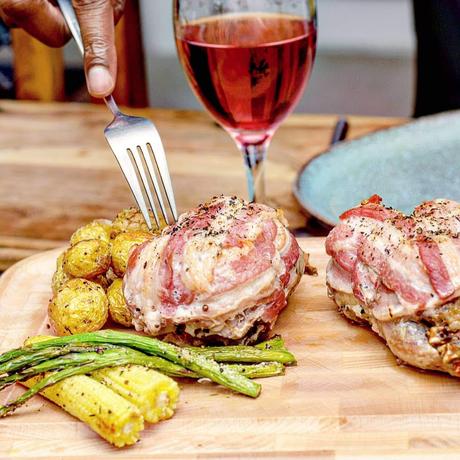 Our partridge was actually from Donald Russell Butchers. Freeze packed and delivered to our door, ready to go straight in the freezer and defrost when needed. It was pretty simple to cook, not taking any longer than chicken. Biting into the meat you could really taste the quality. It was dreamy. We loved that it was wrapped in bacon and stuffed too!
We did also try pheasant, but this didn't impress as much. However, we'd definitely order partridge from Donald Russell again!
Shake Shack Great British Shake Sale
This September marked the start of the 6th Annual Great British Shake Sale at Shake Shack - Guests who donate £2 or more to help end child hunger received a free hand-spun shake on their next visit (100% of donations going to Action Against Hunger!). Definitely a cause to get behind. It's running until 16th October so still time to get down!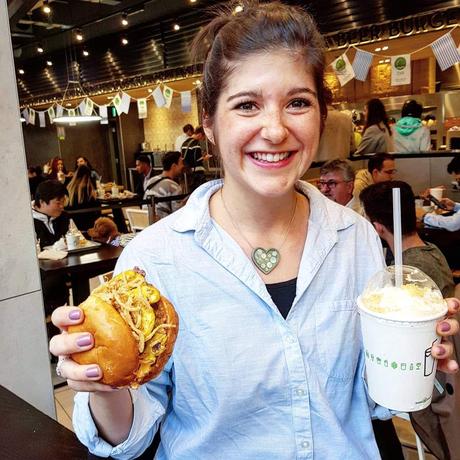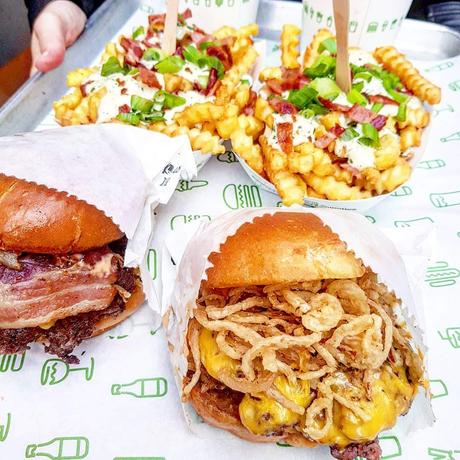 The Strawberry Cookies'n Cream shake (Frozen vanilla custard, blended with strawberry, golden cookie crumbles, topped with whipped cream and golden cookie crumbs) is dreamy, especially alongside the Shackmeister burger 😏 All those crispy onions are fab inside the burger. Shake Shack is always a fave spot for the burgers and the fries (cheesy is the way!) and now there's even more excuse to keep going back 😏
So there you have it. My faves from September. Have you tried anything new this month?
Chloe xx
*This post includes some gifted items and reviews (for Lashes of Lifestyle or East London Girl). All views my own.