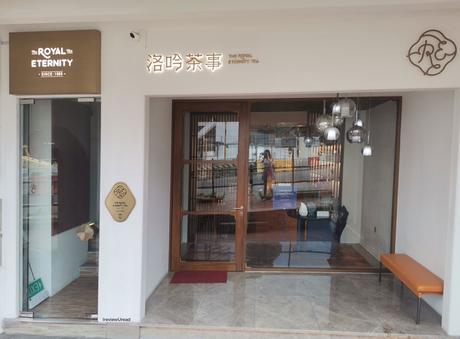 Chinese Tea Tasting Experience at Royal Eternity Teahouse
Located in the middle of Tanjong Pagar, Chinatown and Outram Park is a modern tea house that offers traditional tea brewing. Royal Eternity Teahouse is a Chinese tea house in Singapore that gives you the most elegant tea tasting experience while educating you about the art of tea making.
This place is so artistic that even its Chinese name, 洛吟茶事 (Luo Yin Cha Shi), was derived from a Chinese poem:
在水一方,浅吟低唱。

洛吟,缘起于茶,一壶热水与几片春秋邂逅,点醒舌尖的密码。
In English, the poem sounds like this:
On the side of the water, sing shallowly.

Luo Yin, originated in tea, a pot of hot water with a few slices of spring and autumn encounter, unlock the secret of the tongue.
In the tea house, they served exclusive tea from the different regions in China. From Green Tea to Pu Erh, they have it all. The Chinese tea tasting experience not only provides a first-row seats to tea brewing but also teaches you more about the Chinese culture and the benefits of tea to your health.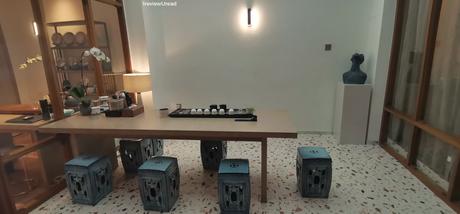 The Royal Eternity Glass room is located on the first floor and it has an opaque sunroof that allows natural light to brighten up the room.
Private room for Solemnization & Weddings in S'pore
Aside from being a hotspot for tea enthusiasts, Royal Eternity Teahouse is also an ideal location for solemnization and weddings in Singapore. They have over 5 rooms and each room can fit up to 8 to 15 people depending on the size. Do note that you have to include the tea master when you do your headcount.
Aside from ROMs and intimate weddings, the tea house is also a great location to hold intimate corporate events, formal meetings, team meetings, classes and workshops because they are the only teahouse and wedding venue that has a cigar license.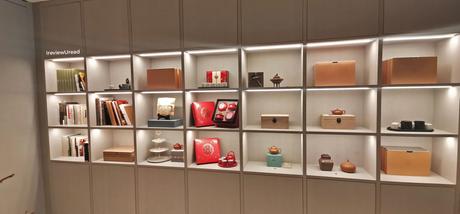 Amenities in Royal Eternity Tea House
The tea house is fully equipped with all the necessary facilities for a successful event:
Air-conditioned private rooms
Wifi
TV screen, projector and sound system
Chairs and tables
Pens and papers
Cleaner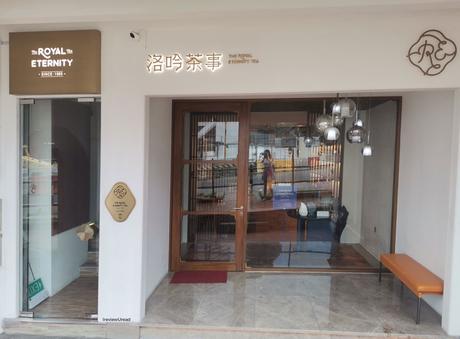 Our Experience at Royal Eternity Teahouse
Upon arriving at the tea house, my partner and I were greeted by a strong aromatic awakening. The incense burning adds this elegant oriental touch to the authentic experience.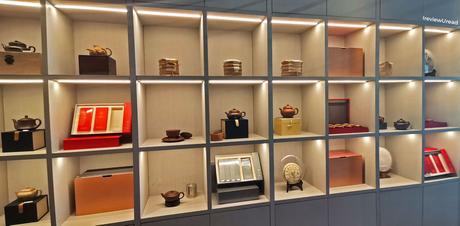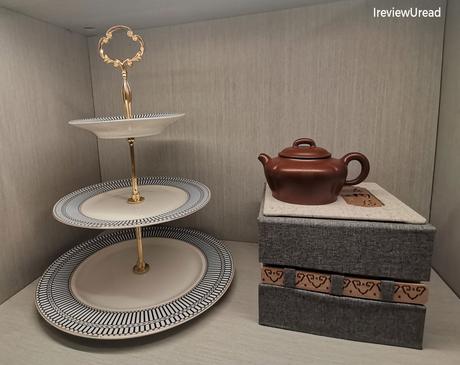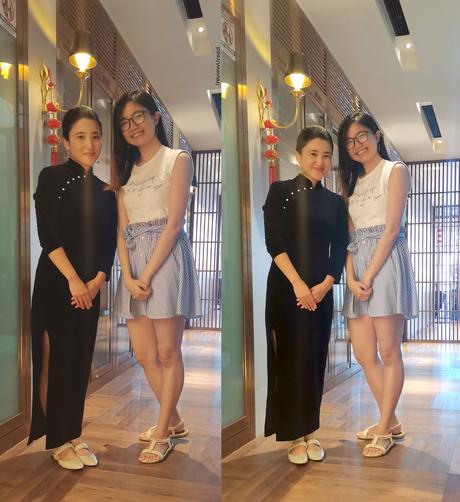 We were welcomed by a lady dressed prim and proper in your traditional Chinese outfit further reminding us that we were in a Chinese teahouse.
On the left is a full wall display of tea leaves and accessories, something we could stare at the whole day.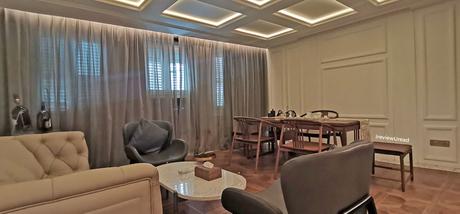 The Tea Master 姗姗 Shan Shan
The lady introduces herself as 姗姗 Shan Shan, and proceeds to explain the purpose of this place; it is a teahouse with individual rooms you can rent for meetings and or relaxations.
Royal Grand Eternity Room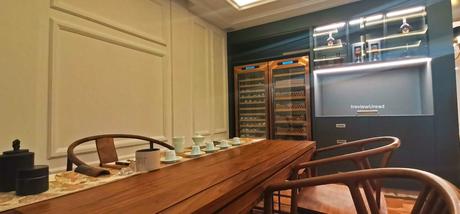 The Royal Grand Eternity Room is located on the second floor. It is one of the biggest room in this tea house and it is fully equipped with a wine cooler space.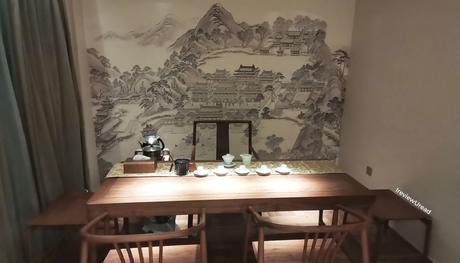 Unlike traditional teahouses where everything is all so "Chinese", the place looks surprisingly modern and chic. Our guide further explains that the concept is an Oriental-European fusion, the furniture split in this perfect 50-50 ratio of Italian leather sofas and solid walnut wood table and chairs.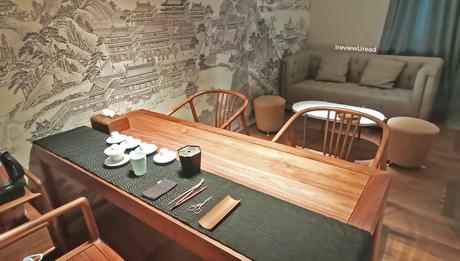 You can even rent the entire second-floor event space.
After a quick run-through of their level 1 facilities, we were brought to the second level for the "VIP" facilities.
2nd Floor Central Meeting Rooms
Over here there are 3 rooms with the best ambience you can ask for. From a room with a carved wood sliding door to this private room that has this 霸道总裁ambience to it.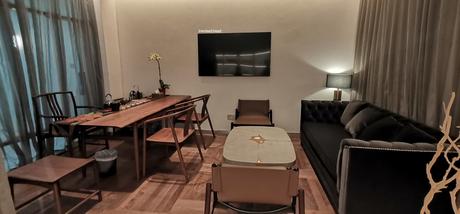 2nd Floor Meeting Rooms
You can say that you spend what you want.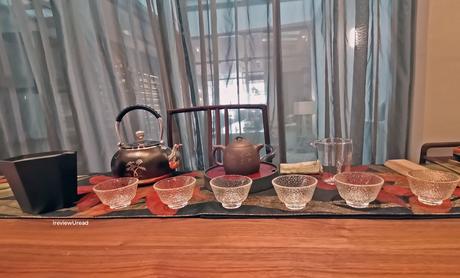 Shan shan further explains the target audience for the shop to be people who want to enjoy a quiet and peaceful time just minutes away from bustling city life.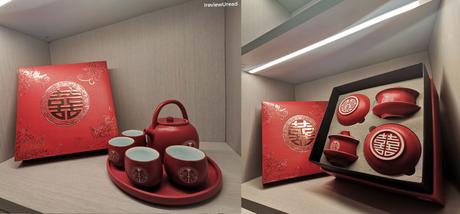 Royal Eternity Meeting Room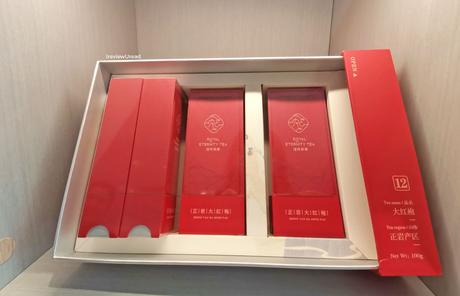 After our short tour of the place was over, we moved on to the highlight for the event, tea testing. We moved to the Royal Eternity meeting room for that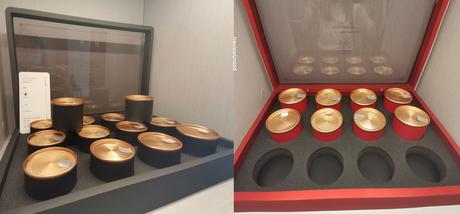 Also, herbal teas are not teas in case you are wondering.
Before we began allowing our senses to let loose, Shan Shan explained in simple terms how the process of tea making is.
Green tea: Not oxidize - roasted then steamed
Yellow tea: Not oxidize - piled then wrapped in a damp cloth
White tea: Mild oxidation - Made from the bud of tea leaves
Oolong: Oxidized partially - from 12-80%, yes like liquor, this makes oolong very valuable as a collectable
Black tea: Fully oxidize- also your usual Lipton tea/ Earl grey etc.
Pu-erh tea: Double fermented - the Macallan Imperiale of teas.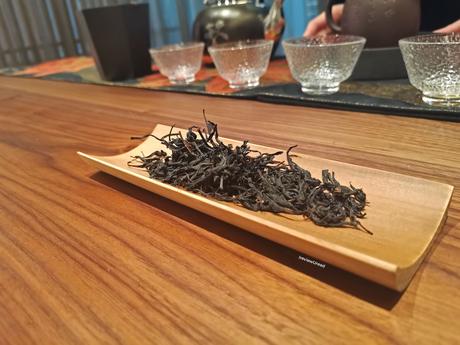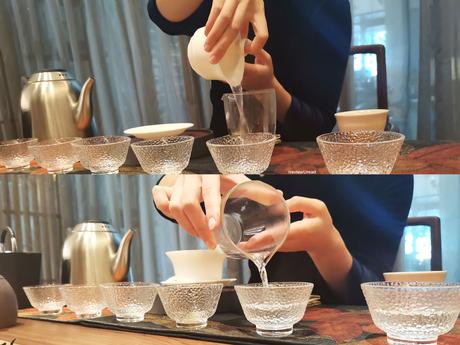 From the different types of tea leaves available to the specific teapots and teacups to use. To not bore everyone, I will summarise the things she explained.
There are 6 main types of tea leaves, green, yellow, white, oolong, black, and Pu-erh. The difference being the cultivation process and the way the tea is processed or manufactured.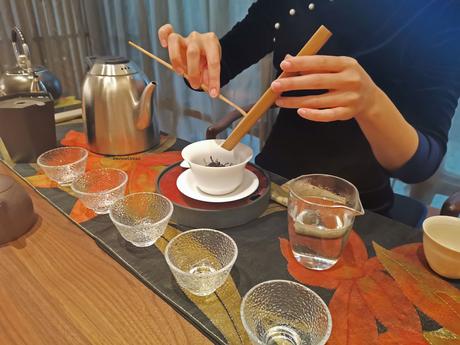 How these types of tea leaves are categorised is by the oxidation and preparation process: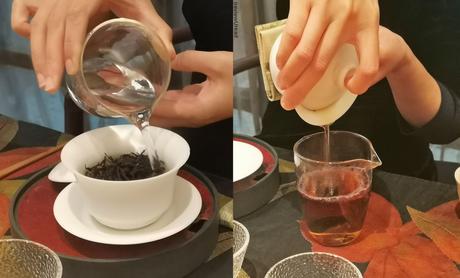 The tea that we were served was the black tea, Lapsang Souchong. Fun fact if you directly translate the Chinese for black tea, 红茶 it comes up as red tea.
Chinese Tea Brewing Steps
Step 1 - Heat all the tea peripherals and drain the teapot and teacups
Step 2 - Prepare the tea leaves and let the guest confirm it is the right tea leaves before pouring the tea leaves into the teapot
Step 3 - You should not drink your first batch of tea, it is meant as a purification process and the tea should be promptly poured away.
Step 4 - Pour in the hot water and allow the tea leaves to infuse the water.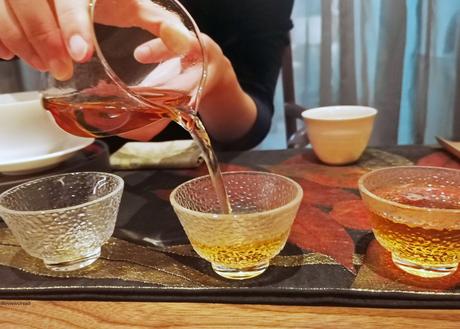 Step 5 - Pour it into the common teacup before serving
Step 6 - Serve tea
Step 7 - Savour the tea
Above is just a simple explanation of the steps. There are even more in-depth steps to be a tea sommelier, but hey at least I get to learn part of it!
White and Green Tea: 77.5 - 85°C
Black Tea: 98.5°C
Oolong Tea: 85 - 100°C
Pu'er Tea: 100°C
3 Factors that affect the Tea's Aroma
Aside from the type of tea leaves, there are 2 other factors that affect the tea's aroma:
Green Tea: 30s to 3 mins
Black Tea: 3 to 5 mins
Oolong Tea: 30s to 10 mins
Temperature of Water
The temperature of your water will determine the taste of the tea. In essence, the hotter the water, the stronger the tea. Of course, different types of tea require different temperature:
Length of Time to Steep the Tea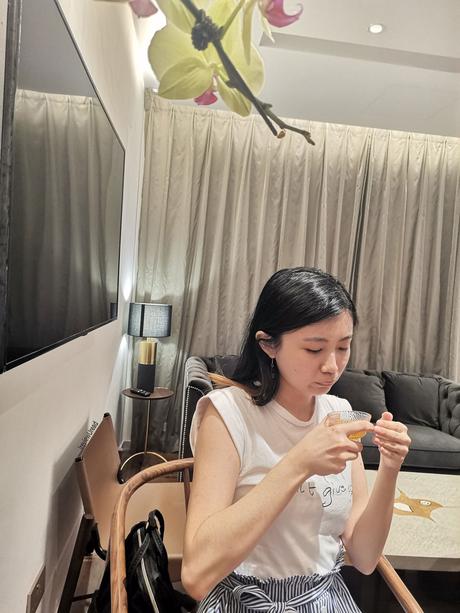 Like the temperature of the water, the length of time for the tea to be infused varies from tea to tea. Whole-leaf tea is steeped longer and high-quality tea has a shorter brewing time:
Type of Water
The type of water is another factor that will affect the outcome of the tea. It is advised that one should avoid using distilled, soft or hard water. Instead, for 'better tasting' tea, try using cool, spring mountain or bottled water.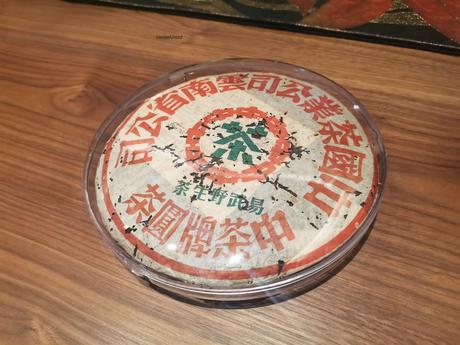 For something that is considered to be ' hot leaf juice ', there are certainly lots of factors that go into making it.
Chinese Tea Tasting Experience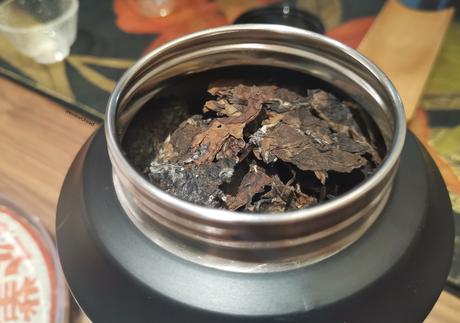 The finished product was of an amber tint with a strong aromatic sensation to it. After that, it felt as the ambience became more relaxed, and we started chatting up with Shan Shan more as she explained her experiences and how tea is a crucial part of the Chinese culture.
We ended up sitting at the table sipping and savouring the tea as its fragrance changed with every new pot of tea. Exchanging light conversations and admiring how our modern fast-paced society has started to push us towards reliving the simpler times.
Tea Leaves can be aged for years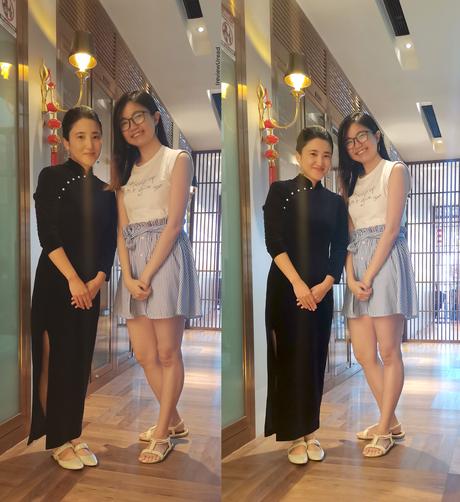 As Shan Shan was educating us more on the tea culture and art of tea making, she brought out 2 different kinds of tea that were aged. The circular 'cake looking' packaging was a tea that was left to age for 4 years while the tea with white hairs (white tea) in the black container was left for 2 years.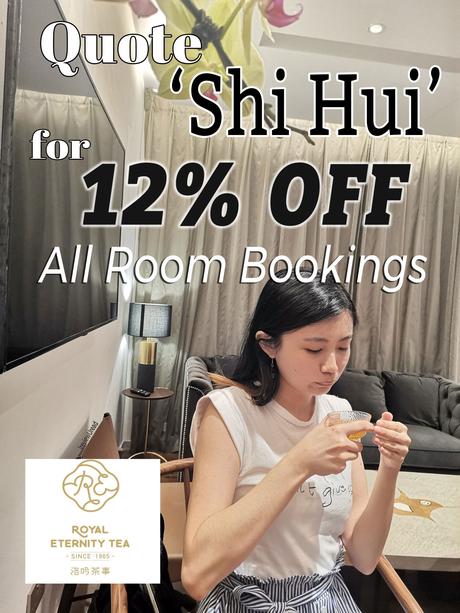 But there is no never-ending banquet, and as we saw another group of customers coming in, we proceeded to take our leave but not before snapping a few photos with our guide.
As we left, the Chinese idiom 柴米油盐酱醋茶, which signifies the seven necessities of life. Tea rounds things up nicely. From 一茶二饭 to 三茶六饭, most people these days are constantly striving to improve their lives from just being able to put food on the table, to wishing they can have a feast.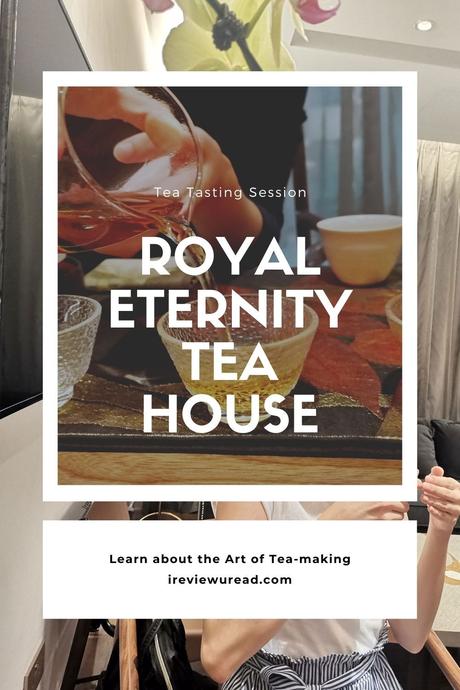 Tea has always been a very culturally significant portion of the Chinese culture and as we walked to the MRT, I can't help but think. It's nice to know that the Chinese culture is still active in our bustling Singapore.
I would highly recommend 珊珊 Shan Shan as she made our experience much more pleasurable than expected. Plus, her enthusiasm for the art of tea brewing entices me and urges us to learn more about the history of tea ceremonies.
Royal Eternity Tea House offers tea making and tea appreciation workshops. If you are planning to learn more about the art of tea brewing or book a room here, quote " Shi Hui" at Royal Eternity Tea House to receive a 12% discount on all room bookings.
I hope you've learned something from this post about The Art of Tea Making for I certainly did.
Royal Eternity Teahouse
Mon to Sun (Including Holidays) - 11:00 to 23:00
37 Neil Road, Singapore 088822