This chicken loaf is most in demand at home over the weekends and the family knows I love baking this one!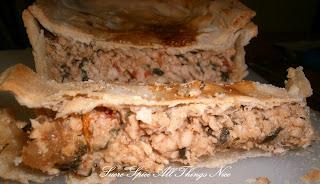 The loaf has a nice brown crust with chicken and cheese filling.While its served warm,it can be a great evening snack or an accompaniment at dinner.
I have been baking this loaf since a long time and it was pulled out of a magazine some years so unfortunately I do not have the baker's name!!! !
Chicken Loaf
40g melted butter
2 1/2 cup flour
80 g butter,chopped
2/3 cup water
Filling
1 Tb oil
a few spinach leaves,chopped
1 red chilli,chopped
500 gms chicken mince
1 large tomato,peeled,seeded,chopped
1 cup grated cheddar cheese
2 T flour
1 egg slightly beaten
Preheat the oven at 200 C.
Brush a 9x5 in loaf tin with melted butter,reserving some.
Place the flour on a marble top,add chopped butter and mix well till fine and crumbly.Add the water little at a time and knead the dough till soft.Turn the dough onto a floured surface and roll out 3/4th of the dough .It should be large enough to cover the base of the tin.Extend to the sides,ease onto the tin ,cover with plastic wrap and refrigerate for 15 minutes
To prepare the filling
Heat the oil in a pan,add spinach and red chillies and stir well .Add the chicken mince,chopped tomatoes,cheese  and flour.
Season with salt and pepper and cook till mixture is well combined.Remove from heat and cool the filling.
To prepare the loaf
Spoon the filling in to the prepared pan,pressing into the corners.Roll out the remaining dough large enough to cover the tin.Pinch the dough edges together and cut  slits on top of the loaf. Brush with the remaining melted butter.Bake for 40-50 minutes or till well browned.
Allow to cool and then turn the loaf out.Cut into slices.Serve it warm!