As a child my mom used to make a chicken casserole that I loved.  I have actually never made one on my own but have had a several cravings.  For this casserole, I decided to use coconut cream and broth as the sauce base.  The nutritional yeast added a nice "cheesy" flavour.  Depending on your size/amounts of vegetables you may want to place around with the amount of cream or broth.
Hope you enjoy this as much as we did.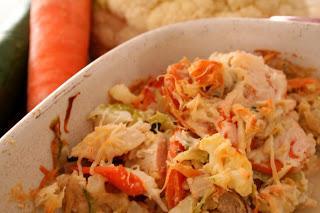 Ingredients
2 cloves minced garlic
1 chopped onion
2 teaspoons olive oil
1/2 cup coconut milk (or more)
1/4 cup chicken or vegetable broth
1 teaspoon paprika
1/2 teaspoon cayenne pepper
1/4 cup nutritional yeast
3 cups diced chicken breasts 
1/2 chopped cauliflower into bite size pieces
1 diced zuchinni in bite size pieces
2 diced carrots in bite size pieces
shredded Daiya cheese (optional)
Directions
Preheat oven to 350 F.
In a medium size sauce pan, fry the onion in olive oil until soft.  Add the garlic, cayenne pepper and paprika, fry for another minute. Remove from heat and add coconut milk, broth, salt, and nutritional yeast.
In a 9x13 baking dish add chicken, cauliflower, carrots and zuchinni.  Poor coconut cream mixture over chicken and vegetables.  Stir to fully coat.  Add cheese if preferred on top or mix in between.
Bake 350 for 50-55 minutes or until vegetables are tender.