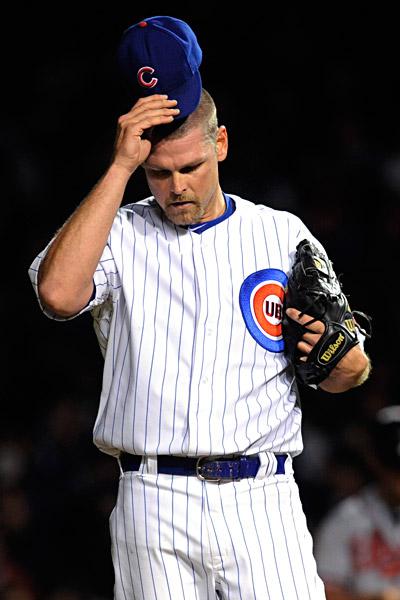 Photo: Getty Images/David Banks
- Adam Parker


There you have it, folks.
Another former pitching great is set to take his leave from the game of baseball.
This time, it's Cubs' legend and former rookie phenom Kerry Wood. Yes, I speak of the same Kerry Wood who burst onto the scene with the Cubbies in 1998 after pitching the still unheard of 20-strikeout game -- as a rookie.
But much has happened since then. Wood has struggled mightily to stay healthy and is no longer throwing the same gas that blew opposing batters away earlier in his career.
Wood, realizing that his effectiveness is at an all-time low, has decided to call it quits after his next relief appearance on the mound, which took place on Friday.
"It's one of those things where you know," Cubs manager Dale Sveum said Friday of Wood's decision. "It's the most difficult thing you ever have to deal with. Everybody has to do it. It's a time in your life where you make that decision."
The Cubs didn't make any pre-game announcement or start up a flash fire in the media about Wood's future with the club prior to Friday's game against the subway rival White Sox at Wrigley Field. Instead, Sveum went about it like any other game, stating that Wood would be available out of the bullpen.
"He's available to pitch, yeah, according to whatever happens in the game, he's ready to pitch today."
He could pitch Friday, Saturday or Sunday. The 34-year-old Wood wanted to take the mound one final time before leaving the game on his own terms after racking up more than 1,500 strikeouts in 14 seasons (12 with the Cubs).
"He doesn't want to do it for the recognition," teammate Ryan Dempster said of Wood wanting to take one final stand. "He wants to have one last time out there."
For Cubs fans, Wood is more than just a name on the Cubs roster. The right-handed flamethrower, who was the Cubs' top overall pick in 1995, has rung up 1,581 batters at the plate, leaving them shaking their head and staring at their bats as they leave the batters' box looking for answers.
Wood's biggest day was May 6, 1998 -- when, in his fifth major league start of his career, Wood struck out 20 en route to a one-hit complete game shutout of the Houston Astros. Obviously, the Cubs came out on top, 2-0.
That was a great moment in baseball history, one that Wood will be immortalized with for forever.
Dempster summed it up best, "He'll definitely be missed. The city of Chicago and Cubs fans loved him and rightfully so. When they feel that way about somebody, it's for the right reasons. He was a great teammate, a great friend and a great human."
As we look back on Wood's career, the questions of 'what if?' will be endless.
Woodie had a roller coaster-ride of a career, but I doubt he has any regrets.
Now, Wood will say goodbye to the game his way.