Rating: 
5
Prep Time: 
20 minutes
Cook Time: 
17 minutes
Total Time: 
37 minutes
Yield: 
27 jumbo cookies
Serving Size: 
1 cookie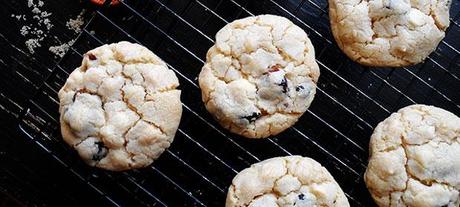 Cherry White Chocolate Chip Cookies
Ingredients
4 1/4 ounces cake flour (1 cup)
4 1/4 ounces all purpose flour (1 cup)
1/2 teaspoons baking soda
3/4 teaspoons baking powder
3/4 teaspoons Kosher salt
10 tablespoons unsalted butter, room temperature
5 ounces light brown sugar (scant 3/4 cups packed)
4 ounces granulated sugar (1 cup, plus 3 tablespoons)
1 large egg
1 teaspoon vanilla extract
8 oz white chocolate chips
5 oz dried cherries
Instructions
Preheat oven to 350 degrees. Line insulated baking sheets with parchment paper; set aside.
Sift flours, baking soda, baking powder and salt into a bowl with a wire whisk. Set aside.
In bowl of electric mixer, cream together butter and sugars until very light, about five minutes. Add egg and vanilla and mix well. With mixer on low, add dry ingredients and mix just until combined. Stir in white chocolate chips and dried cherries with rubber spatula.
Use a cooking scoop to drop dough onto prepared baking sheet. Bake 10-12 minutes for regular and 15-17 minutes for jumbo if using an ice cream scoop.
As soon as you remove the baking sheet from the oven, use a spatula to shape the outer edge of the cookies to make them nice and round and even.
Allow cookies to cool on sheet for 5 minutes before transferring to cooling racks to cool completely.