I really wanted to bake today. Do you ever get the urge to bake? I usually don't… I did today though! I don't know why, considering sweet treats aren't my thing, but sometimes, just getting in the kitchen and using the precision needed to create something sweet and special can ease the stress of daily life.
After some recipe searches and brainstorming, I ended up deciding to go with something that I'd never really tried making before: low calorie, heart healthy cookies. And no, that's not an oxymoron. Cookies can be pretty decent for you AND taste good at the same time. Cray.
So, I found a number of various recipes for oatmeal cookies featuring various fruits and nuts and this and that, but what I really wanted to make was something that included both chocolate and cherries. Yum, right?
Once I finalized my recipe, I headed out to the store to get all I needed, along with the stuff I needed to make a delicious salmon dinner. When I got home, I realized I didn't have any eggs. Not a one. Fail.
Improvise… I had remembered reading somewhere that 1/3 of a cup of apple sauce is the equivalent to an egg when it comes to baking, and luckily my husband is an apple sauce fanatic. I located the stash of apple sauce, measured out what I needed and decided to just go for it. Why not?
The little man saw me getting all the stuff together for baking, and he got SO excited. "Can I help? Please? PLEASE!?" Of course.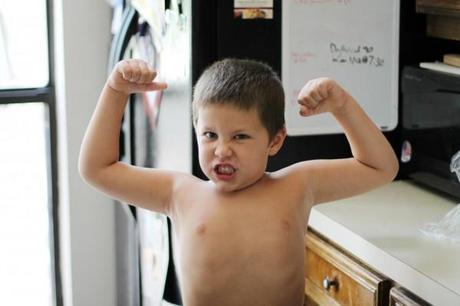 So the two of us set off on our baking adventure, and let me just say, these cookies came out so good. At first I wasn't so sure, since the texture out of the oven was strange, but once cooled, these bad boys were dang sensational.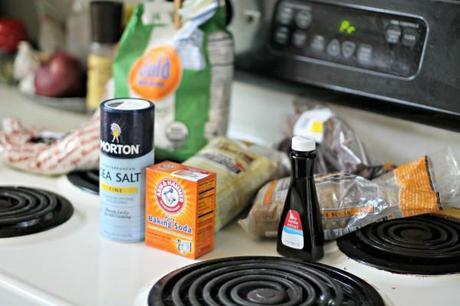 Chewy, sweet, sour, tart, smooth, chocolaty… It'll be hard to have just one. And guess what? That's OK! Low in sugar, fat and other bad stuff, and a little less than a 100 calories per cookie, you can "afford" to have another.
So, without any further ado, chocolate + cherry oatmeal cookies.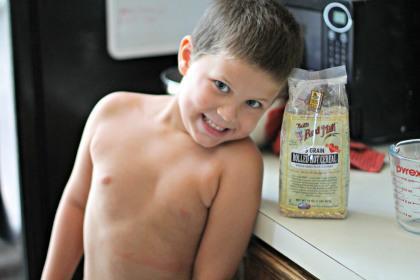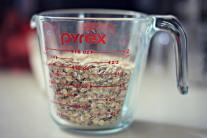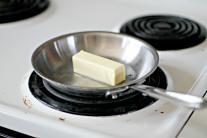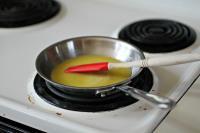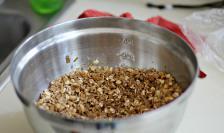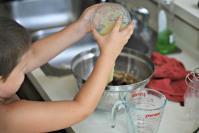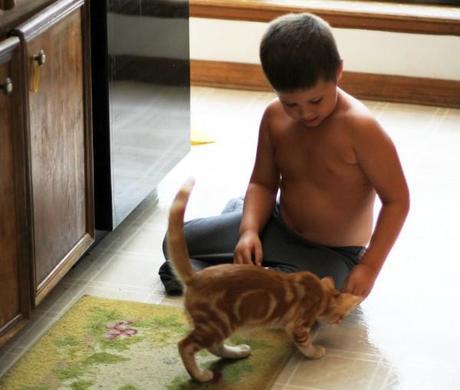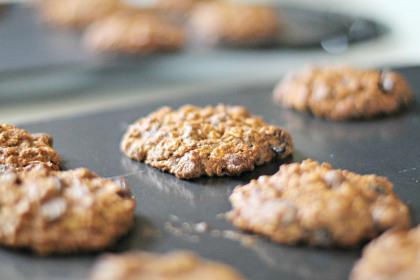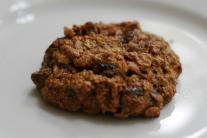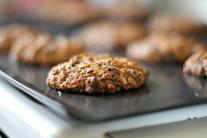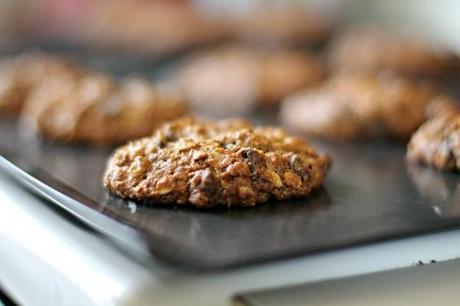 Cherry Chocolate Oatmeal Cookies 2014-07-24 14:00:34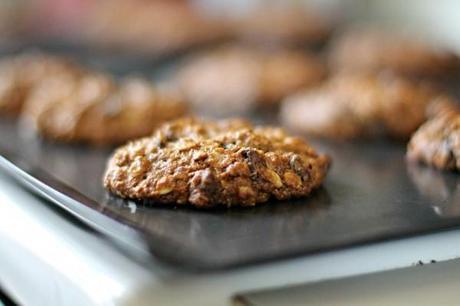 Delicious drop cookies featuring cherries, chocolate and heart-healthy oats. Plus, these cookies are pretty low calorie! Write a review Save Recipe Print Ingredients
1/3 cup all-purpose flour
1/3 cup whole-wheat flour
1 1/2 cups old-fashioned rolled oats
1 teaspoon baking soda
1/2 teaspoon salt
6 tablespoons unsalted butter
3/4 cup packed brown sugar
1 cup dried cherries, unsweetened
1 teaspoon vanilla extract
1/3 cup apple sauce, unsweetend
3 ounces bittersweet chocolate
Cooking spray
Instructions
Preheat oven to 350°F.
Combine flours, oats, baking soda and salt in a large bowl; stir with a whisk.
Melt butter in a small saucepan over low heat. Remove from heat and add brown sugar. Stir until smooth.
Add sugar mixture to flour mixture, and beat with a mixer at medium speed until well blended.
Add cherries, vanilla, and apple sauce. Beat until combined. Fold in chocolate.
Drop dough by tablespoonfuls 2 inches apart onto baking sheets coated with cooking spray.
Bake at 350° for 25 minutes. Cool on pans, and if you have a wire rack use that to finish the cooling process. I don't have one, so I didn't use this and they were fine.
By Katie Ogletree Slow Down and Savor http://www.slowdownandsavorblog.com/