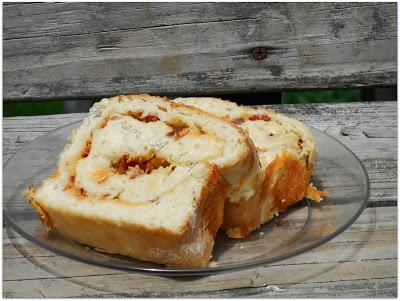 Good Morning!!  Yesterday I created a Bacon, Cheddar Ranch Bread! It was a huge success and so good. 
Bacon Cheddar Ranch Bread
1/2 C Warm BUT NOT hot water2 1/4 Tsp Yeast1 T Sugar1 1/2 C Warm NOT HOT water1/3 C  E. Olive Oil4 C Flour3 T Sugar1 Tsp Salt
Filling4 T Softened butterPacket of Hidden Valley Ranch Dressing MixShredded CheddarBacon( Buy the real bacon bits at the store)
In a mixer bowl add your 1/2 C Warm water, yeast and 1 T of sugar. Whisk a little bit. Let it sit for 5 minutes. Then add your 1 1/2 C water, olive oil, flour, sugar, and salt. Mix till the dough comes to a ball and isn't to sticky. Put it in an oiled bowl to rise on the stove. Once it is doubled, take it out and put it on a floured surface. Split it into two. Set one aside. Roll it out into a rectangle. Now spread your softened butter, and sprinkle your ranch mix over it. Then add your cheddar and bacon. Roll it up and put it in a greased baking dish. Do the same to the second batch of dough. Let it rise for an hour. And put it in a 350 degree oven till golden brown. Take it out and let it cool and put it on a cooling rack. Eat and enjoy!