Hi everyone!
I just wanted to check in so you know what I've been up to this last week or 2...
I have been working day and night, literally (sleep? what's that? O.O) on putting together something so amazing for you all. I'm a bit of a perfectionist so I wanted to make sure everything was set up properly. I wanted everything to be done by Monday because it's my blog's 10 month birthday but I'm still waiting for a few shipments to arrive so it will have to be later than I had originally hoped.
 I've been putting it all together for the last 2 months & you will see all of my hard work has paid off because it's looking FIERCE! I've been trying to catch up on some blogs I need to write all while doing quite a bit of makeup work throughout the week, and some weekends.
My Mom said it best "I'll sleep when I'm dead" Seriously! That's been my motto recently because there just aren't enough hours in the day and I know that if I want something done right, I have to do it myself. That and my way is always best so...Lol! I'm not even complaining, I love being busy and having a steady stream of work is always a blessing :-)
I will personally make my announcements when the time comes so it will be a fun surprise. I'll be kicking this all off with a nice giveaway! I can't wait!
So while ALL of this is going on, this last week I had 2 amazing companies contact me to write reviews for them...Remedy, which is skincare and one of my classic favorite drugstore makeup brands, Prestige Cosmetics.
I've never tried Remedy before but I'm glad I did! I'll have pictures and my full review ready after this weekend. I'm also hosting a giveaway for Remedy so that will be announced in my review post. I will also post a coupon code that will be good until November 30, 2012 to receive 20%OFF your purchase! (That's very generous of Remedy so THANK YOU to Meg for setting it all up! XO)
I love giving back and giving everyone a chance to win products I've just told the world I can't live without! Lol! So be on the lookout for that...
Prestige is a brand I've used forever and was thrilled when Carly contacted me to send samples. (Hi Carly!! Thank you! XO)
I just got them in today so I'll be using everything this weekend and posting everything on Monday.
I also have some coupons for you from Ulta!! Yay! I have another 20% OFF your entire purchase to use (I swear, it never ends!) Love it!
 These are ALL good until the end of tomorrow :-)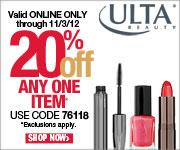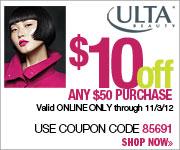 I love these blockbusters! I remember getting things like this as a kid and just loving them! They really are worth every cent because you end up with so much product for a fraction of the cost. Brilliant marketing if you ask me. I always give a few of these as gifts for Christmas and they're always so well received!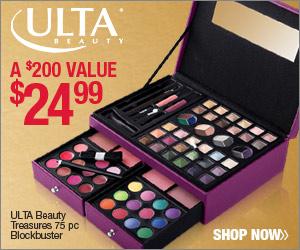 I had to throw this in here too because I love Smashbox!


Keep it Prettie!
*Stephanie*