So perhaps after watching this film segment, you are considering spending thousands of dollars on charm school so that you can seduce your spouse (or crush object if you're unmarried). But what would you say if I told you that by reading the top secret information below, you could save those thousands of dollars and use them for something else? (FYI folks, this is more money than you can save on your auto insurance by switching to that other company!)
Yes, indeed, you can save yourself from having to go to charm school for those coveted seduction skills simply by putting Chinese Herbal Medicine to good use. Trust me, I'm an herbalist!
First, you will need an herbal potion called Digest Aid, which was formulated by a famous Englishman by the name of Giovanni Maciocia. Digest Aid is sold under the brand name Sage Solutions and is not available in stores because it's a top secret formulation.
The purpose of Digest Aid is to prevent belly bloat and bad breath caused by eating offending foods. You know the ones — beans, collard greens, cabbage, garlic, and the cheap kind of fish oil that results in fish burps. (Interesting tidbit: In the supplement industry, "fish burps" are known by their proper name, "repeats." It sounds much more polite, so please use that term when speaking with professionals. They will surely be impressed.

)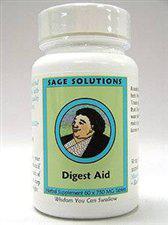 Come on! Quit being a cheapskate and get that credit card out!
Click here to Buy It!
Digest Aid 60 tabs
Sage Solutions
Wisdom You Can Swallow (No, not that kind of wisdom. Get yer mind outta the gutter!)
INGREDIENTS
For English Speakers: Roasted Chinese hawthorn fruit, Chinese giant hyssop herb, White atractylodes rhizome, Black jujube fruit, Treated pinellia rhizome, Poria, Radish seed, Forsythia fruit, Chinese amomum fruit, Magnolia bark, Asian water plantain rhizome, Perilla leaf, Tangerine dried rind of green fruit, Bitter orange mature fruit, Chinese licorice root.
For our Pinyin reading audience: Shan zha tan, Huo xiang, Bai zhu, Hei zao, Fa ban xia, Fu ling kuai, Lai fu zi, Lian qiao, Sha ren, Hou po, Ze xie, Zi su ye, Qing pi, Zhi ke, Gan cao.
Recommended Adult Dosage
1 to 2 tablets, 2-3 times daily
Only the finest hand-selected Chinese herbs are used, with attention to the highest quality at each stage of production. However, we do not recommend feeding Digest Aid to small children, pets, or Santa Claus.
Now the next product that will be crucial to being able to charm anyone you meet is to not be a big old grouch.  Sounds easy enough, but haven't you ever met someone who just couldn't quit complaining about things?  Ward off being one of those by investing in a little bottle of Tension Solution!  This product is also not available in stores because it is a Top Secret Potion that is only used by sages, monks, and other people who have mastered all the skills of being charming and magnetic.
But now you, too, can get it!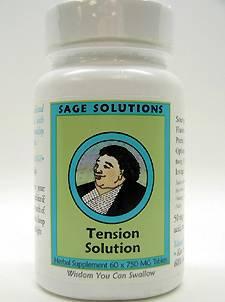 Click Here to Buy It!
Tension Solution 60 tabs
Sage Solutions
Herbal Supplement
Wisdom You Can Swallow (Or Chew 108 Times if You're a Natural Hygienist…)
INGREDIENTS
Habla English? Sour jujube seed (dry fried), Magnetite, Fluorite, Dragon bone, Poria with wood root, Poria, Schisandra fruit, Anemarrhena rhizome, Ophiopogon tuber, Gambir stem branch and twig, Polygala root, Altaica rhizome, Sichuan lovage root, Amber resin, Gardenia fruit.
Habla Pinyin? Suan zao ren (chao), Duan ci shi, Zi shi ying, Long gu (sheng), Bao mu fu shen, Fu ling kuai, Wu wei zi, Zhi mu, Kai men dong, Gou teng (shuang), Yuan zhi (da), Jiu jie chang pu, Chuan xiong, Hu po, Zhi zi (shan).
Recommended Adult Dosage
1 to 2 tablets, 2-3 times daily
Only the finest hand-selected Chinese herbs are used, with attention to the highest quality at each stage of production.  Don't feed it to the sea monkeys!  Please!