Cate Blanchett is back in the limelight with the prequel to the hit "Lord of the Rings." For the movie's premier, the Australian actress decided to wear something that's unique and obviously made only for her. The Hobbit premiere became a night of glamour if only because of the classic beauty that Cate Blanchett in Givenchy exuded during the event.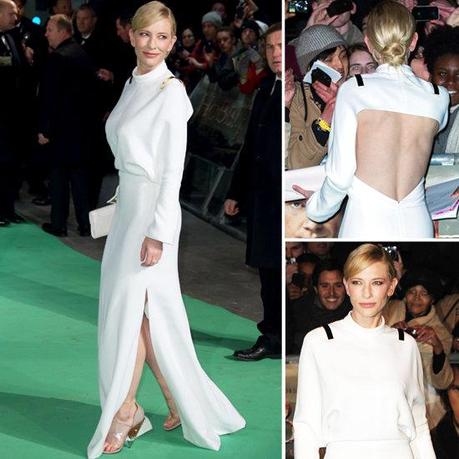 Stylish celebrity
Cate Blanchett is considered as one of the most stylish and fashionable celebrities in Hollywood, and beyond. She is touted by fashion designers as one of the most consistent when it comes to the wear of gowns and formal attire; they are clean, avant-garde, angular, manly, and simple but with a unique twist. Cate Blanchett as a fashion icon is consistent in her taste that everyone can determine if a particular style is one that's hers.
Stunning at the Hobbit Red Carpet
As she worked the Red Carpet during the premiere of her movie in London, which everyone predicts to be a blockbuster, Cate Blanchett was successful in making her presence greatly felt at the event. Everyone was in awe with the fashion style that she exuded by wearing a white Givenchy gown – one that was already presented at a 2013 spring fashion runway event. 
Unique features
The gown by Cate Blanchett has a number of features that are quite characteristic of a traditional gown. For one thing, Blanchett's Givenchy gown possesses long sleeves and a slit right up the skirt's side. The gown also showed an open back that revealed the sexiness of the Hobbitt's lead actress. 
Sexy dress overall
Her beautiful gown was adjudged by many to be both a traditional and sexy dress. With the alluring gown of Blanchett a great success at the premiere, this seems to be the start of the Season of Sexy Backs. Cleavage is out, while muscled and lean back and shoulders are in. 
One thing is true - Cate Blanchett in Givenchy was a sight to behold. Blanchett's dress by Givenchy's Ghesquiere was perfect in displaying her beautifully toned back. 
In fact, not a few knows that Blanchett loves the work of Ghesquiere that people are wondering about how she will deal with the development of Alexander Wang getting the reigns at Givenchy soon. 
Many believe that Cate Blanchett will just continue working with Ghesquiere and hire his designing services for her own. After Givenchy, Ghesquiere will hopefully create his own line that Blanchett, and many others, will surely patronize.
Image Source: FabSugar