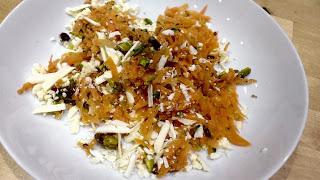 Ingredients
Carrot, Wensleydale, pistachios, clementine.
Preparation:
 5 minutes
I know, I know I only posted a carrot salad recipe the other day but with flavours this wonderful, can you blame me for sticking with a good thing? This salad is so quick to make, travels well and with a double hit of protein from the cheese and pistachios it's satisfying too. Tangy sweet clementine juice goes perfectly with carrots but the peppery pistachio and sharp cheese contrast beautifully.

1) Grind the pistachios in a mortar and pestle with a pinch of sea salt and black peppercorns. I like the nuts to be mostly powder with a few bigger chunks but if you prefer a completely fine powder, go for it!

2) Peel the carrot and grate into a bowl. Add 3/4 of the pistachio powder and stir through before squeezing in the clementine juice



3) 

Grate or crumble through the Wensleydale and the remainder of the pistachio powder to season and either serve or save!