Summer has been busy and I have been without a computer for awhile but glad to be back on.
Thought I would share this recipe. This is my sister's salad recipe which I convinced her to write down so I could share it.  This is a really a fresh tasting salad which can be eaten as a meal or a side dish.  In my opinion, the fresh ginger is what makes it. Yum!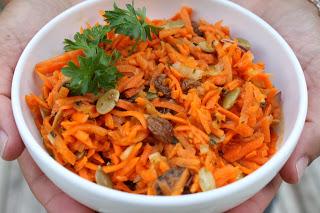 Ingredients
4 large grated carrots
1 grated pear
1/4 cup raisins (soaked for at least 1 hour)
2 tablespoons pumpkin or sunflower seeds
2 sprigs onion greens
1/4 cup chopped cilantro
2 minced garlic cloves
1 lime juiced
1/4 cup mayonnaise or vegannaise
1-2 teaspoons fresh grated ginger
2 teaspoon honey or 3 drops liquid stevia
1/4 teaspoon paprika
sea salt and pepper to taste
Directions
In a large bowl combine carrots, pear, raisins, seeds, onion and cilantro.
In a small bowl combine garlic, lime juice, mayonnaise, ginger, honey, paprika, salt and pepper to make the dressing.
Pour dressing over carrot mixture and stir to fully coat.  
Let salad sit for at least 30 minutes in fridge to absorb flavours.
Enjoy!