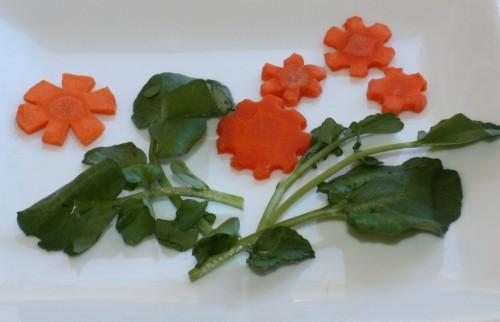 The new How to Make Carrot Flowers (part 2) video is the sequel to our first How To Make Carrot Flowers. This Youtube video has received nearly a half million views. Lots of people like it.
This idea for these groovy blossoms was served up on a plate in Paris. Literally — at a small bistro the rim of the dinner plates were decorated with a halo of happy carrot disks, as shown on Warm Salmon Salad.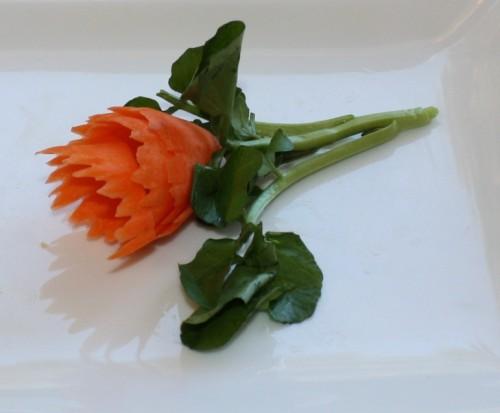 I made it my own by trimming the carrots into flower-power slices that have decorate this
Lamb Tagine
 and elegant Baked Pasta Dome.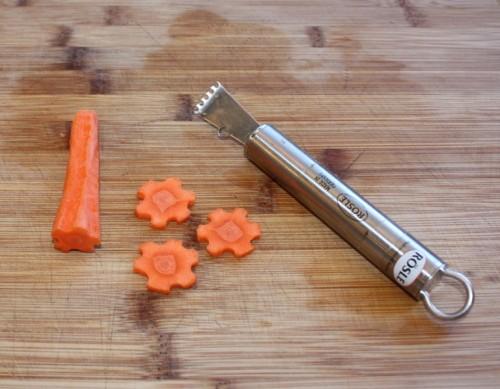 So a cheap and cheery how-to video would fun, right?
Well that all depends on your idea of fun. Not all 475,000 viewers appreciate the simple pleasures of carving carrots, or the results shown in the video.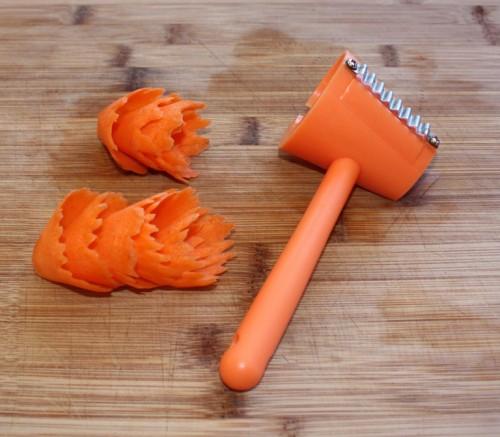 THE FANS:
- Your kids must love you, and eat all their veggies. Thanks for a quick tip for making hard vegetables fun!
- its perfect if your kid doesn't want to eat carrots, just make it in this shape, and i assure you they will consider it a lot more then if you just normally slice and cook it
- Flower power lol awesome idea!!!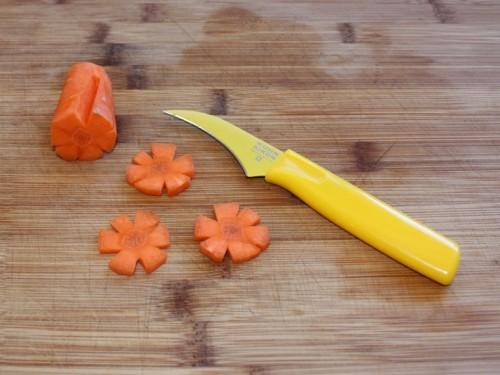 THE FOES:
- OoO poor carrot :'( HE MADE YOU UGLIER!
- no hard feelings but they look like gears
- crap look like tractor wheels
- I'd serve them as Gears and attempt to make screws out of mushrooms.

THE FREUDIANS:
- So many sexual references
- 'big long straight one,' hahahahaha that's what u said
- Long Straight Description of my penis.

ALARMISTS:
-What a waste of food in a world where people are dying of starvation.Not just this video but all fruit and veg carvings.
DEFENDERS:
- All my carvings get eaten. Don't just automatically assume it's all going to waste.
- not if you eat the extras , am i right !?
FANS OF NEUTRAL MILK HOTEL'S  KING OF CARROT FLOWERS:
- Is this man the king of carrot flowers? I think so
- this man is the king
- I eat this in the TOWER YOU BUILT TUMBLING THROUGH THE TREES! 
BUT IT WAS WORTH IT:
- I made a several jars of dill pickled carrot chips cut into flowers like this and they are going to look amazing on a snack platter at a party!
Get yourself a zester, a carrot Curler and a vegetable carving knife, then watch the all-new video
CARROT FLOWERS DELUXE!