Who says Php60.00 can't get you something quite good?  Careline's (sub-brand of Ever Bilena) lipglosses are miles away from unimpressive lipglosses with feeble amounts of tint in them.  These are really much, much better if you're tired of sheer and looking for something more pigmented.  A great bonus these have got is they're enriched with Vitamin E.  I picked these ones up from the department store inside Festival Mall.  If I'm not mistaken I saw about 8 colors in the range which includes some darker earthy shades and even a vibrant pink.  Sorry, I was too excited to count, and you can bet anyway that I will get one or two more shades next time because they're wonderful.  I got the shades in 107, a tame mauve rose color, and 108, a powerful and extremely beautiful red.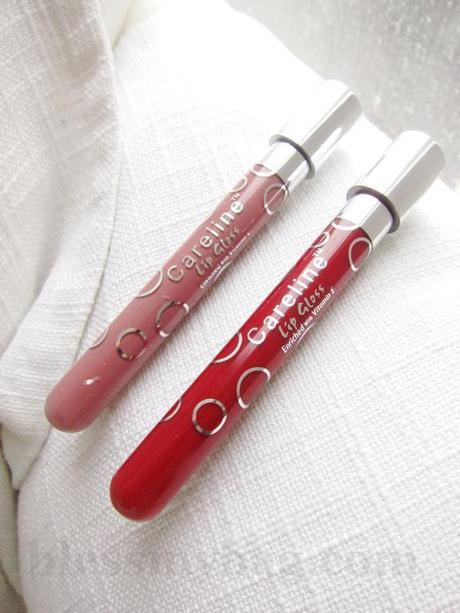 Careline's lipgloss payoff is actually comparable in finish to application pictures I've seen of OCC (Obsessive Compulsive Cosmetics) Lip Tars.  I'm not kidding, these are neither gloopy nor sticky.  I love the current packaging that kind of resembles chemistry tubes.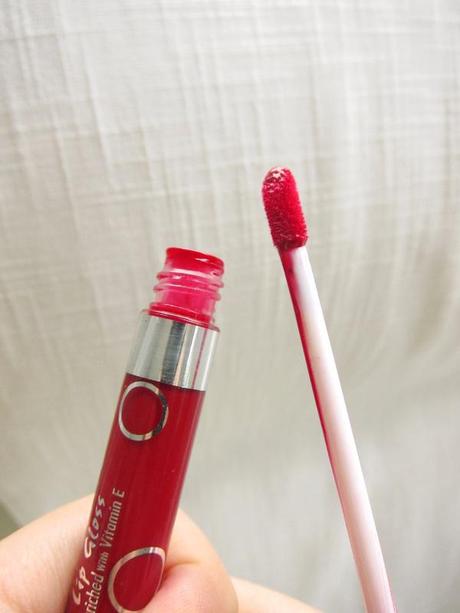 For easy application you have the standard long-stemmed doe foot applicator and here are the beautiful hand swatches they deliver.  These don't behave like sticky gloopy glosses, they're more like smooth, creamy lip paints, and while longevity is still in question I quite like the immediate payoff I get from these.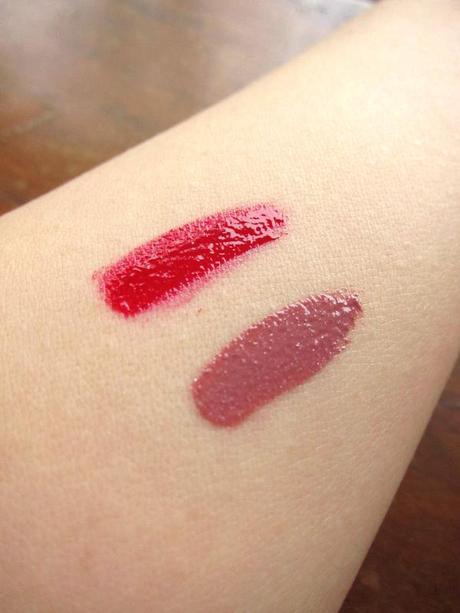 There is a stain factor to the red one when it comes to removal, but nothing a little petroleum jelly or Vaseline lip therapy can't handle.  Read more to see them applied on lips! You won't be let down.
For the more tame kittens among you, here is #107, I know I know, I have too many versions and brands of this kind of mauve shade don't I?  But it's always a safe alternative to have on hand.  As you can see, this Careline lipgloss color goes on full throttle.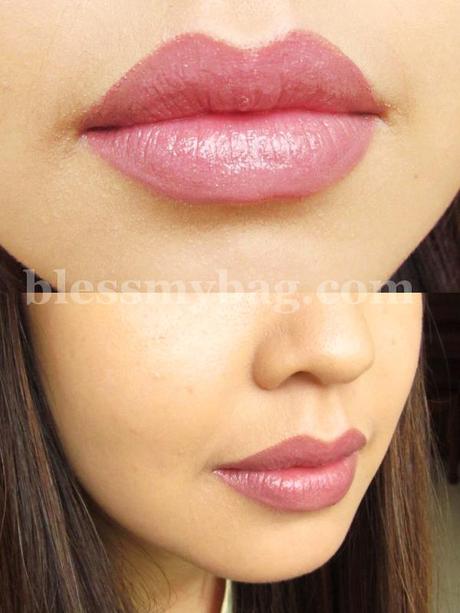 I lined my lips with a neutral lip pencil first, then filled it in with the lipgloss 'til almost the edge.  It's a very pretty mauve shade indeed, similar to my NARS Pure Matte Lipstick in Bangkok but non-matte.  I kind of love the semi wet look, dare I say somewhat like Ellis Faas' Milky Lips lipcolors?  Besides, it's that high shine moist texture that makes this gorgeous true cool red, #108 come forth with a bang.  Brace yourselves for the red that steals the show.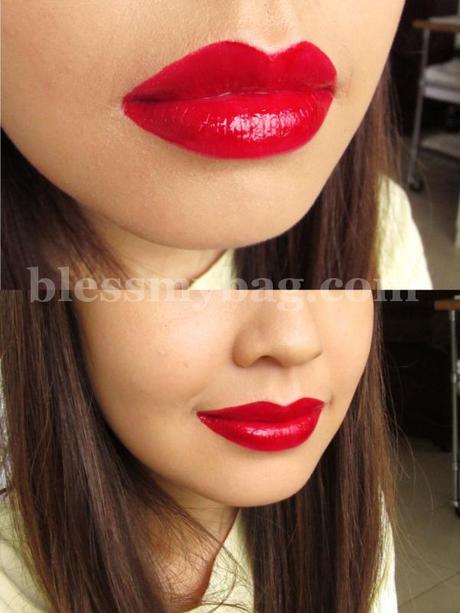 Isn't that lacquer finish beautiful?  I lined my lips with a NYX Hot Red lipliner (a cool red) first and colored in with the pencil a bit towards the center of the lip before applying the gloss to encourage proper fading.  I over-painted the edge just a teeny weeny bit for that vintage poster girl effect.  The red is so cool it even makes my teeth look whiter, I only brightened this next photo because it was a cloudy day, I didn't do any bit of color correction or balancing.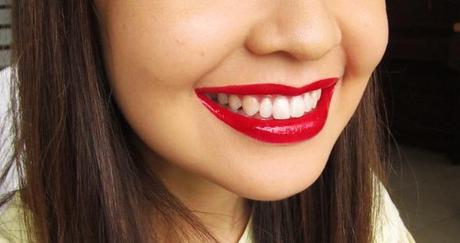 In terms of longevity of course nearly any high shine or gloss product will fail you and most likely give what is called "transfer" on your teeth, your sweet one's cheek, napkins, the lip of a glass, nearly anything really.  That's not disappointing for me because I expect it, but I need WET looking vibrant colors like this with more dimension to them than PVC looking glosses for my future fashion editorials.  Another more modern and practical way to wear this is blotted off with a tissue.  Do this…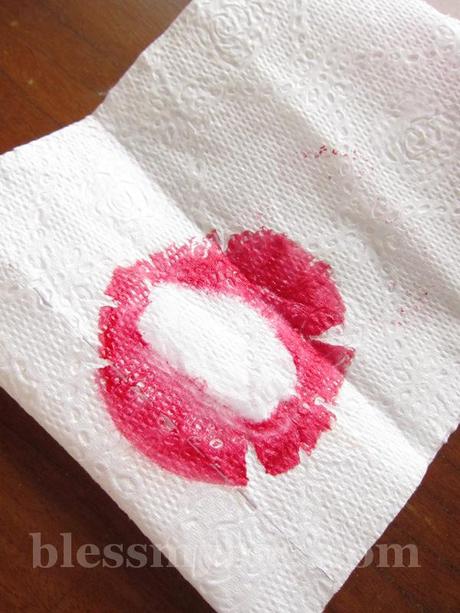 …then with #108 blotted away this is what you're left with, a pretty healthy looking stain that  gives lips a pretty uplifting boost of color.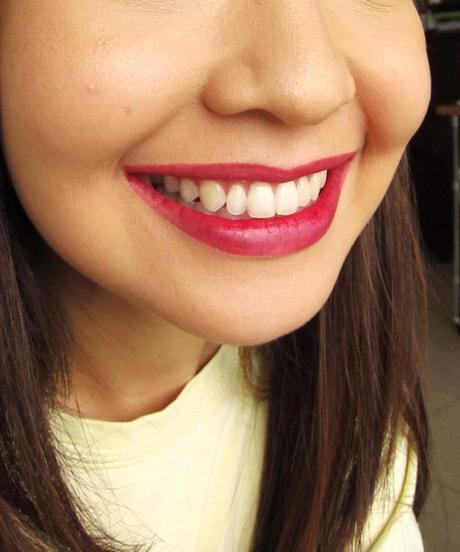 I like that these Careline creme "glosses" give high shine generously without looking thick and sticky.  Color transfer is not a major concern of mine because actually, if you think about it well, in photoshoots the models generally stay still for the shot.  They're not eating, drinking, truly talking or doing anything possibly futile to the makeup.  I only need it to last for the minutes it takes for the photographer to get a good shot in, and besides I'm there to touch the models up anyway in case of any minor accidents.  Before closing this, I must have one last look at the effect of those fully red lips because I was so happy with the result.  I really painted in the Careline gloss generously over my lips because I wanted them to look super wet and newly painted.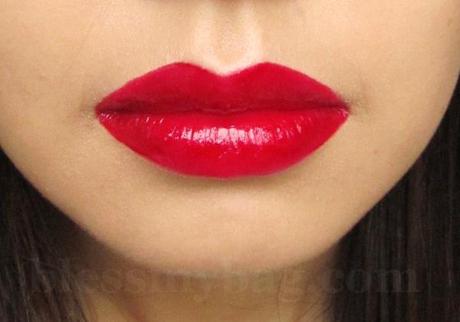 The only thing I don't like about these is that they're scented.  Sensitive me likes it scentless on the face whenever possible.  Once again, these Careline glosses cost Php60.00 and should be available in local malls and department stores or wherever Ever Bilena products are sold nationwide.