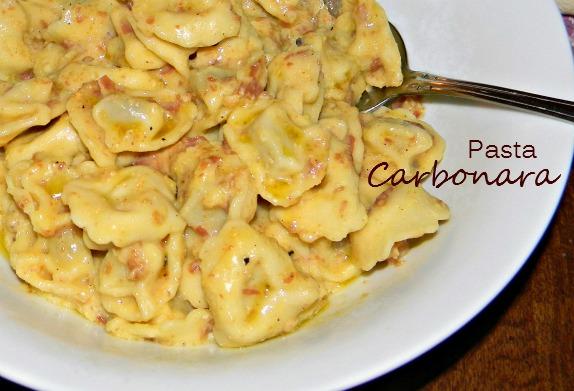 This is a post about the sauce. You can use any pasta your family likes.
I used four cheese tortellini. Not normally on the menu, my Shop-Rite had them at a managers special for $1.25 each. I bought two packages and placed them in the freezer.
I do know the correct way this dish should be prepared but I am slightly squeamish about undercooked egg whites. If I see them I will push my dish away. Every one has a food fetish, that is mine.
To make sure this does not happen I beat my eggs well, and then add in the cheese. This gets tossed with the hot pasta, bacon or pancetta, pasta water and lots of black pepper. Some people will add peas or even asparagus, we like ours simple. If I want a vegetable, I will serve spinach on the side and have been known to make that a salad.
Serve with extra grated cheese. This is one pasta presentation we never tire of and The Nudge thought it was worth an extra helping.
Carbonara Sauce
makes 4 servings
* 2 large eggs
* 1/2 cup grated cheese, divided
* 5 pieces of pancetta, diced or 4 strips bacon
* 1 tablespoon reserved pancetta fat
* 1/4 cup reserved pasta water
* Pinch of salt
* Generous amount of black pepper
* 12 ounces fresh pasta or 8 ounces dried spaghetti
1. Beat eggs, half the grated cheese (1/4c) and cooled bacon drippings. Set aside.
2. Boil pasta according to package directions.
3. Pour egg mixture into large pasta bowl.
4. Using a spider or large slotted spoon, add pasta to mixture in bowl. Toss quickly to coat.
5. Place bowl over pasta water pot and continue to toss until the sauce thickens and adheres to the pasta. Add the pancetta (bacon), black pepper and pasta water to loosen the sauce. Taste for salt.
6. Remove pasta bowl from pot, sprinkle remaining 1/4 cup cheese and bring to the table.
Happy Eating!!