TGIF, am I right?
What a week I've had. Between filming on set with Food Network for an upcoming show (more on this later), and the little dude's 6th birthday, I've been a super busy girl.
But let's start from the beginning, shall we?
At the beginning of May, I received a Facebook message from an old friend from high school, saying that she has been loving on Slow Down and Savor (heeeyyyy!!!) and since she works for Discovery, which owns TLC, she would love to give me some Cake Boss and DC Cupcakes swag. Boom shackalacka. I couldn't have been more grateful or thankful or humbled by the thought, but when the UPS man moseyed on up our driveway and then up to the front door with a big box addressed to moi, I was blown away.
When I opened the box, it was like Christmas all over again. There was a whisk, rubber spatula and cake-icing spatula from Cake Boss, a Cake Boss cookbook, a DC Cupcakes cookbook, a Nalgene water bottle and apron. Holy Moley… I couldn't contain myself, and was beyond thrilled to share these awesome goods from my awesome friend with my family. Thank you, Laura!!!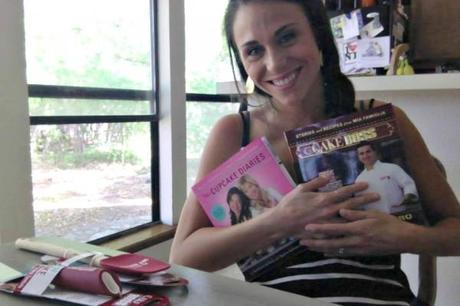 Appropriately so, my Cake Boss loving husband dove right into Buddy Valastro's book-o-cake, and my little man took to the "Cupcake Girls" book immediately with whisk in hand, and that's when I got a brilliant idea. I had him go through the book carefully, and select the cupcake he liked best, and I'd make them for his class birthday celebration. Any cupcake at all. Just go through the book and pick it.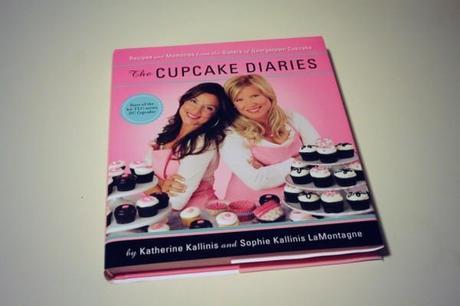 I fully expected him to pick a chocolate cupcake or a vanilla or even red velvet, but no. He picked these caramel apple cupcakes with real apple, homemade caramel and homemade vanilla butter cream frosting. Wow. He really picked a winner, and I was pretty excited to embark on this task. It would be a challenge, but it would be a lot of fun. I could feel it in my bones.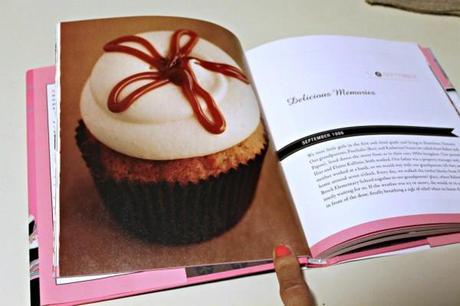 So on the eve before his big day, I got to baking. My thought process was the bake all of the mini cakes the night before, so that I would spend the next morning/afternoon before 2 p.m. coring, making caramel, filling with caramel, making frosting, frosting and decorating them. My plan worked.
But it was around the time that I started shredding the apples into the batter that I became a bit nervous. These cakes contained about 5 whole apples, and that doesn't scream "loved by 5 and 6 year olds" quite like a boxed chocolate cake with white icing. Will they like these? Will they be too weird? But I kept on because the little dude wanted them, and he wanted them bad.
After some recipe twists and tweaks, the cakes were done, and I set them out to cool.
The next day, I got straight to making the frosting. I whipped up quite a bit of the vanilla butter cream, and it tasted SO delicious. I had a hard time finding a reason NOT to dip my fingers into the bowl. But I resisted. Somehow.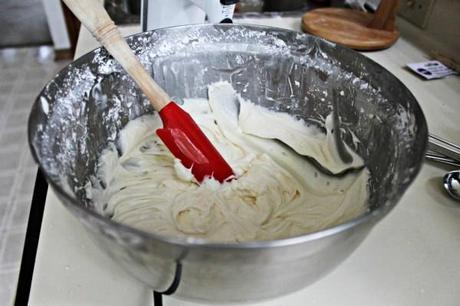 The final element that I needed to make before assembling these little cakes was the caramel. Now, I have had some experience in messing up caramel in the past, with either scorching it or under cooking it, so my nerves were at an all-time high as I measured out the sugar and got the butter, vanilla and heavy cream ready. This time though, I was making it the "dry" way, instead of the "wet" way. The "dry" way is my new way, the only way, I will ever make caramel. It came out perfect. PERFECT.  There was no guessing with this formula, and I can't wait to share it with you below.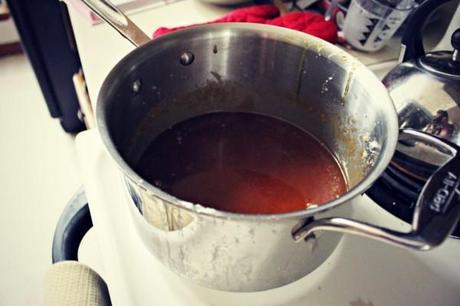 Now, the recipe I used called for an apple corer to remove the middles of the cakes in order to fill with the glorious caramel I'd just set in the fridge to thicken and cool, but let's be real, who has an apple corer? Do you? I have an apple cutter-upper, thanks to this past year's white elephant party, but I do not have a corer on its own. I'm not that fancy-shmancy.
So I used a paring knife.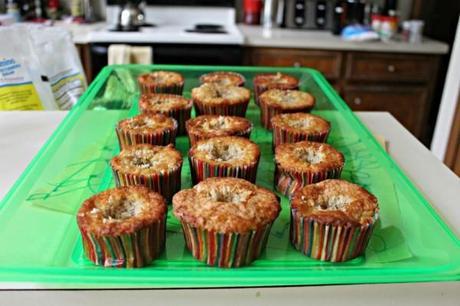 I filled each cake with the ooey-gooey caramel, and then used a plastic disposable piping bag to top each beautiful cake with the white frosting.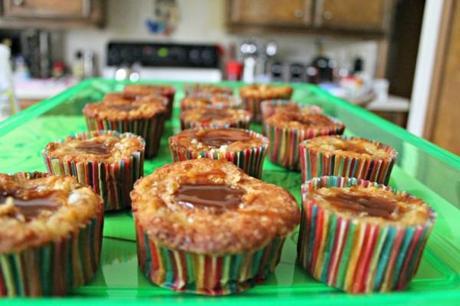 Then, using a spoon, I drizzled some caramel over each cake, and then topped with pretty colored sprinkles. They were stunning.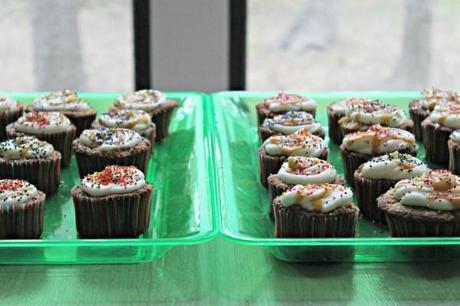 But deep down in the pit of my stomach, I was growing exceedingly nervous about these cakes. Yes, they were delicious, but they were also unusual.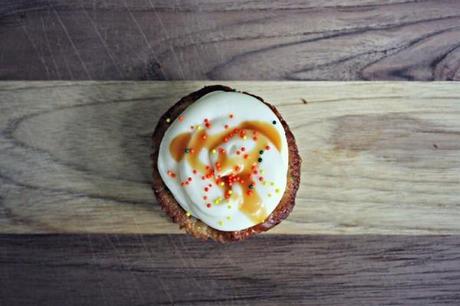 Would they be OK? Fingers crossed.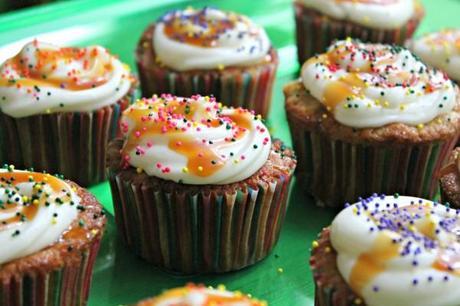 I set out in the pouring rain with my two neon-green trays of beautifully crafted and artfully made cupcakes, and made it to the school with minutes to spare. Walking into the class room of little ones running around, I was greeted with joy and excitement, and a giant hug and kiss from the birthday boy himself. Everyone was excited about the cupcakes, and couldn't wait to dive in.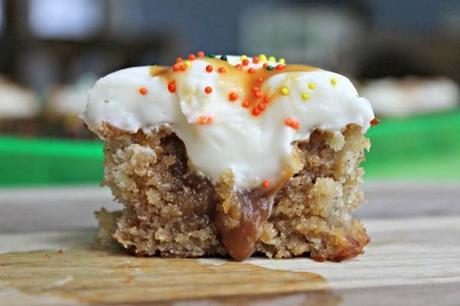 The were passed out, and some of the kids started rumbling: I don't like caramel. I don't like apples. I don't like things at all. What do you mean you don't like caramel? Hmm… My biggest fear were starting to come true.
Everyone started eating the cakes, and one by one, kids came up to the teacher and myself saying, "I don't like this," and "This is gross. I don't want it. Can I have something else?"
I looked over at my little man as he scarfed down the cake, licked his fingers, and jumped up, asking for another. He LOVED them, thank goodness, but more and more kids were standing up, and throwing their cakes in the garbage, with only one bite taken out of them. Just boom. In the trash. The teacher apologized unnecessarily, took a cake for herself, and said they were delicious. But then another one got thrown out, with a follow up remark, "I don't like homemade stuff."
Wow.
It took everything inside of me to hold the tears in, as I escorted my boy around the school delivering the other teachers the rest of the cupcakes. Luckily, they liked them.
But when my boy took my hand and stopped me to say, "Those cupcakes were so good. Thank you for making them for me," my heart melted. He went on to tell me, in his own words, that these other kids don't know good stuff when they have it, since their parents don't cook real food for them at home. Ladies and gentlemen, my little boy, the foodie. His sweet words helped make me feel better, but once I returned to my car, shut the door, and buckled up, I couldn't help but cry.
Tears poured down as the images of kids spitting out the cakes I put so much love and work into. More tears came as the words "these are so gross," came through my head. I felt like such a failure. I worked SO hard on these treats for the kiddo's class, to celebrate his special day, and they sucked.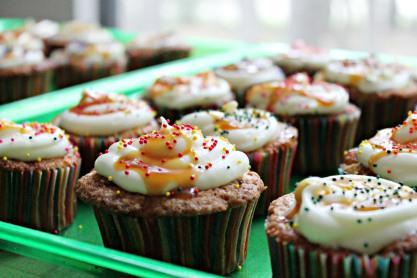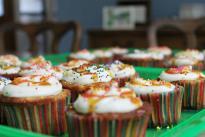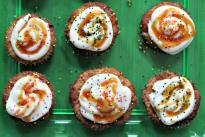 So I did what any rational adult woman does at a time like this: called her mommy. Yep. I called my mom as I pulled out of the school's parking lot. She consoled me as best she could over the phone, but the one thing that she said that made my sobs turn to wimpers was this: "I'm so impressed with the love and amazing delicoiusness you put into making something your kid really, really wanted. And he loved it. That's a great mom. He loved it, and that's all that matters."
She was right. The fact that the stuff I spent HOURS preparing wasn't for these kids that spat it out. It was for my boy, who licked his lips and his fingers, asking for more. That's all that matters, and that's all that counts. So, while some may say these cakes were a failure, I'm going to choose to see them as a success. Plus, all the adults loved them. I guess next year I'll just play it safe and go with Betty Crocker.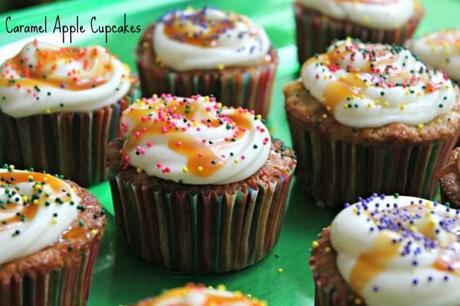 Caramel Apple Cupcakes2014-05-09 09:57:13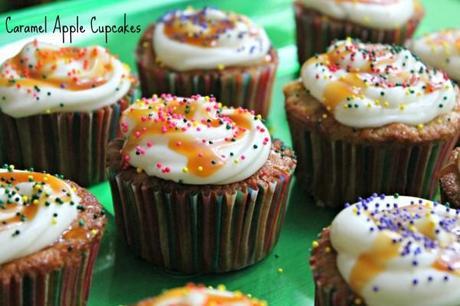 There's something so special about the smell of baking apples that's just to die for. Yes, these special cupcakes scream fall and autumn, but to us, they are a special birthday treat.Write a reviewSave RecipePrintFor the Cupcakes
2 1/2 cups all-purpose flour
2 teaspoons baking powder
1 teaspoon ground cinnamon
1/2 teaspoon salt
16 tablespoons of unsalted butter, room temp
2 cups sugar
4 large eggs, room temp
1/3 cup hot water
2 1/2 cups fresh grated apples. I used about 4 or 5 gala apples, but feel free to use whatever apples you fancy. Yes. Fancy.
For the Vanilla Cream-Cheese Frosting
4 tablespoons unsalted butter, room temp
4 cups conectioner's sugar
1/4 teaspoon pure vanilla extract
6 oz. cream cheese, room temp
For the Caramel
2 cups sugar
1 tablespoon water
12 tablespoons unsalted butter, room temp
1 teaspoon pure vanilla exract
1 cup heavy cream, room temp
For the Cupcakes
Preheat oven to 350 degrees F. Line your cupcake pan with cupcake liners of your choice, or grease them with butter if you're not using the baking cups.
Sift or whisk together the flour, baking powder, cinnamon, and salt in a bowl, and set aside.
Put your butter in the bowl of a stand mixer, or in a bowl with a handheld electric mixer. I used the electric mixer since I do not have a stand. Beat on medium until fluffy.
Stop to add the sugar and beat on medium speed until well incorporated. This should take about 3 to 5 minutes to accomplish.
Add the eggs one at a time, mixing slowly after each addition. This way, the eggs will fully incorporate into the mixture.
Reduce speed to low. Gently add 1/3 of the flour mixture to the butter/sugar mixture, then gradually add one thrid of the hot water, beating until well incorporated. Scrape down bowl as needed. Add next 1/3, then a little more hot water, and continue this pattern until everything is well incorporated.
Using a spatula, fold your grated apples into the batter. Don't overmix.
Using an ice cream scooper, fill each cup with batter so they're 2/3 full.
Bake for about 20 minutes, checking at 15.
For me, this took a lot longer than the directions in the book said. I had 24 cupcakes going at once for my first batch, and they took around 50 minutes to bake completely, so that the toothpick I used as a tester came out clean. My second batch was just 6 cupcakes, and this took about 45-ish minutes, and I checked pretty much every 10 minutes until they were finished, using the toothpick method once more.
Remove from oven when finished and let cool for about 5 minutes. Then transfer to another baking sheet, or a wire rack to finish cooling completely. Don't refrigerate until they're fully and completely cooled, because that'll dry out your cakes.
For the vanilla cream-cheese frosting
Place all of the listed ingredients in a bowl and beat until well combined. Be sure to beat on high speed at the end for at least 2 minutes to make sure the frosting is light and fluffy.
For the Caramel
Pour the sugar and water into a large saucepan over moderate, medium-high heat. Stir occasionally, being careful NOT to burn it.
Once the caramel starts browning at the edges, begin to drag the sugar towards towards the center to prevent burning. (I've learned that once burnt, caramel can't be saved. Ever. At all. It's nasty and inedible.)
The color should start to darken to a beautiful, well, caramel color. Don't let it get too dark!!
If your caramel looks very lumpy and grainy like mine did, don't worry. All you need to do is just lower the heat and keep stirring. All of your silly chunks should melt. I stirred to much, and didn't let the sugar liquify. But once I turned the heat down, and stirred slowly, everything liquified.
After all of the sugar has dissolved, add the butter, carefully, and the vanilla, and mix thoroughly.
Once the butter has melted and everything's completely mixed, remove from heat, and using a whisk, slowly stir in the cream until you reach that beautiful golden brown caramel color. It'll smell sensational.
Set aside and cool/thicken for 5 or so minutes, then put in your fridge for another 20 minutes.
Decorating
Using a corer if you have one, or a knife, cut the middles out of the cupcakes, being careful not to go all the way down to the paper.
Fill the cakes with the caramel.
Top with the frosting. I used a disposable piping bag fitted with a large tip, and it made everything SOOO easy. I suggest getting some at your local market in the baking isle. They're pretty cheap too.
Pipe the frosting over the tops, and then using a spoon, drizzle the caramel over that. Then decorate with whatever sprinkles, if you desire to have a more festive look!
Adapted from from Katherine Kallinis and Sophie Kallinis LaMontagne, The Cupcake Diaries Adapted from from Katherine Kallinis and Sophie Kallinis LaMontagne, The Cupcake DiariesSlow Down and Savor http://www.slowdownandsavorblog.com/