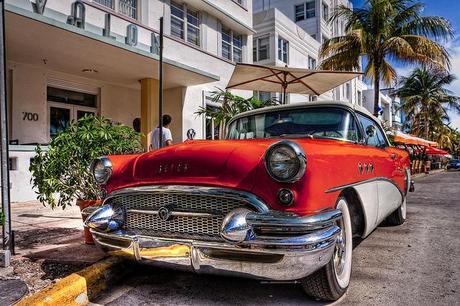 If you're planning to traveling around a bit on honeymoon, or are just looking for a bit more independence on your trip, then you may be thinking of hiring a car. The thought of driving somewhere new, especially if it's your first time driving abroad, can be a bit daunting, but it really needn't be.
Having hired a car in quite a few countries now – from Tunisia and South Africa to the USA and Mexico – I thought I'd share a few helpful pointers to help ease you into renting a car on your honeymoon, and to enable you to make the most of it.
Shop around  When it comes to booking your car hire, be sure to check prices with a number of different companies before booking. If you're booking your honeymoon through a travel agent, you may find that they can offer you competitive rates, but generally I find sites like Argus Car Hire, Car Hire 3000 and Ebookers to be among the most competitive.
Consider local rental agencies   Small, local operators will often have the best rates – but it's worth doing a search on the company before booking just to make sure they're legit. We hired our car in Mexico through a local company (Easy Way Rent a Car) and were really impressed by both their prices and their service.
Buy insurance – and excess insurance   Most car rentals will automatically insurance – but if they don't, then make sure that you pay extra for it. Even with insurance, however, in the case of an accident or a problem with the car, the excess that you will have to pay is often more than £700 – quite a whopping amount of money. Even if you've never had an accident before in your life, it's not worth taking the risk. You can either take our excess reduction insurance direct with your car rental company, or use a site like Insurance 4 Car Hire for it, which will often cost less, and will cover you in the same way.
Read the small print   It's dull, yes, but do make sure you know exactly what's expected of you, and what's covered and what's not – especially worth paying attention to is whether you have a limit on the number of miles you can drive, and whether you need to return the car with a full or an empty tank of petrol.
Take both parts of your driving license   This is actually a tricky one as I've traveled to a fair few places and never been asked to present the paper counterpart to my driving licence, however I've always needed it when I've hired a car in the UK. Play it safe and take both parts with you, and be sure to carry both your license and your passport with you when you're driving in case you get stopped by the police.
Read up on driving rules   Before you get in the car, make sure you know basic things like what the speed limits are in urban and rural areas, and any country specific rules – for example, in South Africa, if someone wants to overtake, you're expected to drive along the hard shoulder to allow them to do so. Reading up in advance will give you more confidence on the road when you first start driving – any good guidebook will have the information you need.
Drive cautiously but confidently   Don't be afraid to take things slowly when you first start driving abroad – it can be a lot to take in, especially if you've just been on a long flight, and local drivers might be quite different to other drivers back at home. That said, dithering won't help you – it's usually better to pull over and consult your map or driving directions, or make a decision knowing that you can always turn round if you need to, then sit in the middle of the road holding everyone else up and making them annoyed – which will also make you panic more.
Buy a decent road map   This is really essential, unless you're planning on doing very simple driving from A to B, and will help you hugely. Often the best road atlases are available in country, but it's worth seeing what you can get before you leave home so that you can have a look at your routes in advance. Printing off directions from Google can be good, but can easily get confusing, especially if you miss a turn and aren't sure where you are.
Keep you petrol topped up   Whenever we hire a car, there always seems to be at least one moment where we're driving around, scarily close to an empty tank, with no petrol station in sight – even though it has always worked out in the end, I'd much rather avoid having half an hour of thinking that the car's suddenly going to stop. Set yourselves a limit for how low you're happy to have the tank go, and make sure you keep it topped up above that.
Above all, enjoy it! Driving abroad can be great fun, and a fabulous way of seeing more of the country you're in – we'll never forget some of the towns and villages we drove through in South Africa on our honeymoon – and is always a lot less daunting once you're actually behind the wheel.
Photo courtesy of Kay Gaensler