`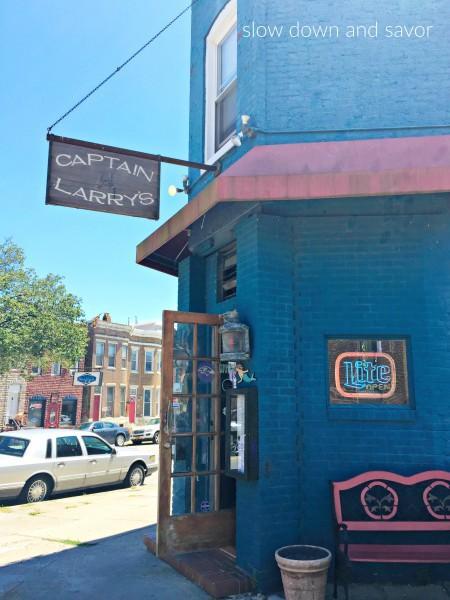 There's this place that not just one or two of my friends talk about going ALL - THE -TIME. It's not just their consistent talk of it that really piqued my interest. It's that seemingly EVERYONE is talking about this place; not just my friends, but strangers too. The place? Captain Larry's, located 601 E. Fort Ave in Baltimore, between Federal Hill and Locust Point. As it turns out this little corner bar and restaurant that's been going strong for a solid decade, is our little taste of Cheers here in South Baltimore.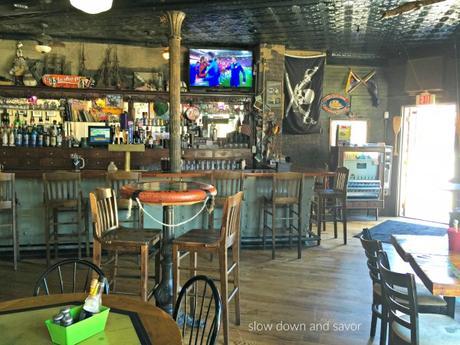 Ivars & Mara are the Latvian brother and sister team behind Captain Larry's, and as anyone that meets them or knows them can tell you, they're the heartbeat and the soul that makes Captain Larry's a place that - like I said earlier - EVERYONE loves, and calls their "home away from home." Yes, I've heard it referred to as such by more than one person.
As the website describes, "Ivars & Mara have been in the restaurant biz for a combined total of [5] decades. Not trying to 'date' either of [their] fine proprietors but we think Mara may have started her culinary career as early as the age of 8 watching her Amammina make Latvian delicacies while we're pretty sure Ivars was stealing sips of beer from his dad by the ripe old age of 6."
So basically, after hearing about Captain Larry's at all of Major's Little League games, at all the Cub Scout meetings, and at the park and school playground, I knew that I had to go. I just HAD to. One, it's family friendly. That just automatically gives it a huge check mark. It's also got a great menu, a great bar, and just sounded like it would become our next favorite place to go hang out.
There were several times my husband, boys and I tried to go, but every time it was too busy with no room for our tribe of 4, so naturally, my interest and desire to go just heightened. It was clearly very popular, and I wanted to see what it was all about.
Then one day, my friend Leeann invited me and Jack out for lunch to none other than Captain Larry's while her kids and Major were at school. My dreams were about to become a reality, and to say that Michael and Major were so totally jealous was an understatement.
We arrived around noon, and I instantly fell in love with the place. The nautical theme carried throughout the whole bar and dining area. It was cozy, charmingly-worn, inviting and warm. Once again, I was in love with it.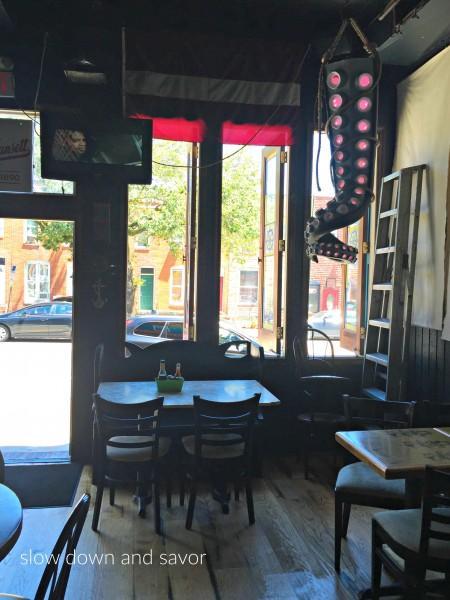 There was an octopus tentacle hanging from the ceiling, sailing rope everywhere, mermaid pin-ups, and miniature ships adorned shelves over the bar.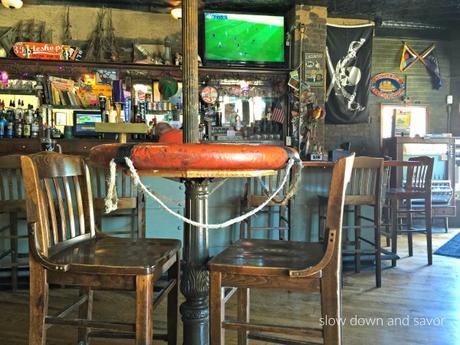 There's a chest stuffed with family games and adult fun too, including a book of drinking games, and other fun conversation starter cards.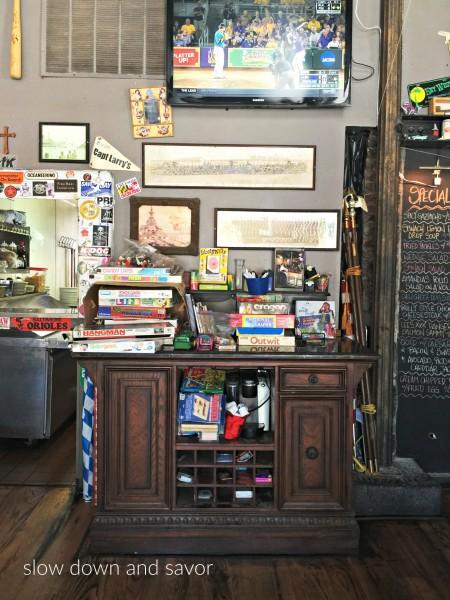 There's a chalkboard in the back, covered in the current specials, which all sounded outstanding.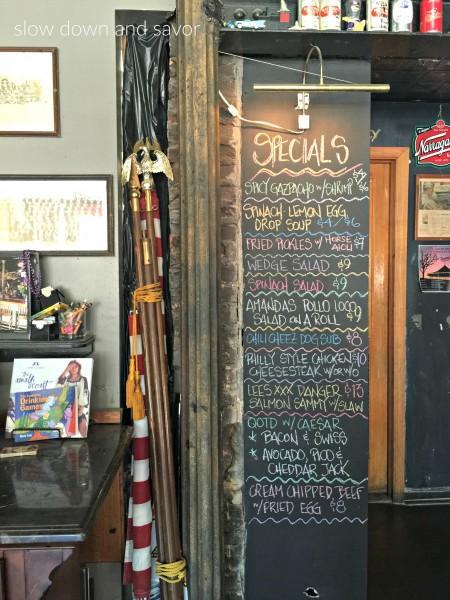 After I was done admiring the place, we found ourselves a seat and I started to go over the menu. Leeann didn't need to. She had the thing memorized! Like I said, this place has become an extension of families' homes all over the peninsula, and what I'd come to learn is that it's for good reason.
While the menu says that the place is cash only, they recently began accepting credit cards, which really makes me happy. So don't fret, you can pay with your plastic.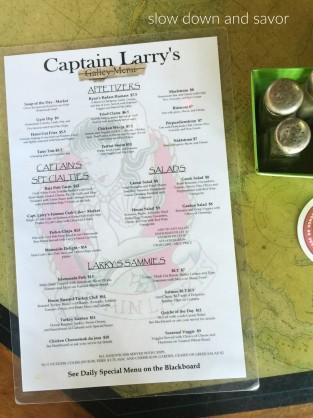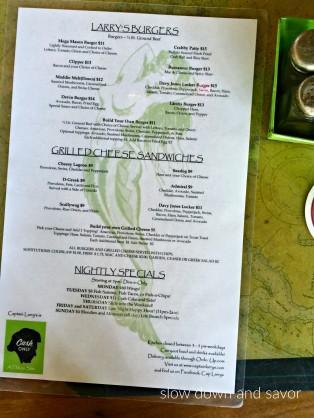 We decided to start with the Gyro Dip: homemade tzatziki, lamb, feta and pico served with fried pita chips. SO GOOD. The dip was everything good about a Gyro sandwich, only in dip form. The chips were so warm, salty and crunchy, and they went absolutely perfectly with the cool, crisp and refreshing flavors of the tzatziki. I loved it.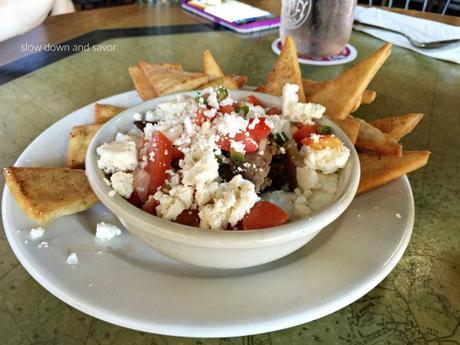 After some significant deliberation, I was finally able to make a decision as to what to go with for my main course. I decided to go with one of their grilled cheeses. I selected The Admiral: Cheddar, avocado, sautéed mushrooms, and tomato. I went with a side Caesar salad, which I learned is made with house-made dressing. All of their dressings are home made.
Leeann went with one of the specials, Lee's XXX Danger Salmon Sammy with Slaw, a sweet and spicy glazed salmon with some crunchy slaw on a soft roll. She decided to make it more appealing for Weight Watchers, and instead of a bun, had a side salad as well.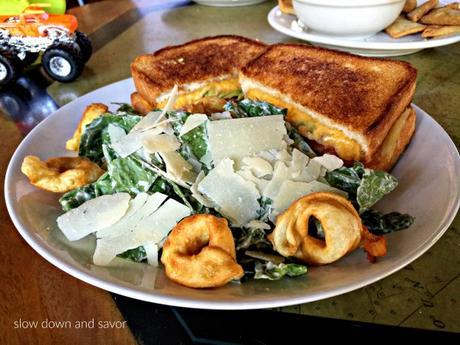 The plate was beautiful, and I loved the fresh-shaved parmesan cheese and deep-fried cheese tortellinis instead of croutons. The dressing was sensational. I loved the grilled cheese too. Jack wouldn't stop reaching for it either. That boy can't keep his hands to himself.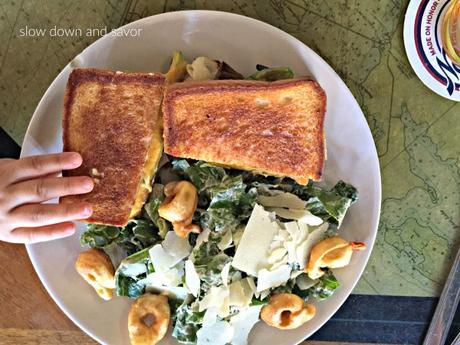 Leeann's salmon was gorgeous!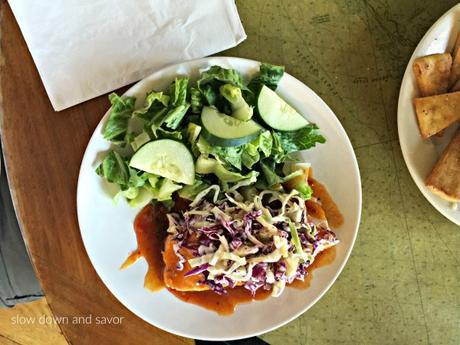 And since she's SO nice, she let me have a little taste. It was absolutely delicious. the Salmon was cooked perfectly, and the sauce was extremely balanced. I was a huge fan.
When we were through with our meal, I let Jack out of his high-chair, where he promptly walked his little self over to Mara, and they fell in love. Plain and simple, they had a genuine connection, and I instantly knew, aside from the food and the atmosphere, that she is part of why people feel so welcome and at home here at Captain Larry's.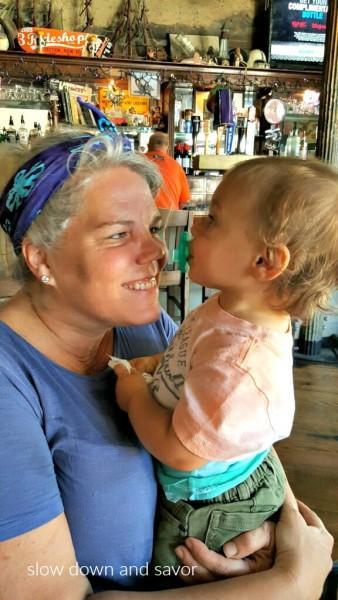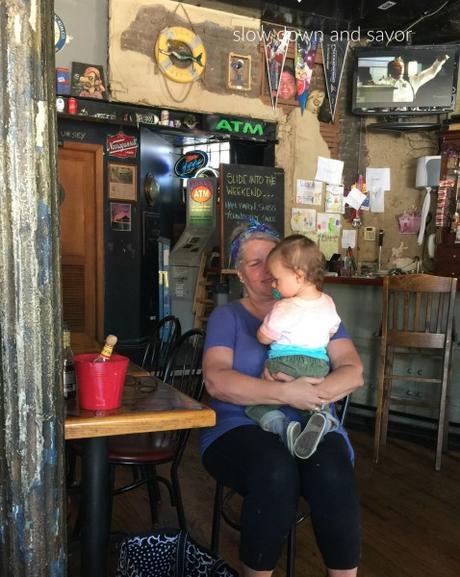 After I left Captain Larry's, I couldn't stop raving about it to my husband, and a couple of days later, I got the whole family out there. This time, the place was pretty packed, and what was fun was that we KNEW a lot of the families there. Yes, families. There were families with kids enjoying dinner together before the bar crowd came in, and it was seriously awesome. People were browsing the game chest, bringing board games and cards back to their tables, settling in to enjoy a great evening together.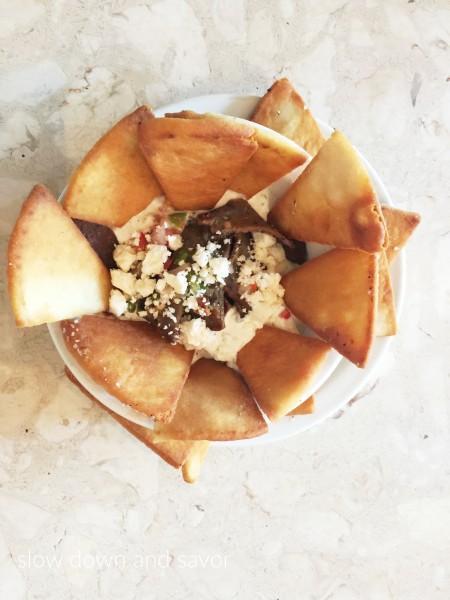 We started out with, you guessed it, the Gyro Dip. While it looked a little different, it tasted just as amazing as it did the first time around.
The kids and the hubby liked it too, and we were off to a great start.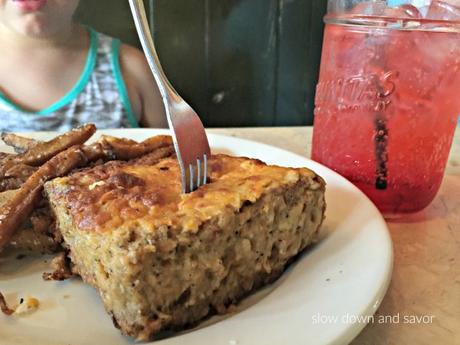 For our dinners, Major decided to go with the kids' meal mac & cheese with a side of fries. Michael chose the Mermaid's Delight, a sampler platter with a mini crab cake, fish taco and a fish n chips combo platter. And I couldn't help myself and went with Lee's XXX Danger Salmon Sammie, as is.
The kids' mac & cheese was a pre-made baked dish, which he really enjoyed. It wasn't my cup of tea, but that's OK. It wasn't my dinner. He thought it was delicious.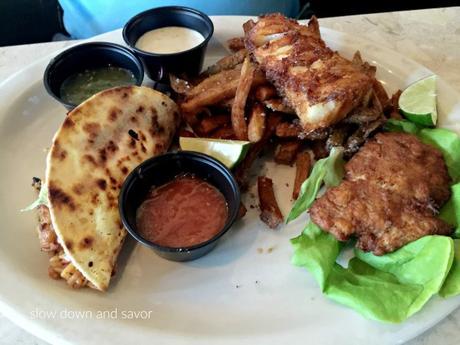 Michael's platter looked really good.
There was a lot of food, and he had nothing but good things to say about the assortment. The fish was all cooked well, and the fries were pretty dang delicious. The taco was probably the standout on the plate.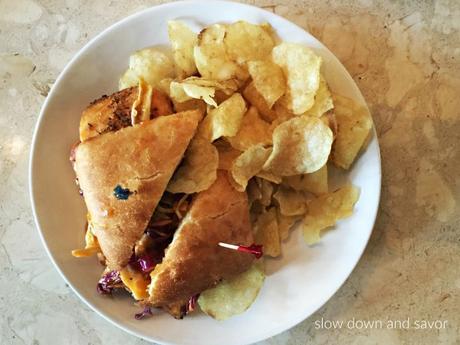 And as for me?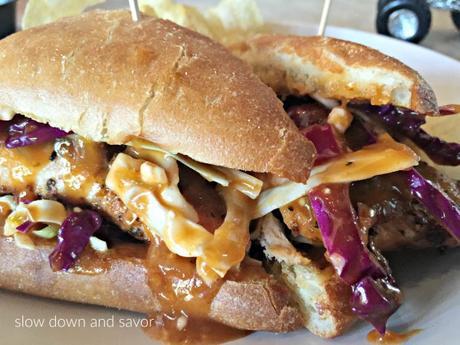 It was really good. I ate the whole sandwich right up. The bread was a perfect vessel for the spicy, tangy and sweet salmon with the crunchy slaw. It was sensational.


So if a cold brew, a good bite and an excellent atmosphere with a neighborhood-bar vibe is what you're after, Captain Larry's is your place. Whether it's your first time or 500th time visiting, you'll feel right at home.