If Barbie had a compact in her purse trust me, this would be it.  I mean how can it not be?  CANMAKE's 5 Effects Foundation compact is the cutest pink thing, even Jem and her Holograms would agree, and to top that everything inside makes sense and the Japanese product itself absolutely, positively rocks my beauty boat.  This post is an ultimate rave.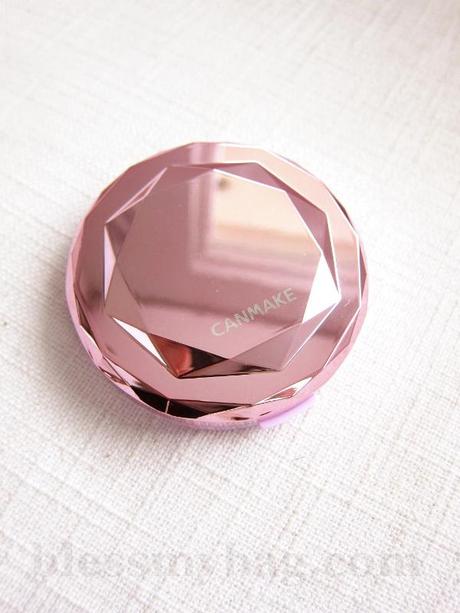 I bought CANMAKE's foundation compact in Watson's Singapore because I was looking for a pressed cream foundation like MAC Studio Tech that I wasn't allergic to that would give me a photogenic and video-genic (don't think it's a word) finish.  MAC Studio tech made me break out horribly into  small welts and patches along my jawline, pity because that time four years ago it was already so expensive.  I tested CANMAKE on my ever so sensitive chin in Watson's and walked around for a bit to check whether I'd react or not, and I didn't.  I thought of you Filipina ladies and found Multiply sellers who stock Canmake and even one with a Facebook page. I'll put those details in at the end of the post

.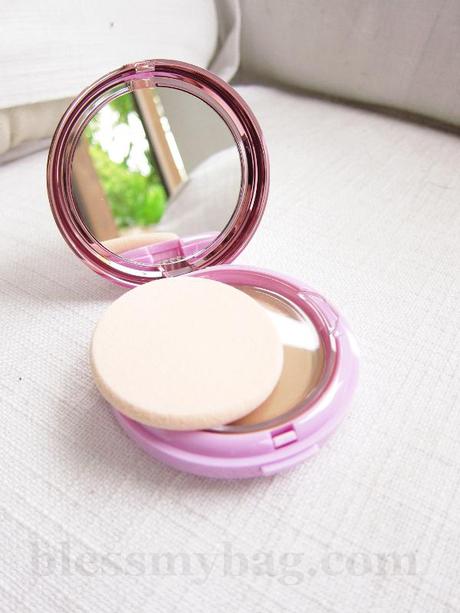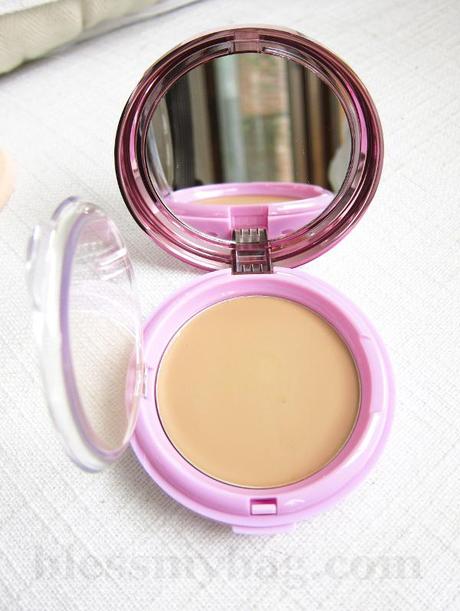 The compact is awesome, aside from it being cute it has a super clear mirror and it carries the sponge (which is also soft and excellent) on top of a clear plastic flap to keep it separate from the pressed cream product beneath.  That idea boasts a hygienic benefit.  It's very smart and considerate.  Drugstore cosmetics aren't usually conceived with these things in mind.  The product comes in only three shades sad to say, and they only match fair to medium  Asian skintones.  The shades are 1) Beige Ochre – for pale vanilla Asian skin 2.) Light Ochre – a mid standard complexion that will suit most 3.) Natural Ochre – mine, which is I think the deeper of the three, it's also said to be great as a contouring agent for very fair complexions.  Here, I swirled the surface of Natural Ochre with my impeccably clean fingertip.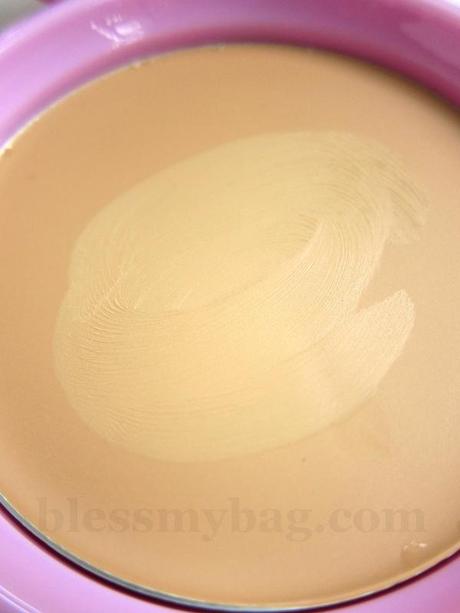 CANMAKE's 5 Effects Foundation (English details from
http://maehao.multiply.com/
):
1.)  Beauty Skincare Essence: Sodium hyaluronate, aloe vera extract, hydrolyzed conchiolin, horse chestnut extract, chamomile extract, rosemary extract.
2.)  UV Protection • SPF31 PA++, to protect your skin from everyday UV radiation.
3.)  Moisturizing make-up base effect. • Contains two- to three-times the amount of moisturizing agents as pressed powder
4.)  Foundation effect that thoroughly covers pores and color irregularities.  Also, contains soft-focus powder that covers up any skin roughness using light control, making it harder to notice fine lines and preventing make-up clumping in the pores.
5.) ★ Finishing powder effect  – gives a light, dry finish when you apply it to your skin. Avoids the hassle of applying finishing powder after liquid foundation.
As you can see it's practically like having BB Cream in a handy compact and I am so relieved my skin doesn't react negatively to this.  Leave it to the Japanese to formulate something complex but mild huh?  I have this CANMAKE compact in the shade #3 Natural Ochre (ochre is a kind of yellow).  You can see that once you penetrate the surface it's not as dark beneath which is why it is always important to physically and not just visually test for your exact shade.  That shade will also still suit someone one shade darker than me.  It just looks a little dark in the pan which is why I tested it along my cheek and jawline at Watson's before getting it, but it matches me perfectly.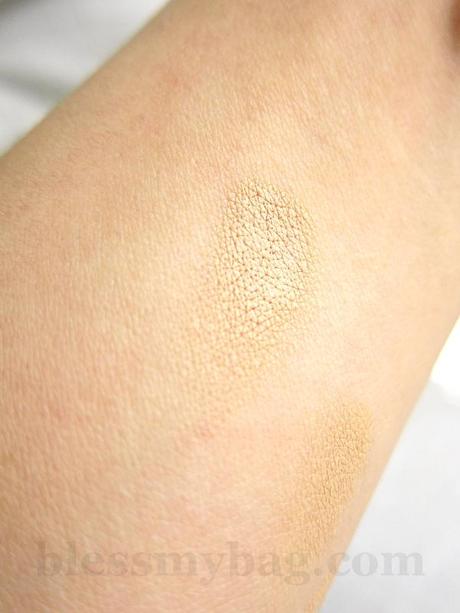 I paid about Php1000.00 for this compact ($SG 29.90) but it already comes with the product pan inside, the separate refill pan once you run out costs about Php675.00 ($SG 19.90).  That nice deal is quite unlike Majolica Majorca's 2-way foundation compact (which I also like for an excellent matte finish) where you have to spend about Php450.00 on the empty mirrored compact then Php800.00+ on the product refill pan to get them together, which I find quite strange.  If you're buying the compact itself for the first time it should have "naman" your first product pan inside already, just like this right?
Read more to see photos of me wearing this foundation product at nighttime and during the daytime.
Here are close up shots of me wearing CANMAKE's 5 Effects foundation indoors at nighttime.  No concealer during the nighttime shots, so sorry about the dark undereye circles.  There is some subtle luminosity.  Don't freak out when you see luminous particles on the sponge, they're not glittery and won't show up on your face with a sparkle effect.  It has a similar effect as Revlon Photoready foundation without the excessive glow or sheen.  Ididn't powder up to finish, i just have a hint of blush and eyeshadow on.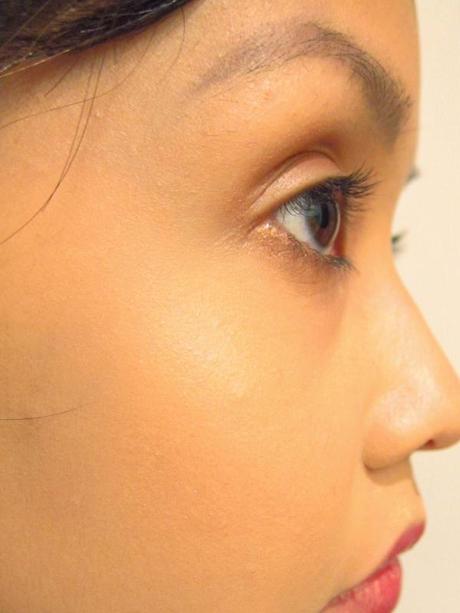 I'm definitely liking the smoother but no-makeup look.  I already generously applied LOTS of this product on here but it looks like I hardly put any, the high quality sponge that comes with it helped…and it definitely eliminated the red areas on my face.  The texture is a cream but it's not greasy and that's surprising and it's not overly dewy at all which is I think the "fifth effect" in the lineup and why they say most likely you won't need powder afterwards.  I personally think the decision to apply powder or not to set it depends on your skin type.  I'm a normal-dry combo girl.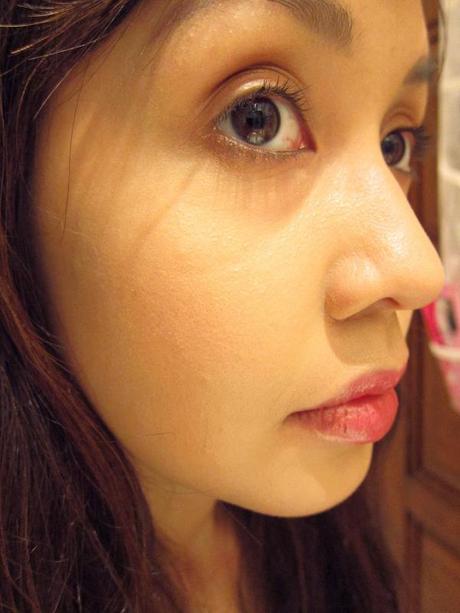 Reminder, no concealer, hehe, pardon the dark circles.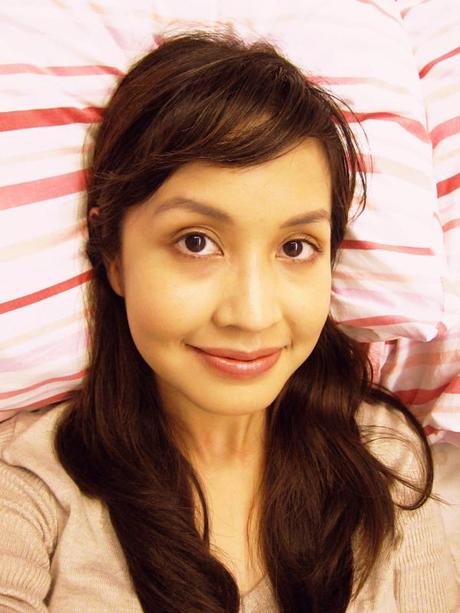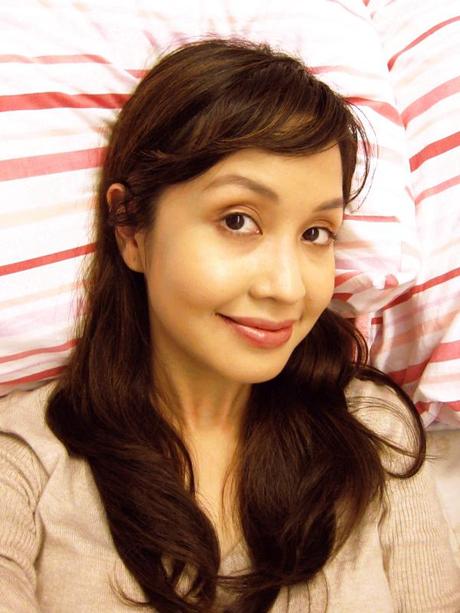 By the way I'm proud of my hair in the nighttime shots, thanks to Clairol Hello Hydration!  And finally the daytime shots, in which I am half awake so my eyes are still puffy…but the foundation's finish here in the daytime is so pretty on my skin so it's a great example, yey, and my shots are without powder!  For more oily skin I believe it would still do the job but you should still use a mattifying toner before application and blot/setting powder afterwards.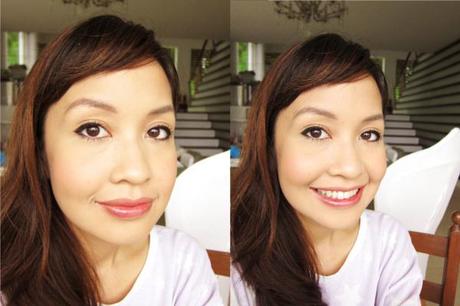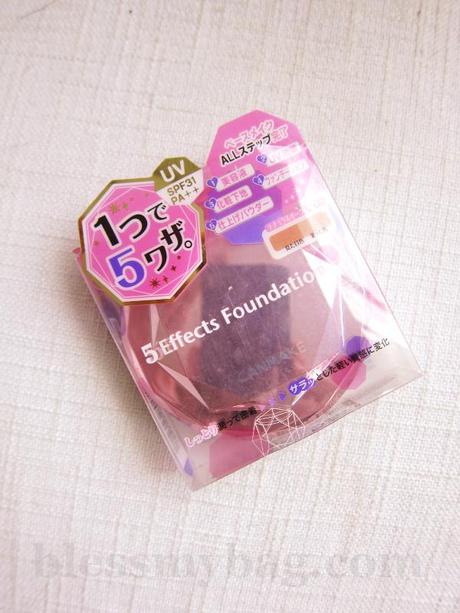 What do you think of it?  I think it's wonderful and should have more shades.  It's my favorite staple of the moment, I bring it with me everywhere.  If you're in the Philippines you can try ordering CANMAKE's 5 Effects foundation from maehao.multiply.com at this link or at Mimi and Tofu's (that's still them) Facebook page.  If you're in Singapore or Hong Kong this should be available at Watson's outlets in the region.  I don't think this is available yet at Watson's locally, but I do want to make a suggestion that they bring in the CANMAKE Cosmetics range, it would do very well here, I'm sure.  If SM was able to bring in Majolica Majorca they can certainly do the same for another Japanese brand like CANMAKE.