Submitted by: Marci Warhaft-Nadler. Marci is the creator of Fit vs Fiction, She travels the country inspiring young men and women to be who they want to be, and not who they think they're supposed to be
Website:
http://www.fitvsfiction.com/
Twitter name: @Fit_vs_Fiction
Follow her: Fit vs Fiction on Facebook
"I was about 1.5 hours into my flight from Montreal to Vancouver, when a flight attendent reached over my lap to grab the"empty" coffee cup from the passenger seated next to me. Unfortunately, the cup wasn't empty at all and I ended up being covered with spilled coffee! I think the flight attendent was expecting a reaction from me, I just don't think she was expecting the one she got.Instead of being angry, I started to cry, REALLY cry; actually I started bawling my eyes out! She looked at me like I was a bit insane, my reaction seemed a bit over the top. What she didn't realize however, was that I wasn't crying because I'd have to spend the rest of the flight covered in wet coffee or because the coffee had stained the brand new maternity dress I was wearing. I was crying because I had just come from seeing my mom for the last time before Breast Cancer would her away from me.I knew the Cancer was back and it was aggressive, but she had kept from me just how Bad the situation was, because I was pregnant for the 3rd time, after suffering through 2 miscarriages, and she did not want to risk upsetting me. My mom was a single parent most of my life and we were as close as a mother and daughter could be. She was my hero and my best friend and she wanted so badly for me to experience the gift of motherhood and did not want to upset me.When she couldn't keep things from me anymore, I got the call to come home and I left on the first flight available. I had just enough time to tell her I loved her, show her ultrasound pictures of the grandchild she'd never get to meet and tell her he'd be named in her honor. Saying goodbye to her was devestatingly painful and I was afraid that if I let myself truly believe what was happening, it would be too much for me to handle. I feared that if I started crying, I wouldn't stop and was trying to be as brave and strong for the son I was carrying as I felt I needed to be.When the poor flight attendent accidentally let the coffee spill from the cup, it was like every emotion just came pouring out of me with it. I was crying for the mother I lost but still needed.It's been 13 years and I miss her every day,I have 2 sons now and we talk about their grandmother often, they know how loving and fun she was and how she's watching them from Heaven during every soccer game they play or Tae Kwon Do match they win.A friend of mine lost her mom to breast cancer 25 years ago, I lost mine 13 years ago and have a friend battling it now. Still waiting for a cure....."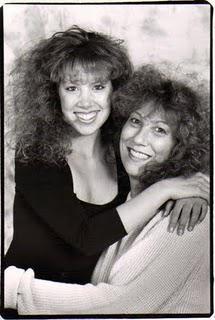 Marci and her mom, Shirley