If you haven't seen my original post, you really should begin there. However if you already read it, or you just want to skip to the good stuff, feel free to continue reading.
I committed to dying my hair pink in honor of Brooke, a fellow thyca warrior. She wasn't as lucky as many of us are. She lost her life to Thyroid Cancer. I had never met her, but I am well aware that despite her diagnosis, she was a fun spirited girl with lots of life in her. She could be seen with fun pink highlights in her hair. So Team Thyroid decided to go pink as a tribute to her.
At first I mulled it over, then I shot my mouth off, jumping in quickly with very little thought. I tend to act based on my heart quite often. More often than not, my heart beats my brain to the punch. It was too late, despite nerves I had already told CancerGirl I was in. Then my brain kicked in with: "Oh no, what did I do? I can't go pink, I'm too old! What will people think." Then I slowed down and really thought it through. The people who have been there with me understand my passion for social good, cancer awareness and fundraising. They will not judge me based on nonsense, like so many might. I can use it to spark a conversation. My pink hair can generate real awareness if I just take the time to look people in the eye and tell them why my hair is pink. I realized Thyroid Cancer is bigger than me, and people need us to raise awareness for a seldom spoken about cancer. So I now had it all rationalized in my head.
Next I did some research about what kind of pink I wanted to do? Temp/semi/perm? As many people on thyroid medication can attest to, my hair can't hold colouring anymore. I've been told it's a Synthroid thing. At any rate, I chose a demi perm and I bought 'N Rage Demi Perm in Bubble Gum Pink.
I was warned it would turn anything it touched bright pink, so I took precautions. I can safely say it smelled great! Just like bubble gum! It was messy but as I mentioned I was careful so I had nothing go wrong. I did not strip my hair first I did it on freshly washed, oil free hair and here are the results: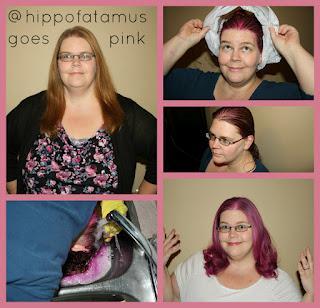 I've had rave reviews  on the color and how it suits me. It says it will last 3-6 weeks, I doubt I'll get that long since it has already faded a bit, but I really like it. So what do you think?
Don't forget you can help the cause by donating $10 to me directly via email money transfer or by going to CancerGirls donation page . Ask me if you have any questions about it!