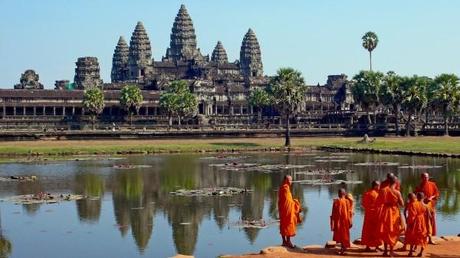 If you've sunbathed on the beaches of Thailand, trekked the rice fields of Vietnam and strolled the streets of quiet Laos, then it's time to see Cambodia. And while the flashpacker will find plenty of no frills fun in this up-and-coming Asian destination, Cambodia also offers a uniquely inexpensive luxury vacation for the experienced, fastidious traveler seeking culture, relaxation, and above-and-beyond amenities.
See the Sights in Style
Visiting Angkor Wat is a bit like pretending to be Indiana Jones – you get to race up temples built before 1,000 A.D., duck in and out of secret passageways, and gaze into the gargantuan stone faces of stern Khmer Kings. Angkor Wat is a 400-square-kilometer temple complex rife with historic, religious and cultural significance – and it's also an ancient playground where visitors can scamper where they like, find original vistas for photos, and (in the quiet temples away from Angkor Wat itself) discover an intense understanding of what it might have felt like to live and worship during the Khmer Empire.
For travelers who want a few amenities with their Tomb Raider adventure, it's absurdly easy to hire yourself a tuk tuk driver for the day. The right driver will act as chauffeur as well as tour guide; taking you from your hotel to the Angkor temple complex, around each and every site you wish to see, and offering tidbits of historical trivia to make your visit more informed and meaningful. Many tuk tuk drivers even have bottled water and snacks on hand.
The best place to hire a tuk tuk to Angkor is at your guest house – and don't be afraid to pay a few dollars more for someone who's well-versed in the history of the temples. A full day of tuk tuk-ing around Angkor will normally cost less than USD $20. Check out www.angkortuktuktravel.com to get a better idea of tour pricing and services.
Book the Best Hotel
If you've ever felt monetary pressures to book a hostel (even though a double bed and private bath sound really, really good), it's time to give yourself a break. Accommodation in Cambodia is insanely affordable, and thanks to the recent spike in tourism, new hotels are heavily competing for tourist dollars which means that the quality of hotels and guest houses is superb.
Go to a booking site like www.agoda.com and you'll find a plethora of places to rest your head, all offering homey comfort, luxury amenities and very low price tags. The Golden Banana Bed & Breakfast in Siem Reap, for example, quotes a high-season rate of USD $28 for a double room – and that price includes breakfast on the patio for two, air-conditioning, a hot shower, in-room WiFi, television, and all-day access to the hotel's delightfully refreshing outdoor pool and lounge.
Best of all, the deluxe accommodation in Cambodia extends beyond the country's urban hot-spots. For a rustic yet luxurious getaway, provincial capital Koh Kong is home to unfettered coastline, the lush Cardamom Mountains, and clear-as-glass rivers, lakes and waterfalls. Koh Kong city's got budget hotels galore, but for a real treat, check out Thmorda Garden Riverside Resort. Located a quick drive from the center of Koh Kong, Thmorda is basic luxury at its best, boasting comfortable rooms, a riverside restaurant and kayaks for hire.
Eat the Finest Fare
The positive influences of French colonization in Cambodia are best understood by sampling gourmet terrines, bourguignons and andouillettes. Topaz is one of Phnom Penh's most famous French eateries, and for good reason. For a very reasonable price, diners can enjoy contemporary and classic French dishes, prepared and served in an exquisitely refined atmosphere. Add in a wine cellar and cigars imported from abroad, and you've got European luxury ala Asian inspirations.
If you fancy a taste of Cambodia's own cuisine, with an upscale twist, Restaurant Le Royal at the Raffles Hotel in Phnom Penh has exactly what you're looking for. Serving Khmer and French dishes, Restaurant Le Royal lets diners experience elegant Cambodian fare, and for less than half the price that such delectable dishes would fetch abroad.
Up in Siem Reap, culinary connoisseurs will be eager to try The Sugar Palm, a restaurant made famous after a televised visit by UK Chef Gordon Ramsey in 2011. The Sugar Palm offers inexpensive, finely prepared Khmer meals, including favorites such as amok fish and Khmer crispy noodles. Besides the fantastic food, The Sugar Palm also demonstrates fantastic community contributions, giving back a portion of profits to Cambodian charities.
Pamper Like a Prince or Princess
Once you've seen the temples, the nature, the history and the wildlife, it's time to relax. As in other Southeast Asian destinations, the pampering options in Cambodia are numerous, and luxurious. Bodia Spa, with locations in both Phnom Penh and Siem Reap, is a favorite amongst visitors and locals alike; beloved for its outstanding staff, soothing atmosphere and comparatively low prices. Indulgent offerings at Bodia include manicures and pedicures, aromatherapy massages, and packages with access to a Jacuzzi and steam room.
Tired travelers seeking a uniquely relaxing spa escape from the busy city of Phnom Penh will also adore the Spa at the Villa Paradiso, an experience that lets guests relax in their own wooden cabin while enjoying a tailored day of treatments. On offer are experienced masseuses, facials, and the opportunity to lounge inside the sauna or beside the pool. Fresh juice and meals are also available, so it's easy to enjoy an entire day of fantastically priced tropical spa luxury.
Be Sociable, Share!