My friend Emily and I have been trying to get to P.F. Chang's for dinner since last weekend. Unfortunately we both were struck by the cold/flu bug and have had to postpone. I've been craving some Chinese food all week so I concocted a delicious veggie, pot sticker, green tea lunch.
Now, normally I wouldn't have blogged about this type of meal, or I'd leave out where everything originated from. But truth is… Everything was pre frozen and from a bag. In fact you can find both of these items at your local Costco.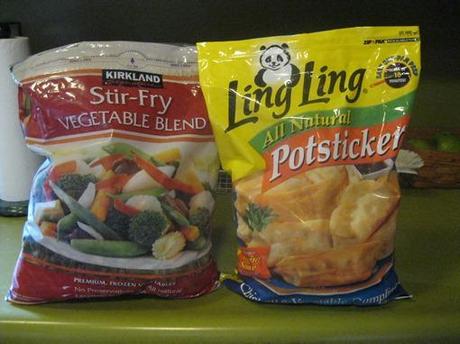 Honestly, this is how I eat most days. I jazz up something pre made. Why?
I live at home, I don't do the grocery shopping. I have to make what's in the kitchen.
I like having quick and easy food that's healthy and tasty.
This stuff tastes really good. So… why not?!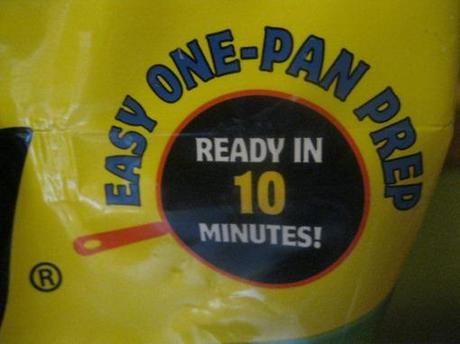 I really do love making food from scratch. Especially baked treats like breads and muffins. But, cooking hard core in the kitchen every day isn't a reality for me. It doesn't fit into my schedule and frankly, I don't have a problem with lightly processed foods.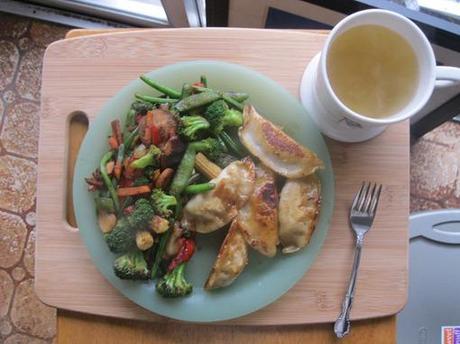 So here's what I did…
I made the pot stickers exactly like the bag said. I sprayed the skillet with vegetable oil spray and laid out 5 pot stickers while the pan heated, then I poured 2/3 cup warm water over the top and covered the pan. I let them cook for 8 minutes, flipping once. Then I stirred them around with the included sauce. Voila.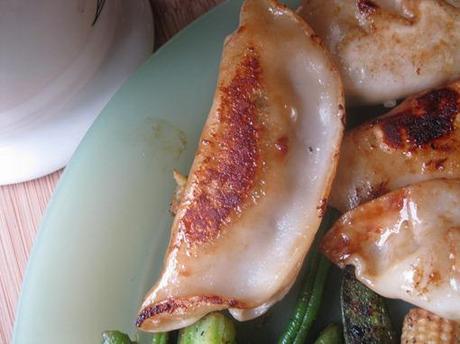 These pot stickers aren't very processed and they're veggie. Total score for the freezer section.
Now, for the veggies. I love having big bags of frozen stir-fry style veggies on hand. These, that I get at Costco, taste super fresh and the variety of veggies is great. I stir fried the veggies in a little water until they were thawed then I added a scant tablespoon of soy sauce and fresh cracked black pepper.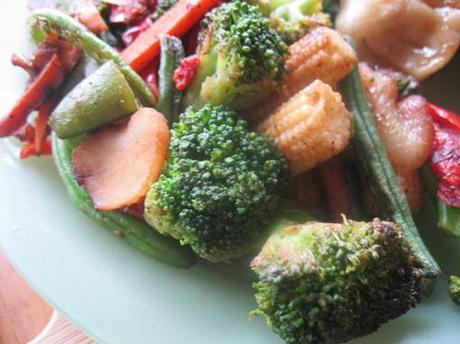 The soy sauce turns the veggies a darker color, they aren't under cooked.
This was a great meal. All done in about 15 minutes and for under 400 calories, and it gets a 5 star filling factor rating for sure!
I'm too full to think about snack now. But I'll probably be rummaging for something later this afternoon. See ya'll over the next plate of crumbs

.