Home > Bitcoin, Cryptocurrency > Buying opportunity in Bitcoin coming up?
Buying opportunity in Bitcoin coming up?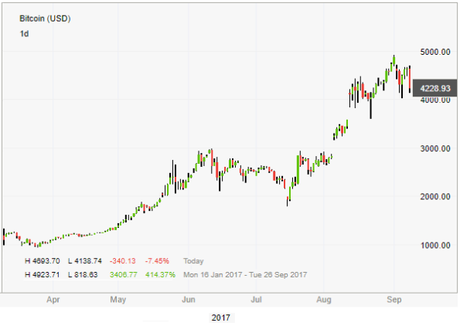 I've been thinking about getting into bitcoin for a while now and have finally decided to stop procrastinating. Looking at the chart of bitcoin's recent activity, it looks to me like the rally is running out of steam for now and we could see a pullback.
This article
agrees with me, so it could be a good time to get in soon. As a computer programmer by trade, I would like to understand how bitcoin's underlying technology (the blockchain) works, but I don't! Bitcoin payments have also always seemed a bit esoteric, but I think I've got a handle on that now after reading a couple of articles. Some people say that bitcoin has no intrinsic value and it's price increase is just a bubble, but sterling or US dollars have no intrinsic value either, yet people are quite happy to put their faith in them (for now anyway!). The fact that is not controlled by any government can be viewed as an advantage or disadvantage, depending on your point of view and, in that respect, it is more like gold than a fiat currency, as it cannot be debased by arbitrarily printing more of it. Though it has yet to become a mainstream means of exchange, progress is being made, and I think the price surge could continue for some time yet.
The price hit an all-time high of just over $5,000 last week, then fell back to $4,000 and is currently trying to bounce back from that. The bounce looks quite feeble to me and I suspect we could see a further drop to chart support at $3,000 which is where I would be looking to enter the fray.