So apparently, Spring has sprung?
If yesterday was the "official" beginning of Spring, why am I sitting here with two pairs of tights on, socks, a top, a jumper and a dressing gown wrapped around me, and still debating whether to whack on a wooly hat and a pair of gloves? My hands are that cold I can barely type, the sky looks like it's about to unleash all its remains of Frosty the Snowman that's been gathered up there and pushed aside for centuries, and I could probably pass as Rudolf's twin.
Spring? Nice idea, but I don't think so. 
I've been waiting patiently for the past 8 months for England to blind us all with a little bit of hot sun and warm weather but... I'M STILL WAITING. As much as I love furry coats and chunky knits (that always seem to drown me because I'm the same size as my foot), I want to rock some pastel colours and show some skin! But until then... I guess we'll have to make-do. We could start by brightening up our outfits, with a few colourful blazers. I've chosen three colours that I love, want, need! (Bonus points for cheating the weather too by keeping warm and looking stylish at the same time!)So, I've put together a few outfits to show how I would wear these three blazers. Obviously, there are other ways to wear them than just my ideas, but I didn't want to overload you all with pictures, like I seem to have a habit of doing. Let me know what you think!

LimeI'm really lovin' the whole "lime" coloured themes at the moment. The color itself used to remind me of 80's styled spandex shorts and so I would never even look once at anything in that shade. But now, it's such a powerful colour, that everyone seems to be rockin' this season.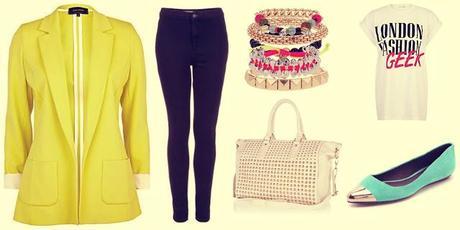 Left to right:
Lime Long Line Blazer, River Island
Moto Joni Super High Waist Skinny Jeans, Topshop
Hedonism Stretch Bracelet Set, Miss Selfridge
Creme Stud Holdall, River Island
White London Fashion Geek Print T-Shirt, River Island
Jacqueline Cap Toe Suede Flats, Messeca New York  
Orange
I'm always in the mood for a shade or orange. Hot or cold. Summer or winter. Orange all year round. Blazers in this color are definitely a must-have this year.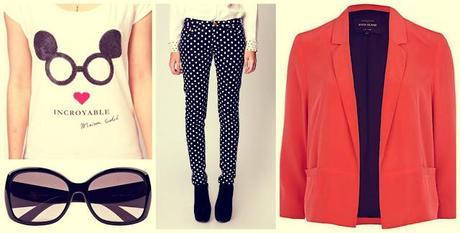 Left to right:
Maison Scotch Mini Tee, ASOS
Black Fendi Sunglasses, River Island
Melissa Black Polka Dot Skinny Jeans, Boohoo
Bright Orange Blazer, River Island 
Mint green
Ah it's that color we all "hate?" ...If I could own everything in mint green, I probably would. Pastel coloured blazers are so cute and will make any outfit look pretty.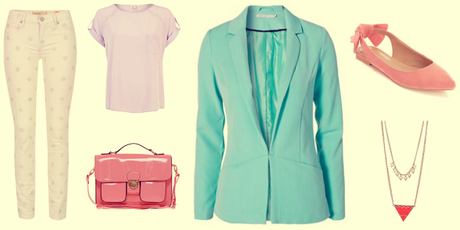 Left to right:
Lou Bright White Dot Skinny Jeans, Marc by Marc Jacobs
Purple T Shirt, River Island
Aldo Noronen Mini Patent Satchel, ASOS
Mint Green Blazer
Daley Coral Bow Back Pump, Miss Selfridge
Gold Tone Multi Row Necklace, Miss Selfridge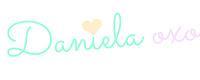 P.S. Click here to c

heck out 

thelovecatsinc giveaway to win M

odels Own Ice Neon or Fruit Pastel collection!
Shop | 

Twitter

 | 

Facebook

 | 

Bloglovin'

 | 

Hellocotton

 | 

Instagram