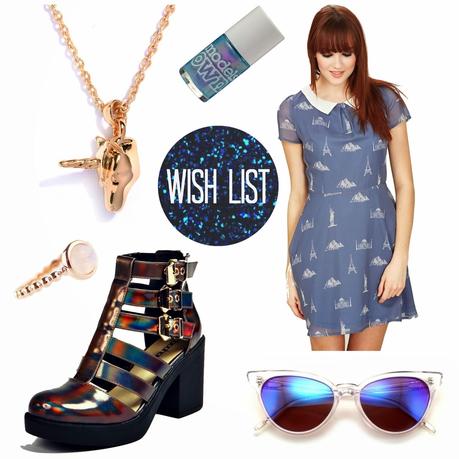 Me and Zena Gwynevere Unicorn Necklace, Motel Rocks - Here, Models Own Nail Polish "Beetlejuice" - Here, Peter Pan Collar Dress, Sugar Hill Boutique - Here, The Mystic One Midi Rose Gold Ring, Dixi - Here, Metallic Boots, Boohoo - Here & Le Femme Deluxe Frame Sunglasses, Wildfox - Here
What uppp. I haven't done a wish list for a while so here it is, my first wish list of 2014. You would think after getting so spoilt at Christmas I couldn't possibly want more? Wrong. 
I've been super poorly this week. Looking back, the only memories I have from this week is waking up to a pile of tissues every day and the stale scent of Olbus oil. I'm usually ill over Christmas but this was the first time I weren't, so I thought I was lucky dodging the dreadful winter flu for once, but boy was I wrong.
 How cool are those boots though? I love iridescent things. They make me feel happy and kinda' like a mermaid.
Oh and today I woke up to an "Access All ASOS" package from ASOS, which I was really chuffed about. For those of who don't know what it is and haven't heard of #AccessAllASOS, 
it's a group of "insiders" who will be the first to know about their new collections, opportunities to visit the ASOS HQ in London and invites to awesome events. If you like the sound of that and want to be a part of it, then you can apply
here
In my little package I got a cute cupcake shower cap, a phone case and a fortune cookie!
Hope you all have a good weekend. \