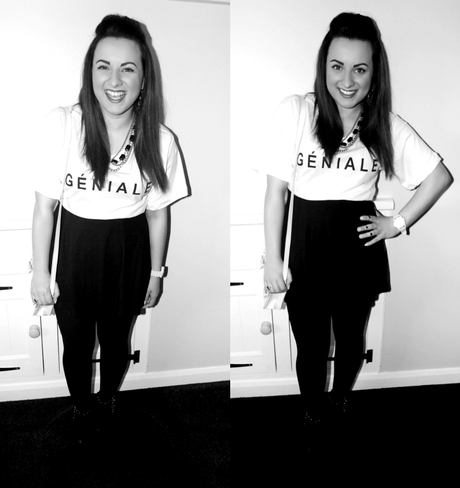 Top & skirt, H&M. Necklace, Primark. Watch, Miss Selfridge. Satchel Topshop. Rings, Miss Selfridge.
Whatup! The two most miserable months of the year are finally over and I kind of thought that deserved a blog post. So hooray, it's March.. Here comes Spring! It might not feel like Spring just yet, as it's still cold and it's STILL raining but sooner or later the sun has got to break through. Daffodils will start to bloom, people will start to smile and if you listen closely, very closely.. You can just about here the faint, sweet sound of the Ice Cream van... 
Yeah whatever, so what if we're all still wearing jumpers that make us look like Yetis or sipping on hot chocolate to even feel the slightest bit of warmth on our fingertips.. Take that shit off and put that shit down. It's time to stop feeling blue and time to start wearing it instead! I'm time for pastels, sandals and Pina Coladas. Okay, so I'm probably getting way ahead of myself and the weather far too quickly but I'm just so excited that January and February are over again for another year but so what?! And so what if I'm totally writing all of this whilst wearing a massive, fluffy jumper and drinking a hot cup of tea.. IT'S TIME FOR SPRING! And Pancake Day! Enjoy kids.