Hello Everyone,
While your reading this I will be headed into surgery on my left shoulder. I will not be able to cook much for awhile. But don't worry! I have some terrific friends who have decided that they would help me out in anyway I can. Aren't they amazing? I think so :-) So starting it off is my good friend Cindy from Hun Whats forDinner?. I hope you enjoy her amazing Butterscotch Banana Blondies.
******************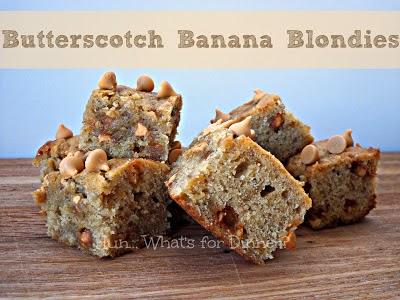 Hi everyone! I'm Cindy from Hun... What's for Dinner? I am a stay at home mom, to a 9 yr old boy and a 6 yr old girl; in Ontario Canada. I married a Chef many moons ago, thinking I'd be wined and dined every night; which totally turned out not to be the case. So I started cooking, which turned into blogging; as a way to keep track of recipes my husband liked and which he wasn't too fond of. 5 yrs later, I'm still blogging and loving every minute of it. Being in the kitchen centres me and relaxes me, so when I'm stressed or over whelmed, that's where you'll find me. I am honoured to be able to help Alyssa, with a guest post, while she is working on some medical issues.
When I was little, my Mom would make Butterscotch brownies, which are also known as blondies. I remember those pieces of buttery sweet chewy brownies and how delicious they were. Over the years I've made several different versions of blondies, but have still always been partial to the good ole regular blondie. Until now that is!
Always trying to find new ways of using bananas in baking, I wanted to see if I'd be able to incorporate them into blondies. I had some butterscotch chips hangin' around so I threw those in too. These smelled heavenly while baking; so sweet and buttery! One taste of these chewy blondies was enough for me to declare them my new favourites. They taste like a chewy banana cake, studded with sweet butterscotch chips. Phenomenal!
If you'd like to check out more of my recipes, please follow my blog and/or you can follow me on Facebook. Thank you again to Alyssa, for letting me share with her fans!
Butterscotch Banana Blondies
7 Tbs butter, melted
1 cup brown sugar
1 C mashed banana
1 egg
1/4 tsp salt
1 1/3 cup flour
1/2 tsp baking powder (optional, creates lighter blondie texture)
1 C butterscotch chips
Preheat oven to 350 degrees. Spray an 8 x 8-inch baking pan with cooking spray, line with parchment paper and spray parchment paper as well; making sure parchment paper is longer than pan, to help you remove the blondies more easily.
In a medium bowl, beat the butter, sugar and bananas until smooth. Add in egg and whisk until well combined. In a small bowl, combine the flour, salt and baking soda. Add in butterscotch chips and toss to coat in flour. Add dry ingredients to wet, mixing until just combined.
Pour into your prepared baking dish and bake for 30-35 minutes, until sides and top is golden brown and a toothpick inserted in center, comes out clean. Cool completely. Using the excess parchment paper, remove the blondies from the pan and cut into 16 squares.