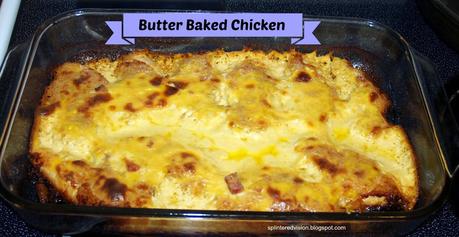 Another favorite is gone. I seem to have a knack for liking dishes that restaurants stop serving. It's happened at Red Lobster, Johnny Carino's, and at Cracker Barrel to name a few. It's so disappointing to go in and find my favorite dish off the menu. Sometimes, you can ask for something off menu, but even that ends after a while.
So, what do you do if you get a craving for a favorite (discontinued) meal? Well, I either have to do without or try to make it at home. Some are easier than others.
Butter Baked Chicken was one of my favorites at Cracker Barrel. They only served it on Thursdays at ours. We didn't make it there very often on the right night, but when we did I always ordered the special. Now, it seems to be gone and I can't order it off menu. Darn!
Luckily, this recipe is pretty darn close to my memory of Cracker Barrel's Butter Baked Chicken and it's a big hit with my family. The best part is that we can have it any night of the week!
Give it a try and tell me what you think.
Butter Baked Chicken
Ingredients
2 lb. chicken tenderloins
1 can evaporated milk (12 oz.)
2/3 cup flour
3 tbsp. plain breadcrumbs
1 1/2 teaspoon salt
1/8 teaspoon pepper
1/2 cup butter (1 stick)
1 can Cream of Chicken soup (10.75 oz.)
2 tbsp. water
Directions
Preheat oven to 425 degrees. 

Melt the stick of butter in a 13x9 pan. 

Mix Flour, bread crumbs, salt, and pepper together in a dish or bowl that you will use for dredging the chicken. 

In a separate bowl, pour a little of the evaporated milk. Use just enough to dip your chicken in.

Dip each chicken tenderloin in the evaporated milk first. Then dredge the each tenderloin in the flour mixture.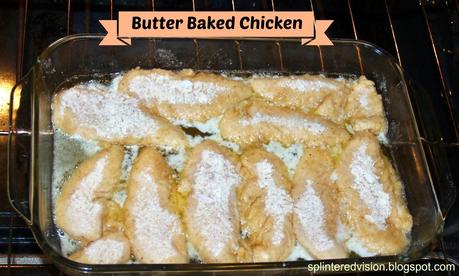 Then lay each prepared chicken tenderloin in the pan of melted butter. 
Bake the chicken in the melted butter for 30 minutes at 425.
Meanwhile, in a bowl, mix the water, can of soup, and what's left (in the can) of the evaporated milk together.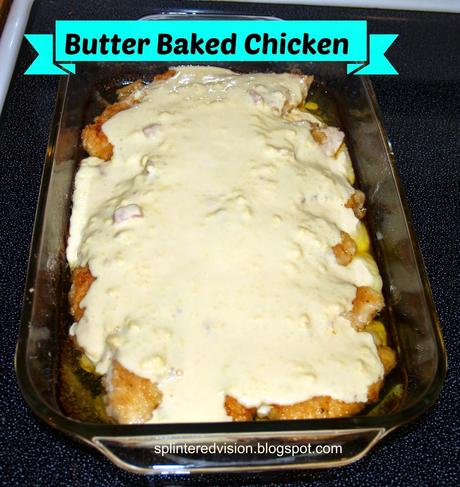 After the first half hour of baking, turn chicken over after 30 minutes and pour the soup mixture on top. Bake for another 30 more minutes or until nice and golden brown.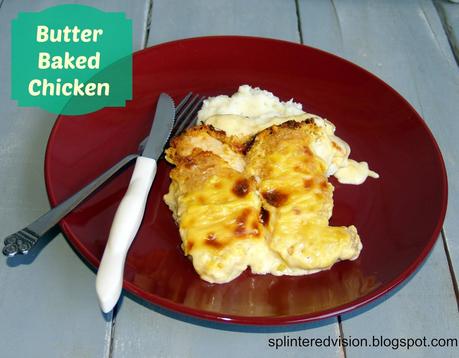 Serve the butter baked chicken and the gravy over mashed potatoes.
Enjoy!