On my way to the swimming-pool this morning . . .  oh yes, crack of dawn, five mornings a week, haven't I told you before? . . . I heard on the radio a little of the interrogation by a Commons committee of Sir Humphrey Sir Jeremy Heywood, The Grand Panjandrum of All Panjandrums, who is the bloke pulling Dave's strings, as per this excellent cartoon from The Coffee House: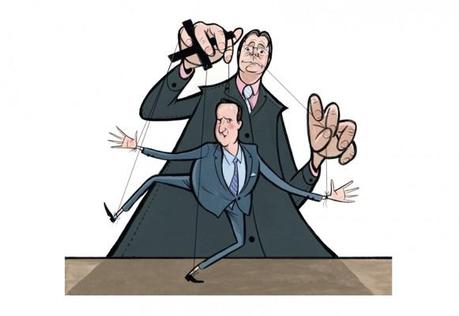 He it was who was tasked, not 'instructed' because'Dim Dave' wouldn't dare to 'instruct' Sir Jeremy, to find out the truth concerning the Plebgate incident.  Well, from what I heard on the BBC, and what I read in Isobel Hardman's excellent summary at The Coffee House, very little in the way of truth was discovered by Sir 'Mandarin' Heywood who appeared to be incapable of spotting a discrepancy if it was any smaller than an elephant!  The only  interesting, and utterly depressing, truth to emerge from this whole farago is that the man with his hand up the back of Dave's suit operating the levers is a total twat!
As for the 'perp' himself, a man whose smugness is only exceeded by his dimness, the jury remains out.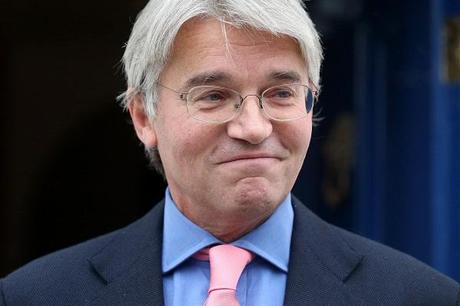 In The Spectator last week there was an excellent article by Jonathan Foreman detailing the futility and waste of much of our so-called 'overseas aid', the department formerly run by Mr. 'Smug Features' Mitchel, above.  Apparently, he has written a response in today's Spectator in which he claims not to have seen anything other than total benefice flowing from our overseas aid programmes, so I don't care whether he's guilty or not guilty of the 'Plebgate' affair, he should stay sacked for the simple and obvious reason that he is a total tit!