This week is probably one of the busiest weeks I had this year – exams, quizzes, reports, etc. Oh well. Can't complain much coz I chose to study.

Anyway, tomorrow I will be reporting together with Kylie, and Arah. And one of the criteria for our reporting is that we should wear appropriate outfit. I don't really know what is the most appropriate outfit to wear. So, I am experimenting. Here's a polyvore set I made: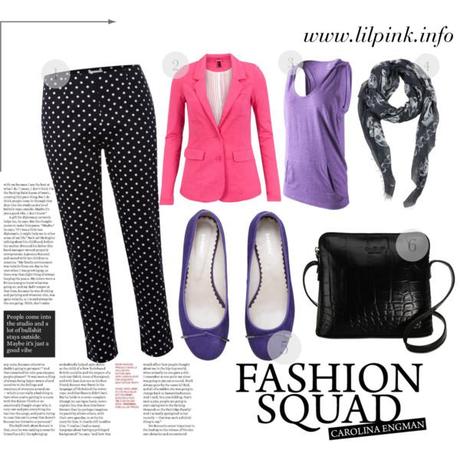 1. Polka dot black capri trousers – made by my mom.
2. Fuchsia blazer – mine is actually shorter than this one but I cannot find anything that looks like it, so I had to resort to this one for illustration purposes.
3. Violet tank top – for color-blocking coz my outfit has to go perfectly with my shoes.
4. Black scarf – to tone down my fuchsia blazer.
5. Violet-purplish flats - I had problems with flats. My nude flats were destroyed by excessive rain, so I had this one left. T_T I should buy black flats and pumps for corporate attires. haaay.
6. Black bag - Coz all my other bags are not really formal. T_T
This is my first ever class-reporting activity for the year 2012. And I am actually going all nuts about it. I have to really master everything. I have told myself to do everything I can. That's why I am doing everything atm. Even though, I have a lot in my hands lately, I have to forego them for the mean time to account my school activities. After all, this is my number one in the priority list.
So, how do you prepare for your school activities?